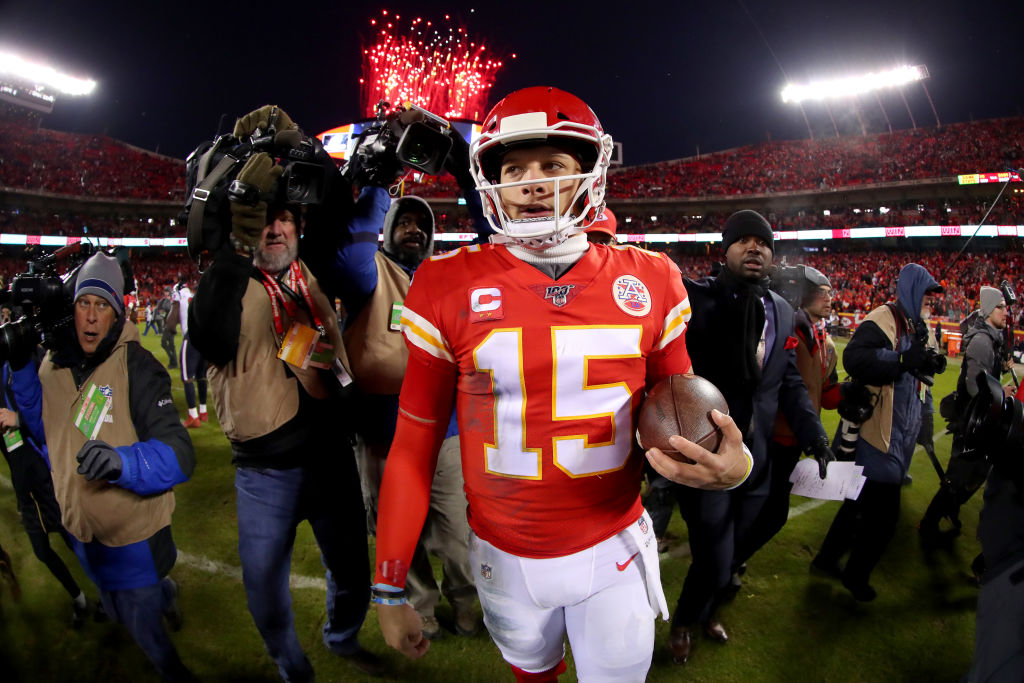 Will Troy Aikman Eat His Words About Patrick Mahomes?
Kansas City Chiefs quarterback Patrick Mahomes is within touching distance of the Super Bowl. Will he make Troy Aikman eat his words?
Whether you love the Kansas City Chiefs or are a diehard Oakland Raiders fan, it's hard to complain about Patrick Mahomes. The Kansas City Chiefs quarterback has the sort of pure talent that you can't help but appreciate; that's not to say he's only received praise, though. Earlier this season, former Dallas Cowboys quarterback and current Fox color commentator Troy Aikman took an apparent shot at Mahomes on Twitter.
The Chiefs, of course, are now within touching distance of an AFC Championship and a shot at the Lombardi Trophy. Is this Patrick Mahomes' chance to make Troy Aikman eat his words?
Patrick Mahomes' impressive NFL career
For years, the Kansas City Chiefs struggled to find the right quarterback. It's safe to say they nailed it when they traded up to select Patrick Mahomes.
Mahomes, however, didn't step into the breach immediately. He spent his first professional season backing up Alex Smith, only starting an unconsequential Week 17 game. When the 2018 campaign, arrived, though, it was Mahomes' time to shine. He took the NFL by storm, throwing for 5,097 yards and 50 touchdowns, taking home the MVP Award in the process.
Mahomes' sophomore season hasn't reached the same statistical heights—beyond his scary knee problem, Mahomes' battled through a bad ankle at the start of the season—but he's still shown signs of maturation. While his touchdowns and passing yardage have both decreased, the quarterback is making better decisions; with another year of professional experience, he's stopped trying to perform miracles every play. While Mahomes is still capable of magic, he isn't forcing anything and has consequently thrown fewer interceptions and taken fewer sacks this season.
As he showed in the AFC Divisional Round, the Chiefs are never out of a game with Patrick Mahomes on the field.
Troy Aikman weighs in on Twitter
In September, The Athletic Kansas City tweeted, "ICYMI: "Patrick Mahomes has thrown 36% of Troy Aikman's career touchdowns, in about 8% of the games." Understandably, Aikman didn't appreciate the comment.
"ICYMI," Aikman said in a tweet of his own. "Talk to me when when he has 33% of my Super Bowl Titles." Understandably, fans came down on both sides of the aisle. Some sided with the former Dallas Cowboy, saying that Super Bowl victories are the ultimate measure of success; others highlighted Mahomes' superior statistics while pointing out that Aikman played alongside an elite running back.
Aikman, for his part, defended his comment. "I guess, in a way, I'm 'defending my turf,' if you will. But I'm really not that guy," he explained in a radio interview. "I really don't care. But I think that when somebody tweets something like that, it just totally misses the point. It's so naive as to what is happening in the world around us that you just want to point it out."
"You can't compare anything that's happening in today's game to any other era," the former Cowboy continued. "[Mahomes has] been phenomenal. Great kid, love everything about him. I just don't like when we start trying to look at numbers and saying 'this is why this guy's greater than this particular player, this former player,' whatever it is. It just doesn't make any sense."
Will Patrick Mahomes make Troy Aikman eat those words?
When he takes the field on Sunday, Patrick Mahomes won't be thinking about anything besides winning the game. If all goes well, though, he'll be proving Troy Aikman wrong pretty soon.
If Mahomes and his Kansas City Chiefs can win two more games, the young quarterback will officially have one-third of Aikman's Super Bowl titles. While the veteran is right about the difficulty of trying to compare players from different eras, an early championship will only strengthen Mahomes' case as one of the NFL's brightest young stars.
We'll have plenty of time to debate Mahomes' legacy, though. Right now, it's best to simply sit back and enjoy the show.