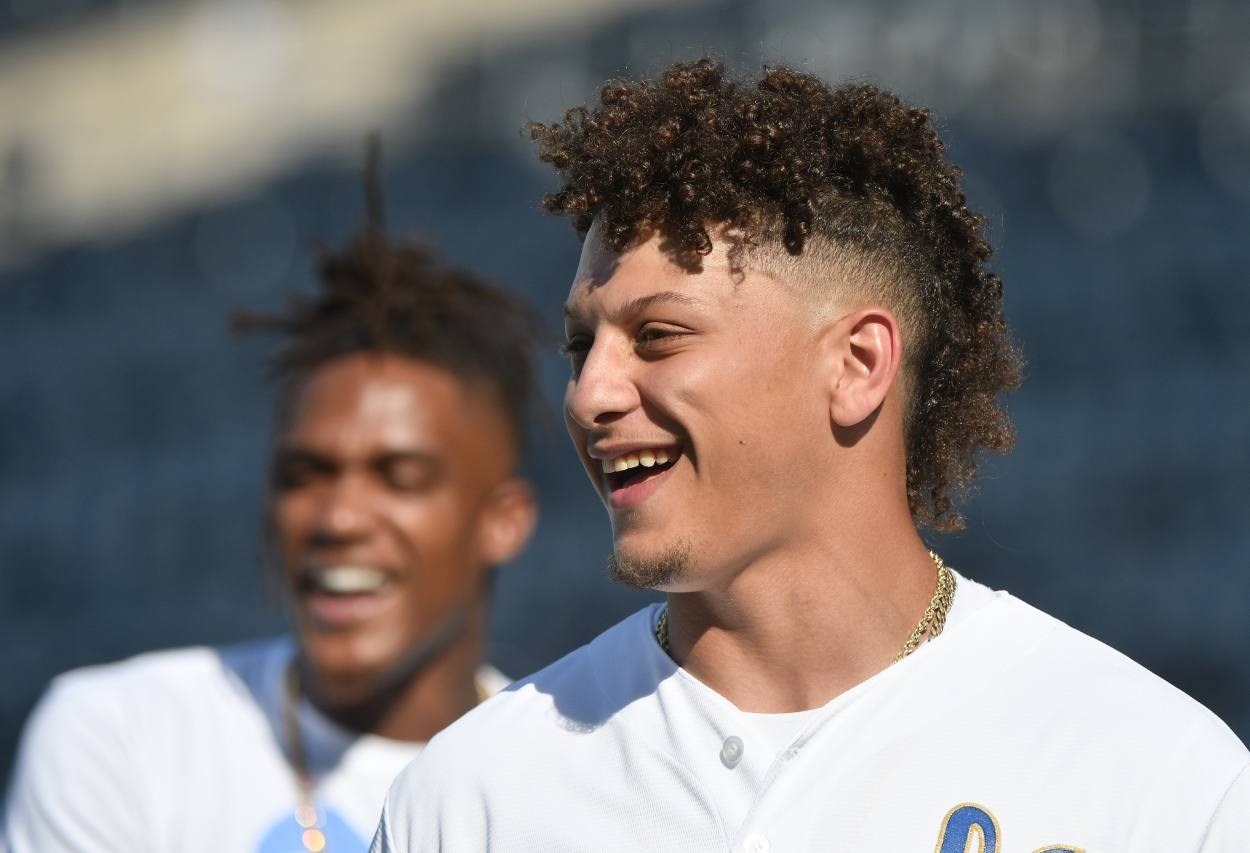 Patrick Mahomes Reveals When He Could Eventually Change His Iconic Hairstyle
Patrick Mahomes' hair is just as iconic as his play on the football field for the Kansas City Chiefs. He has become the face of the NFL in large part because of it. However, does Mahomes ever plan on getting a new cut? He recently revealed when that could eventually happen.
When people think of Patrick Mahomes, they, of course, think about him dropping dimes for the Kansas City Chiefs. But his hair probably also comes to mind. Mahomes' curly mohawk has become just as iconic as his stellar play on the field, even inspiring some to get the same cut.
However, could Mahomes change it up and eventually get a new hairstyle? Yes, but (spoiler alert) it won't happen anytime soon.
Patrick Mahomes' hair is iconic
Many people probably wouldn't care about Patrick Mahomes' hair if he stunk it up on the football field. But his elite play and popular hairstyle have worked together to make him the face of the NFL. 
So, how did this all come about for the Chiefs' star? The origin story of Mahomes' iconic look took place when he was a freshman in college at Texas Tech.
"Me and my buddy were trying to see who could grow their hair out the longest. And, I think I won," Mahomes said in 2020, per Kansas City's KMBC.
The bet has given Mahomes much more than just bragging rights; it has also helped him make some significant cash. The 2018 NFL MVP has starred in Head and Shoulders commercials with former Pittsburgh Steelers star Troy Polamalu, who also has an iconic look of his own.
"I let it grow out, and then the people at Texas Tech loved it," Mahomes said, per KMBC. "So I kind of kept it, and it was my thing, and now it's became my thing in the NFL."
Patrick Mahomes plans to cut his hair … eventually
Mahomes recently appeared on ESPN's First Take, and former NFL receiver Keyshawn Johnson asked if he intends to change his haircut for the 2021 season.
"Oh, I gotta keep rockin' it, man; we're in the football game, so I gotta keep that thing rolling," Mahomes said.
However, don't expect to see Mahomes rocking the same cut once he's Tom Brady's age.
"I did tell my fiance Brittany that at some point, I can't be like 40 with a mohawk and a kid [that's] like 15 years old," he said. "So, I told [her] at some point, it's gotta go."
No, Mahomes won't keep the same haircut forever, but we can expect to see the curly mohawk for quite a few more years.
He flew his barber out for Super Bowl 54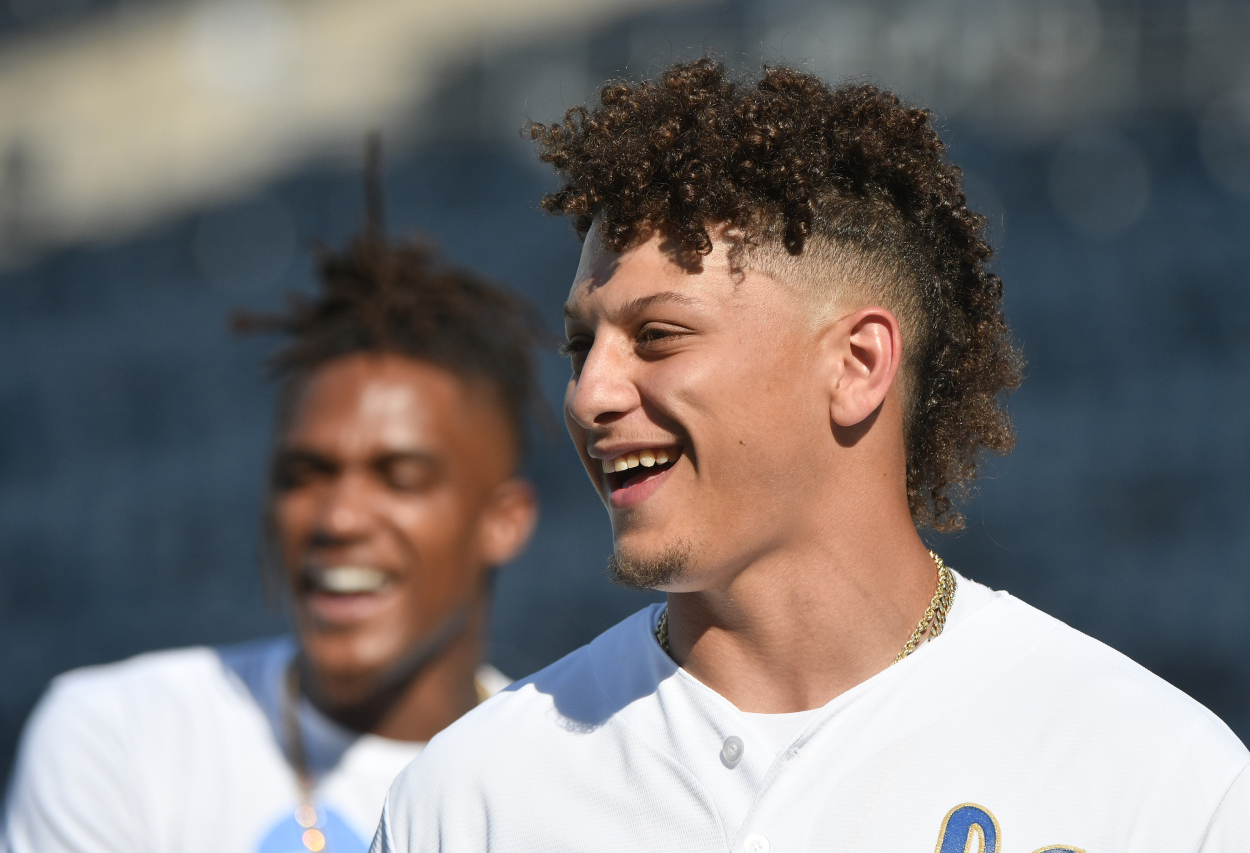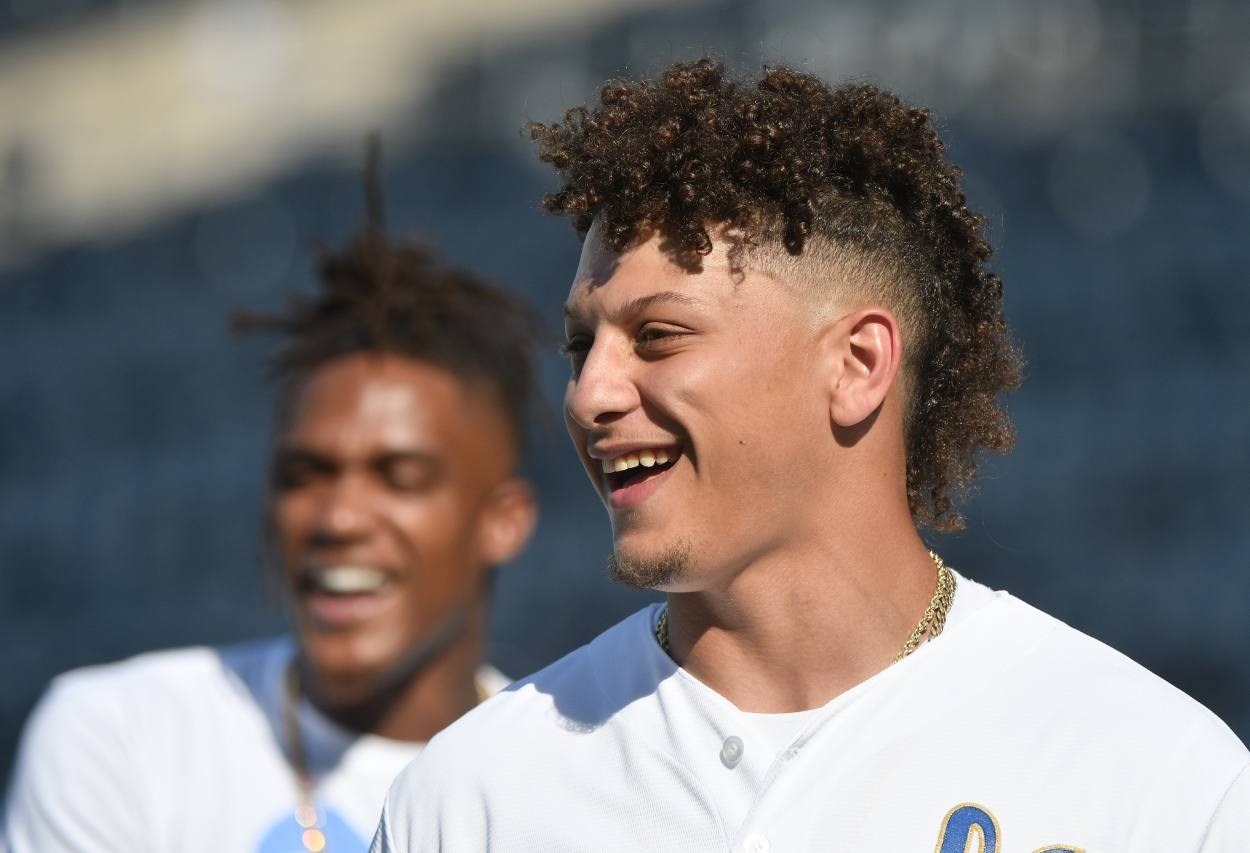 Given that Mahomes is the face of the NFL, his hair is important to him, so ahead of Super Bowl 54 in 2020, the quarterback flew his barber, DeJuan Bonds, out to Miami.
"I knew it was something he wanted to do last year even," Bonds said to the New York Post. "He kind of made a promise like, 'Hey man, you know I gotta bring you there, I gotta have my hair right.'"
Bonds, the Chiefs' barber from 1999–2009, said Mahomes' hair is actually pretty difficult to cut.
"I have to cut it twice, maybe three times," Bonds said, per the New York Post. "I have to make sure I cut it two or three different ways to make sure however he combs, it lays right because of the hair type he has."
Bonds may make Mahomes' hair look good, but it appears that it takes a lot of work for him to perfect the hairstyle of arguably the most famous player in the NFL. From a marketing perspective, he arguably has the most important job in sports, as the league certainly doesn't want its biggest name to have a bad haircut.
The biggest question in regards to Bonds, though, is whether he'll still be the person to cut Mahomes' hair once the quarterback finally changes things up. If he is, Mahomes' next haircut will probably be just as iconic as his current one.
Like Sportscasting on Facebook. Follow us on Twitter @sportscasting19.