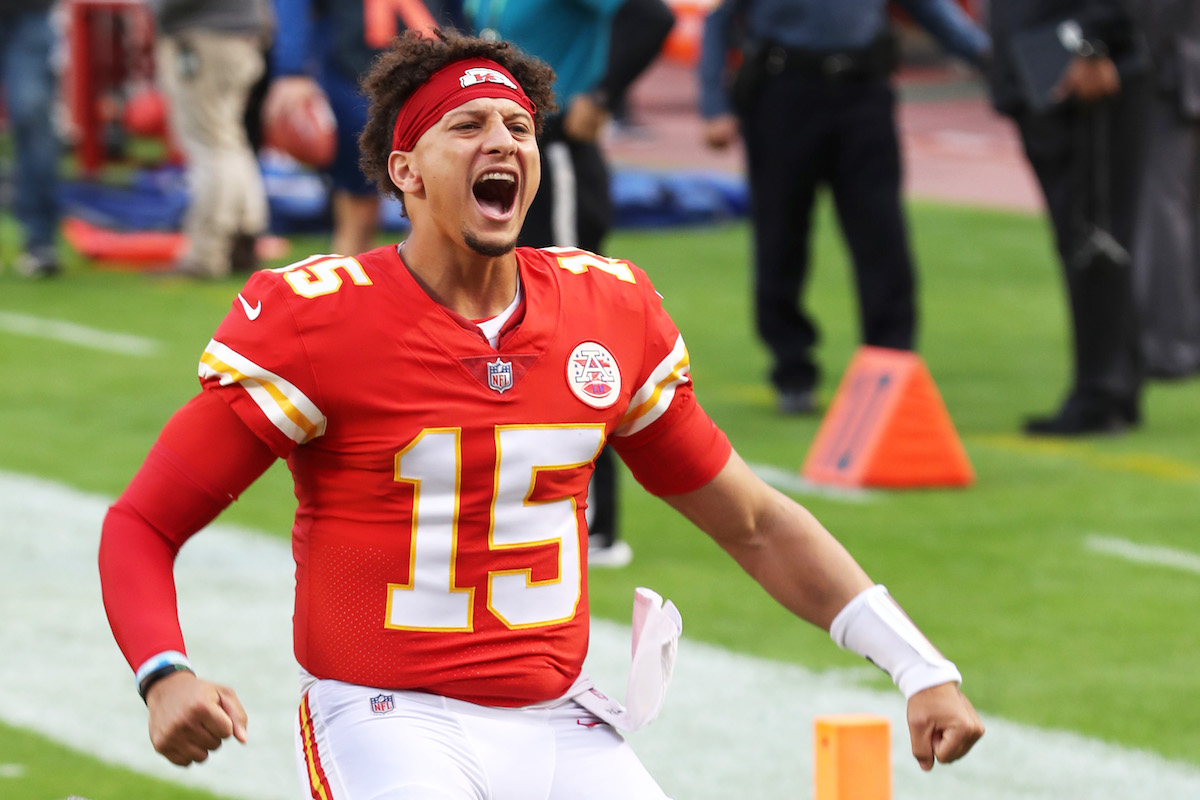 Patrick Mahomes' Siblings: How Many Brothers and Sisters Does the QB Have?
Patrick Mahomes has three siblings, including Jackson Mahomes and two younger half-sisters.
Patrick Mahomes may be the best quarterback in the NFL, with two Super Bowl rings and two NFL MVPs. The household name is also one of the most famous pro athletes. But what about the rest of Mahomes' family?
Younger brother Jackson Mahomes has made headlines, too, although not for great reasons. However, he isn't Patrick Mahomes' only sibling. There are actually two other siblings in the Mahomes clan, giving the Chiefs quarterback a total of one brother and two sisters. Let's find out more about them all.
Who are Patrick Mahomes' parents?
Patrick was born in Texas in 1995 to parents Pat and Randi Mahomes. Father Pat also played professional sports. He pitched in Major League Baseball from 1992 to 2003.
Patrick's parents got married in the '90s. In 2000, Randi gave birth to Jackson. He was the last child the Mahomes had together, as they divorced in 2006.
Despite their marriage ending, Pat and Randi have maintained an amicable relationship in the ensuing years. Randi raised the kids following the divorce, but Patrick has a good relationship with his father too.
Patrick Mahomes has two siblings from after his parents' divorce
After Patrick's parents divorced, they each went on to have another child. Patrick's half-sister, Zoe Mahomes, is from one of Pat's relationships post-divorce.
Patrick's other half-sister, Mia Randall, was born to Randi in 2011. She is the youngest of Mahomes' siblings. Randi isn't shy about posting pictures of her youngest daughter on social media to document her life.
Despite a significant age difference between Patrick and his half-sisters, he has a strong relationship with them, as he does with Jackson.
Patrick welcomed his own daughter, Sterling Skye, with his then-fiancée Brittany Matthews in 2021. In March 2022, he and Brittany got married in Hawaii. Then, in November 2022, the family welcomed their son, Patrick "Bronze" Lavon Mahomes III.
Jackson Mahomes has made headlines for problematic reasons
Perhaps helped by his brother's fame, Jackson became a social media celebrity while studying at the University of Missouri-Kansas City. Now, he has over 1 million followers on TikTok and more than 265,000 followers on Instagram. However, Jackson has also received a lot of criticism.
Patrick's little brother has been known to ruffle feathers in Kansas City. In 2021, Jackson threw water at a Ravens fan following the Chiefs' loss to Baltimore in Week 2. He was reportedly upset about his brother losing the close game and got aggressive with the Ravens fan. The little brother responded to a tweet about the incident by writing, "They were thirsty."
Then, on May 3, 2022, Johnson County police arrested Jackson and charged him with three counts of aggravated sexual battery and one of battery. As CNN reports, he posted $100,000 bond and has been seen out in public as he awaits trial. A preliminary hearing was scheduled for August 31 but was delayed due to the judge's bout with COVID-19.
Despite the controversies, Jackson has a good relationship with Patrick. Jackson attends as many Chiefs games as he can and has called Matthews his "best friend." The Mahomes brothers also starred in a State Farm commercial together.