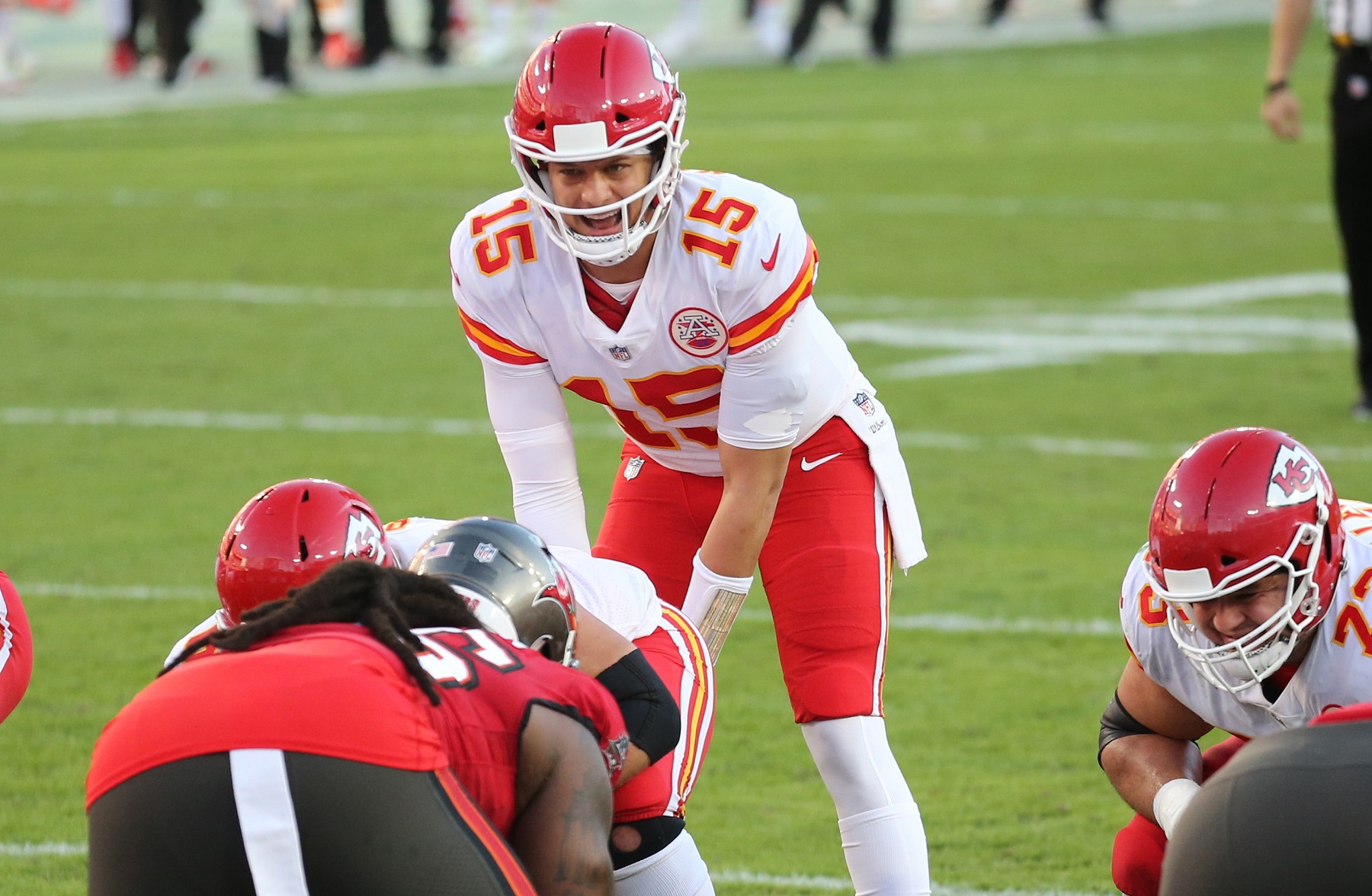 Despite Winning the Week 12 Showdown, Patrick Mahomes Wants To Be Like Tom Brady
NFL Week 12 saw Patrick Mahomes even his head-to-head record against Tom Brady at 2-2. The Kansas City Chiefs star says he'd also like to match Brady in longevity.
Kansas City Chiefs quarterback Patrick Mahomes may not have Tom Brady's six Super Bowl titles, but who does? Mahomes is just 25 years old, which gives him time to add to the championship ring collection he started last February in Super Bowl 54, so catching Brady is possible in theory.
Whether or not he ever measures up to Brady in that department, there is another way in which the Chiefs star wants to be the equal of the Tampa Bay Buccaneers' first-year signal-caller.
Kansas City Chiefs QB Patrick Mahomes put on a clinic
The final minutes turned into a nail-biter for the Kansas City Chiefs, but Patrick Mahomes and Tyreek Hill gave the Tampa Bay Buccaneers fits in the first half of their NFL Week 12 showdown.
Mahomes and Hill connected for three touchdowns overall, including strikes of 75 and 44 yards in the first 13:28. By the end of the day, Mahomes was 37 of 49 for 462 yards and no interceptions. Hill, now up to 13 TDs for the season, finished with 13 catches for 269 yards.
The Chiefs, who raced to a 17-0 lead, held on for a 27-24 victory despite Tom Brady's best effort. Brady finished 27 of 41 for 345 yards, though his three touchdown passes were offset by a pair of interceptions.
Mahomes' yardage total was his highest since carving up the Raiders for 478 yards on Nov. 19, 2018. In just three seasons as a starter, he already owns five 400-yard games, and he just became the first QB ever with four straight games of 30 completions and 300 yards.
Including their AFC championship game following the 2018 season, Mahomes and Brady are 2-2 in head-to-head matchups.
The sky's the limit for the Kansas City Chiefs star
Patrick Mahomes has thrown 106 touchdown passes in his first 42 NFL games, putting him on pace to break Dan Marino's mark of 114 in his first 50 games with the Miami Dolphins. He's already tied Marino with 15 games with 300 yards and three TD passes. Only Kurt Warner (17) has done it more often.
In addition, Mahomes threw the 1,500th pass of his career while beating the Tampa Bay Buccaneers. In doing so, he qualified to be ranked on the NFL all-time lists for categories such as passer rating and completion percentage. At 110.7, his passer rating has knocked Aaron Rodgers (103.3) off the top perch for the first time in a decade.
All in all, then, the Chiefs seem to have had the right idea by locking Mahomes into a 10-year, $503 million contract extension – the biggest contract in league history — in July.
Patrick Mahomes wants to match Tom Brady in one respect
For all his accomplishments in two decades with the New England Patriots and now with the Tampa Bay Buccaneers, Tom Brady is pretty impressive just by virtue of stepping on the field every Sunday.
Brady was a backup as a rookie and lost his 2008 season to an injury in Week 1. Other than that, he had been incredibly durable in a physical sport. Brady turned 43 in August, is signed through next season, and might even have a couple of years left in him after that.
Before the Chiefs-Buccaneers game, Patrick Mahomes was asked what he expects to be doing when he reaches Brady's age.
"The plan is to still be playing football," Mahomes told Kansas City radio station KCSP-AM's The Drive. "So hopefully, I'll be able to be doing that."
The desire does go toward the larger ambition:
"For me, it's about coming in day in and day out and trying to better myself and find a way to win championships in Kansas City and hopefully, I can win a lot of them. I'll try to catch the amount of titles and championship games he's been in."

Patrick Mahomes
All stats courtesy of Pro Football Reference.