Former Patriots Safety Patrick Chung Reveals the 'Hardest Conversation' He Ever Had With Bill Belichick: 'I Felt Like I Was Letting Him Down'
Patrick Chung couldn't stand telling Bill Belichick he was retiring this offseason.
Bill Belichick isn't everyone's cup of tea. The stone-faced, no-nonsense head coach can drive players crazy with his meticulous film sessions and angry outbursts, but that's what he believes it takes to win in the NFL.
Former New England Patriots safety Patrick Chung understood that better than anyone, which is why he put up with Belichick for 10 seasons. When it came time for Chung to inform Belichick that he was retiring earlier this offseason, he admits it was the "hardest conversation" he ever had with the legendary head coach who brought him so much success throughout his career.
Patrick Chung spent most of his NFL career playing for Bill Belichick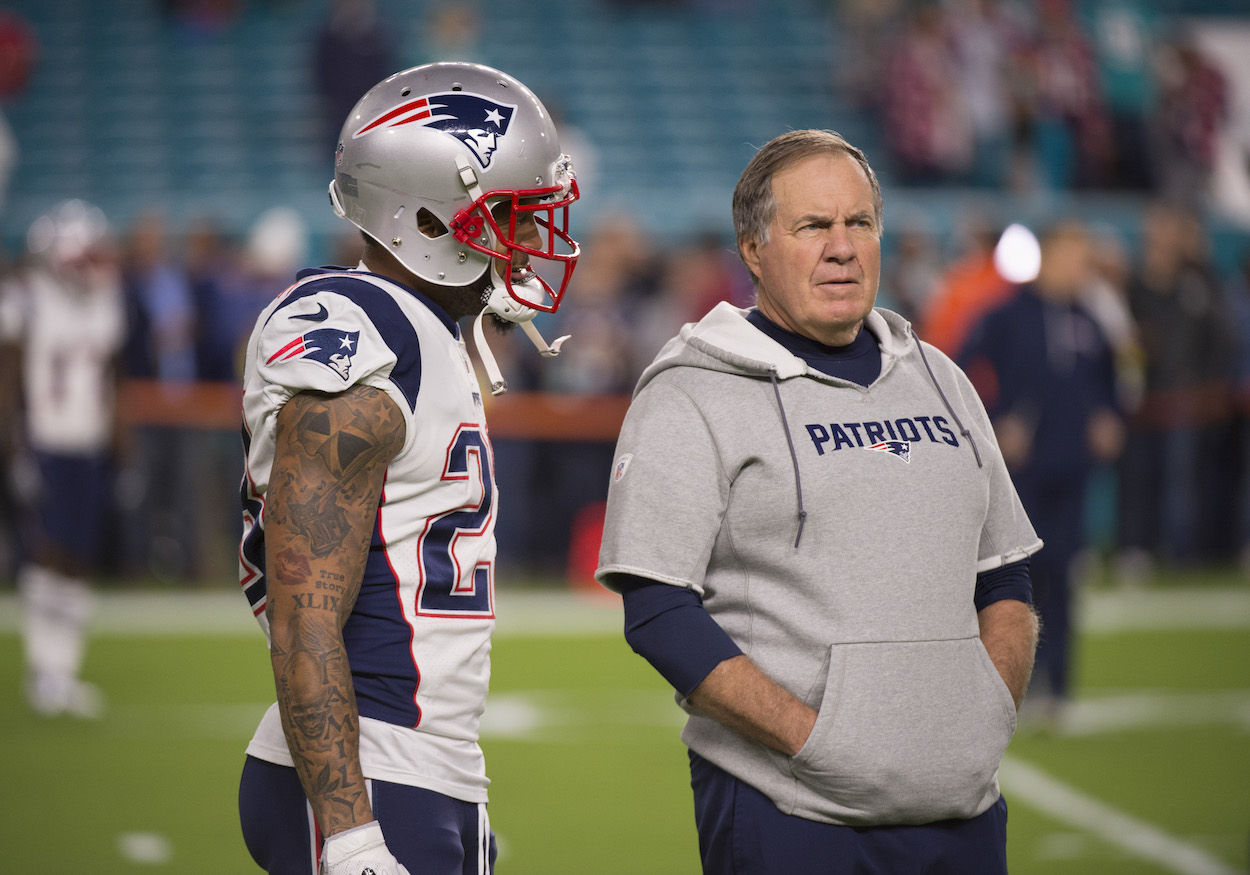 The opinions on Belichick vary greatly across the NFL. Some players can't imagine playing for any other coach, while others can't stand just one season with the guy.
Chung is a textbook example of the former.
Belichick drafted Chung in the second round of the 2009 NFL draft, and the safety wound up playing 10 of his 11 NFL seasons with the Patriots. Chung left New England to play one season with the Philadelphia Eagles in 2013, but he missed Belichick's relentless will to win so much that he returned to the Patriots a year later.
Over the course of his 10 years in New England, Chung was rewarded with three Super Bowl rings. Players can say all they want about Belichick and the way he runs his football team, but everything he does is focused on lifting the Lombardi Trophy every February.
Chung shared that goal with Belichick for a decade, so telling his longtime head coach he was walking away from the sport was one of the hardest things he had to do in the NFL.
Chung recalls the "hardest conversation" he's had with the Patriots head coach
Chung opted out of the 2020 NFL season due to coronavirus (COVID-19) concerns. After a disappointing year that saw the team go 7-9 and miss the playoffs, Patriots fans were rightfully excited to see their veteran safety back on the field.
But that won't be happening.
A month after the 2020 NFL season ended, Chung announced his retirement from the league. It was a tough announcement to make for the 11-year veteran, but it was even harder to inform his longtime head coach of the decision.
"I just went and talked to Bill. That was probably the hardest conversation I've had in a while," Chung said, via Mike Reiss of ESPN. "I respect him. He respects me. It's more than player to coach with me and Bill. I felt like I was letting him down, but it was something I had to do for my family and me."
Chung excited to see Kyle Dugger carry on his legacy in No. 23
Chung donned the No. 23 in New England for the last six years of his NFL career. When he retired earlier this offseason, the number became available for the taking, and Chung's possible replacement, Kyle Dugger, asked permission to take it over.
It was an easy yes for Chung.
"That's huge respect. A lot of people don't have to ask: If it's open, take it. For him to call and ask, when he didn't have to, I appreciated that," Chung said.
"He asked me for the number and I said, 'Yes, absolutely.' I told him to take it over. I pray to God he's way better than I am, because that's only going to help us as Patriots. Hopefully, he gets to that point. I hope he can. He's young, he's raw, he has the instincts, has all the intangibles, so I'm praying for that."
Patriots fans might've just lost one of their sturdiest defenders, but they're hoping Dugger can fill in seamlessly and become Belichick's next favorite safety.