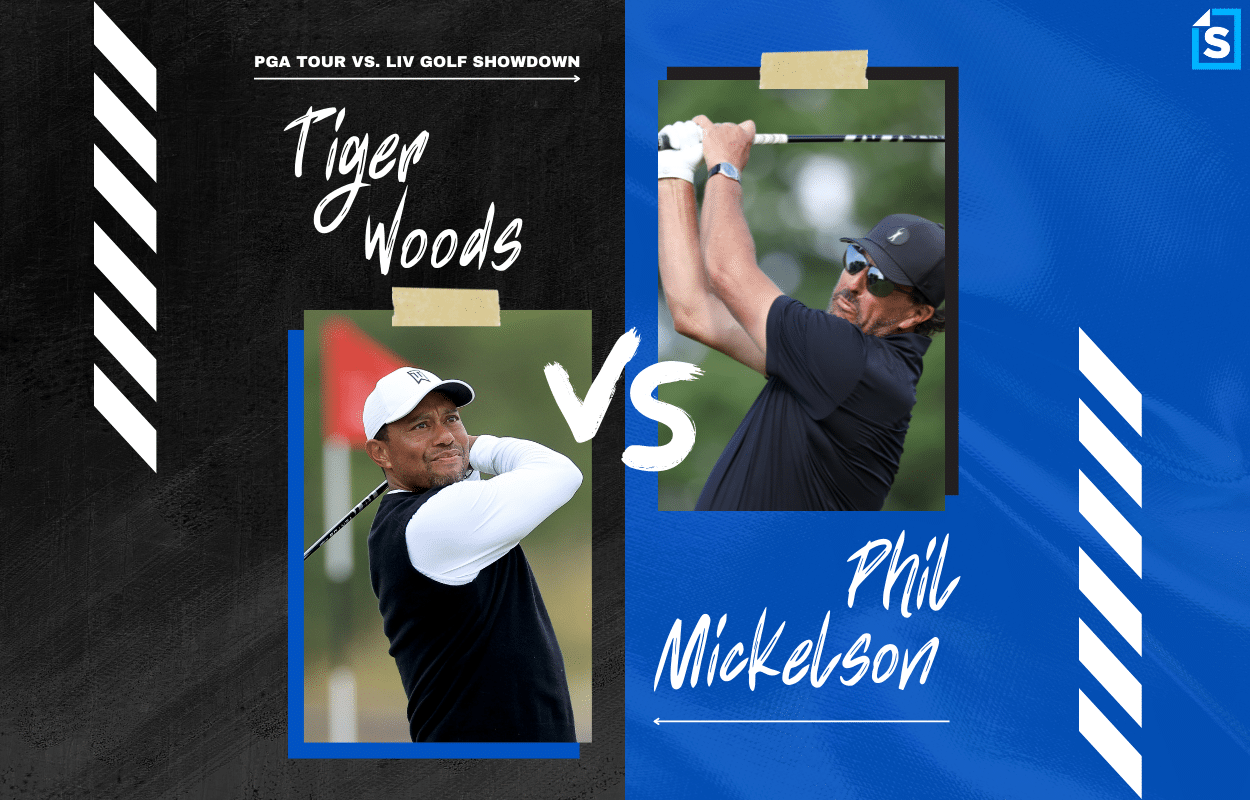 PGA Tour vs. LIV Golf: What a High-Stakes Ryder Cup-Style Battle for the Future of Golf Would Look Like
A look at what a Ryder Cup-style PGA Tour vs. LIV Golf event would look like.
The PGA Tour and LIV Golf are at war.
Armed with Saudi Arabia's sovereign wealth fund, LIV Golf has thrown around hundreds upon hundreds of millions of dollars to poach some of the biggest names in the sport from the PGA Tour, including several major champions. The PGA Tour, of course, fought back with suspensions and the possibility of lifetime bans.
Ultimately, the two sides will fight this battle in courtrooms. Lawsuits have already been filed, and more are expected down the road.
But what if the PGA Tour and LIV Golf settled things on the golf course in a 12-on-12 Ryder Cup-style event? And let's get the USGA, the R&A, the PGA of America, and the folks at Augusta National involved as well. If the PGA Tour wins, the LIV Golf guys can never again appear on the PGA Tour or the DP World Tour or participate in any major championships. And if LIV Golf wins, their guys can play whenever and wherever they like.
Get Jack Nicklaus to captain the PGA Tour team and Greg Norman to captain the LIV Golf team, and let's have it out. No lawyers. No lawsuits. Just 24 of the world's best battling for the future of the sport. As for the venue, I think that's a no-brainer. As golf's future is on the line, there's no better place to hold this event than the home of golf — the Old Course at St. Andrews.
As there are multiple nationalities on both teams, there's no home-course advantage like there is with the Ryder Cup or the Presidents Cup. So St. Andrews makes perfect sense.
Now, I'm not going to go through the entire format here to include foursomes and four-ball matches. Let's just pretend the two teams are tied going into the final day's 12 singles matches.
So let's get to it. It's the PGA Tour vs. LIV Golf, with the game's future on the line at the Old Course at St. Andrews. Seriously, how glorious would this be?
Tiger Woods vs. Phil Mickelson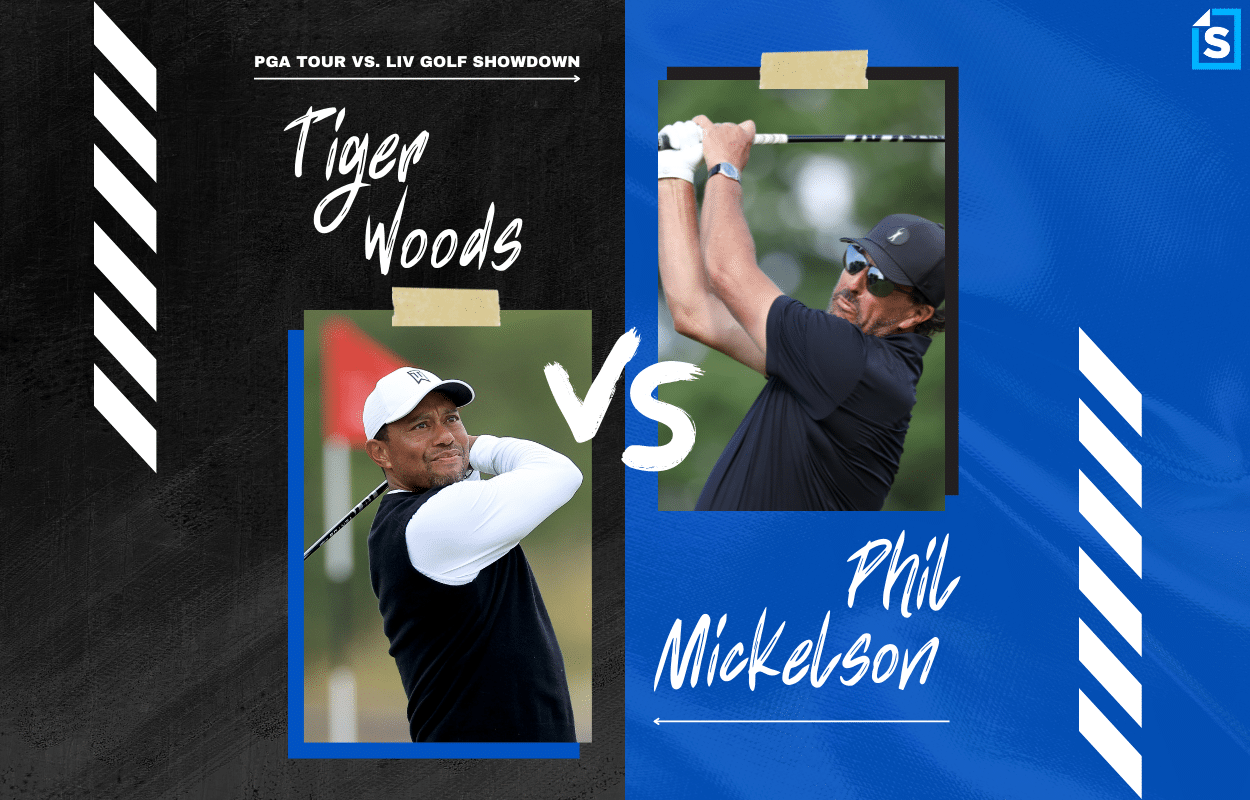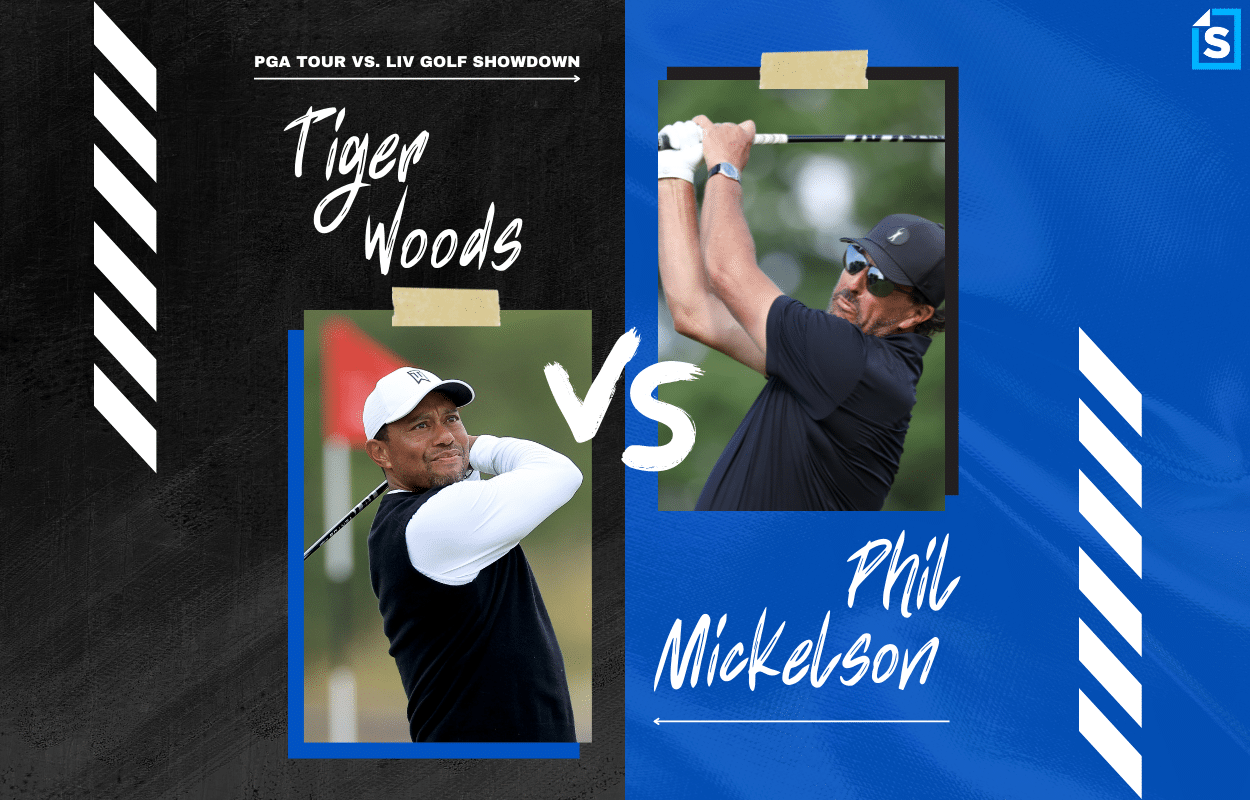 We kick things off with Tiger Woods vs. Phil Mickelson. Yes, they're both older. Yes, they've both been playing mediocre golf lately (and that's being nice). But you can't not have this marquee matchup on the docket.
And let's be honest here. Tiger and Phil would still have the biggest gallery of any match on the course. They were undoubtedly the top two golfers of their generation and easily two of the greatest players of all time, combining to win 127 PGA tour events and 21 major championships.
So, again, there's no way you can't include Tiger Woods vs. Phil Mickelson in a PGA Tour vs. LIV Golf event. We'll call them playing vice captains as each would undoubtedly be the leader of his respective team.
Scottie Scheffler vs. Dustin Johnson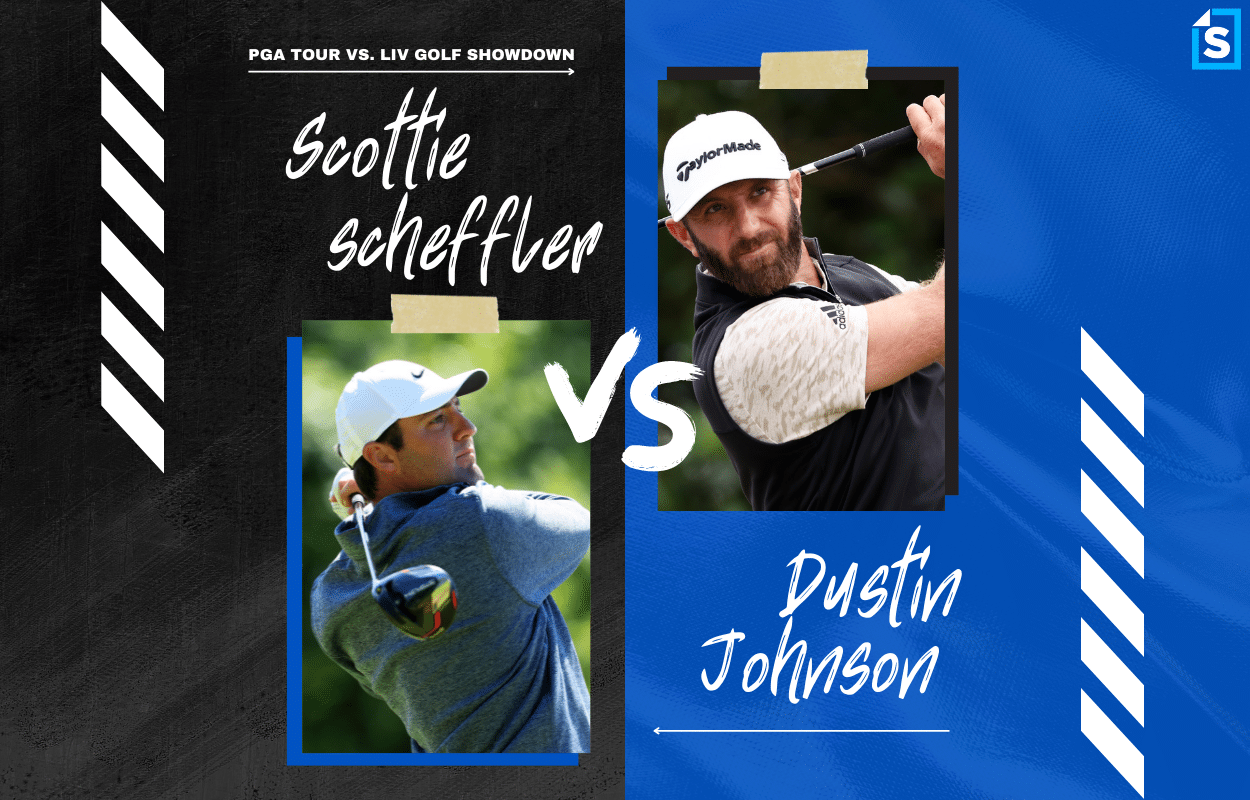 In match two, we've got current world No. 1 and reigning Masters champion Scottie Scheffler facing former world No. 1 and 2020 Masters champion Dustin Johnson. Given their respective demeanors on the course, this might not come off as the most exciting matchup, but we'd certainly see some damn fine golf here.
As far as experience goes, the edge obviously goes to DJ, who has 24 PGA Tour wins to his name and two major championships. But Scheffler is the top-ranked player in the world for a reason and is one of the hottest golfers on the planet. He's a threat to win every tournament in which he tees it up these days and would certainly be up to the challenge of facing one of LIV Golf's biggest stars.
We actually got to see this play out during the third round of The Open Championship as the two were paired together. Scheffler bested DJ by two strokes (69 to 71) and would have won in match play as well, 3&2.
Rory McIlroy vs. Patrick Reed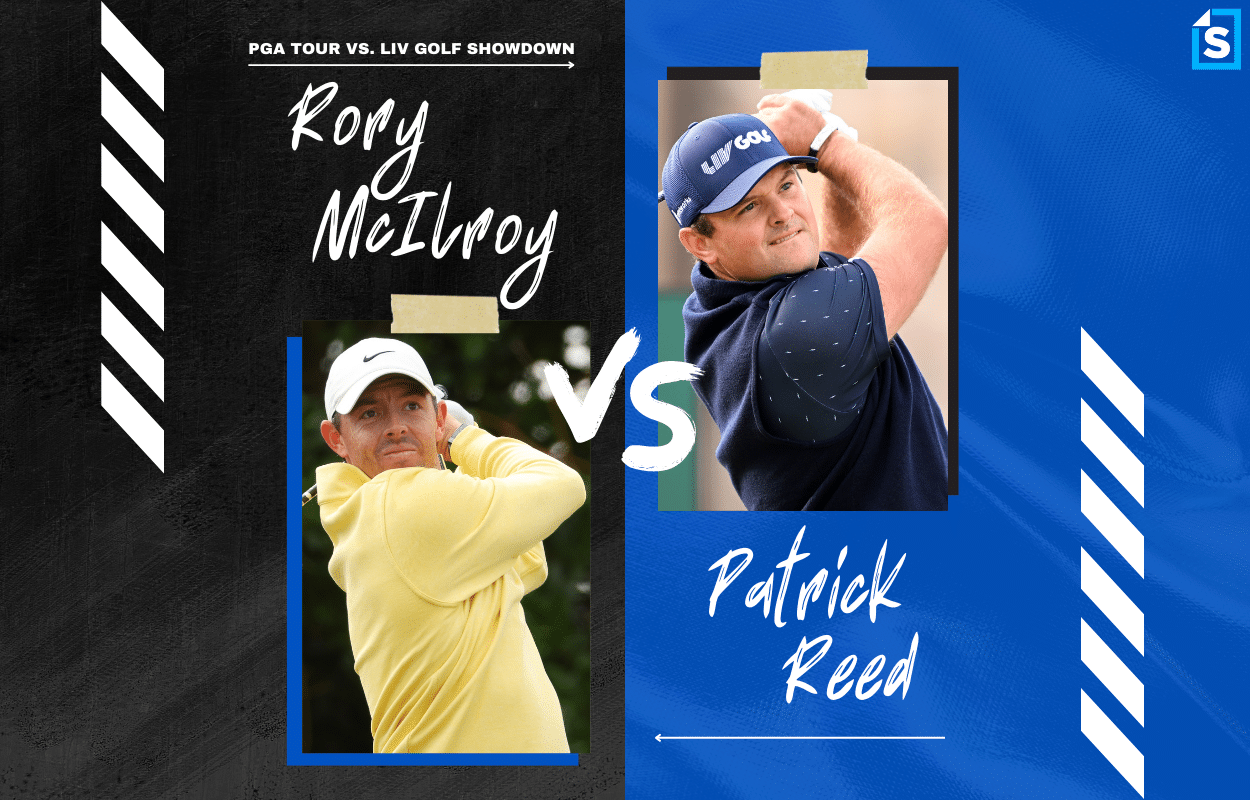 After Tiger vs. Phil, this Rory McIlroy vs. Patrick Reed showdown was the first match set in stone. Come on, how could you not want to see a rematch of that instant classic from the 2016 Ryder Cup?
Rory and Reed went back and forth that day at Hazeltine, with Reed ultimately earning a 1-up victory. But given how each is currently playing, this match might not be as close this time around. McIlroy is playing some of the most outstanding golf of his career, while Reed has struggled a bit in the last year.
But such is the beauty of golf. Anything can happen during any given round (McIlroy knows that more than anyone), and this matchup would undoubtedly be a highlight of the event.
Jon Rahm vs. Bryson DeChambeau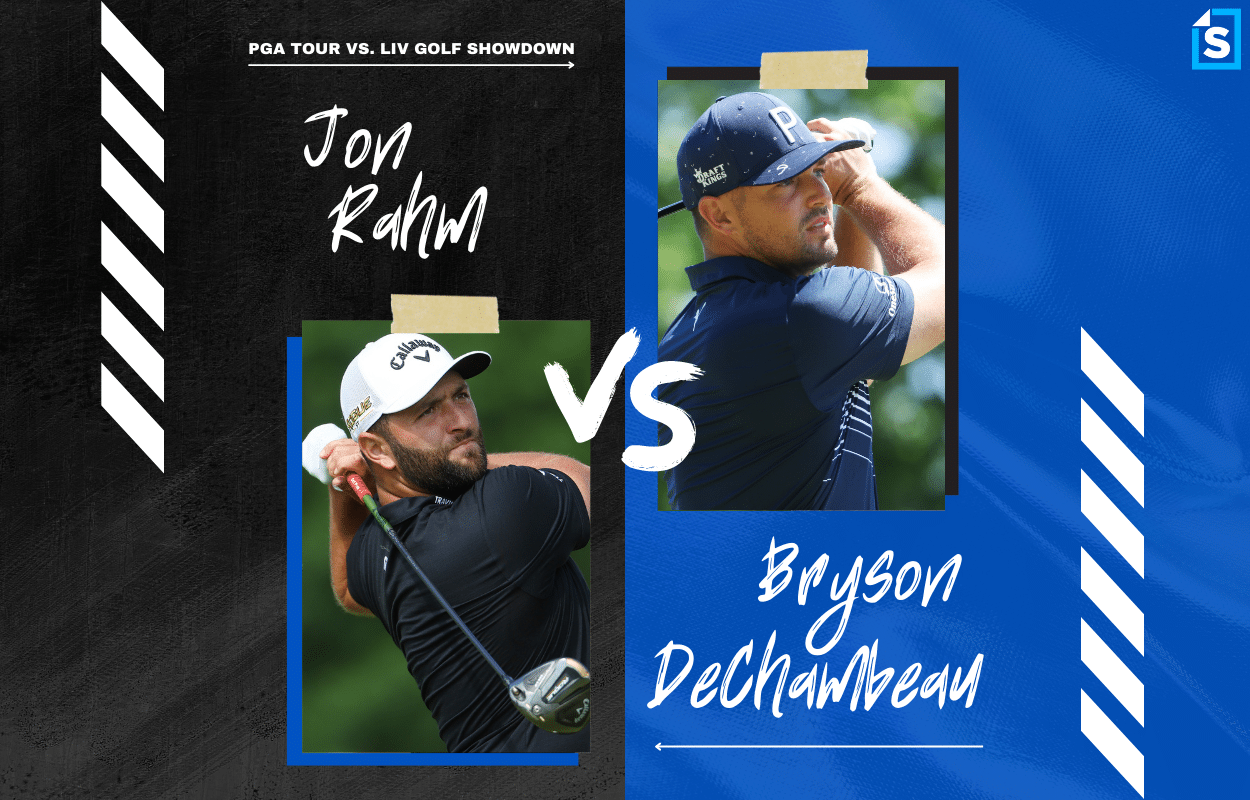 Since Brooks Koepka ruined everything and jumped ship to LIV Golf, I had to find a suitable replacement to face Bryson DeChambeau. And the easy call here was Jon Rahm. Just think of the intensity that would come with this matchup of U.S. Open champions.
Several PGA Tour players have admitted to being intimidated by DeChambeau's length off the tee. But do you really think a guy like Rahm is threatened by anyone or anything? And it's not as if the fiery Spaniard can't hit the long ball himself. He's currently third on the PGA Tour in driving distance, averaging 317.5 yards off the tee.
This would easily be one of the most entertaining matches on the card. Just imagine Rahm's facial expressions when Bryson inevitably complains about a ruling.
Patrick Cantlay vs. Brooks Koepka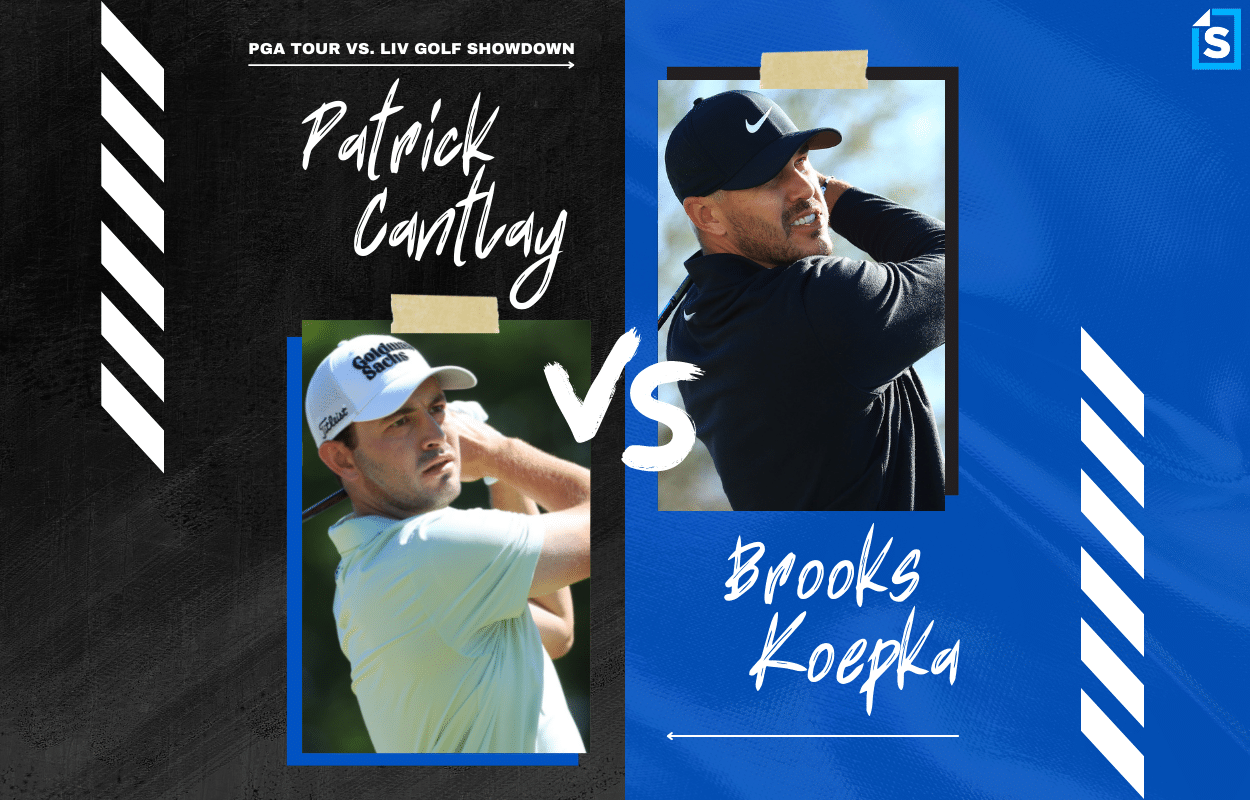 Speaking of intensity, we come to Patrick Cantlay vs. Brooks Koepka. There's no doubt that Koepka is one of golf's most intense figures. But have you seen Cantlay's when he gets fired up? Look no further than his run toward the 2021 PGA Tour FedEx Cup title for that.
While both turned pro in 2012, Koepka has the better overall resume due to his four major championship victories. And seeing as how this PGA vs. LIV event would have a major championship feel to it, Brooksie might actually seem like he cares.
While Cantlay hasn't yet won a major, it's not as if he hasn't won big tournaments. He's won seven times on the PGA Tour and is a two-time winner at the Memorial, which annually boasts one of the strongest fields in golf.
Xander Schauffele vs. Louis Oosthuizen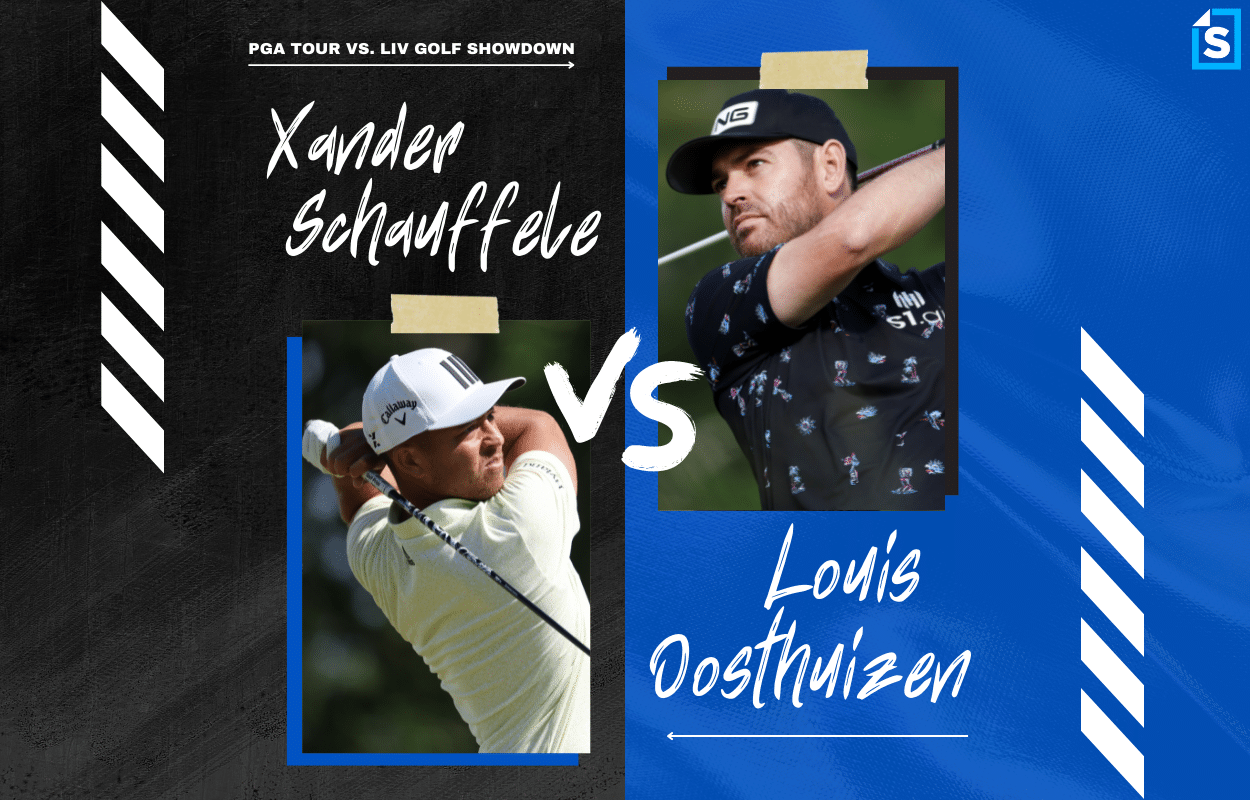 Xander Schauffele vs. Louis Oosthuizen may not look like the sexiest matchup on this list, but I was excited to pair these two together. These aren't big guys – both are a few inches shy of the six-foot mark — but they're both tremendous ball strikers who can string birdies together at any time.
And both know what it's like to win on a big stage. Oosthuizen won The Open Championship in 2010 on the Old Course at St. Andrews and has been the runner-up at each of the other three majors during his career.
Schauffele may not own a major championship victory but is the reigning Olympic gold medalist. And he's put himself in position on several occasions to win a major. He's been the runner-up at The Open and The Masters and tied for third at the U.S. Open at Pebble Beach in 2019. This would be one of the more underrated matches, but certainly one of the best.
Cameron Smith vs. Abraham Ancer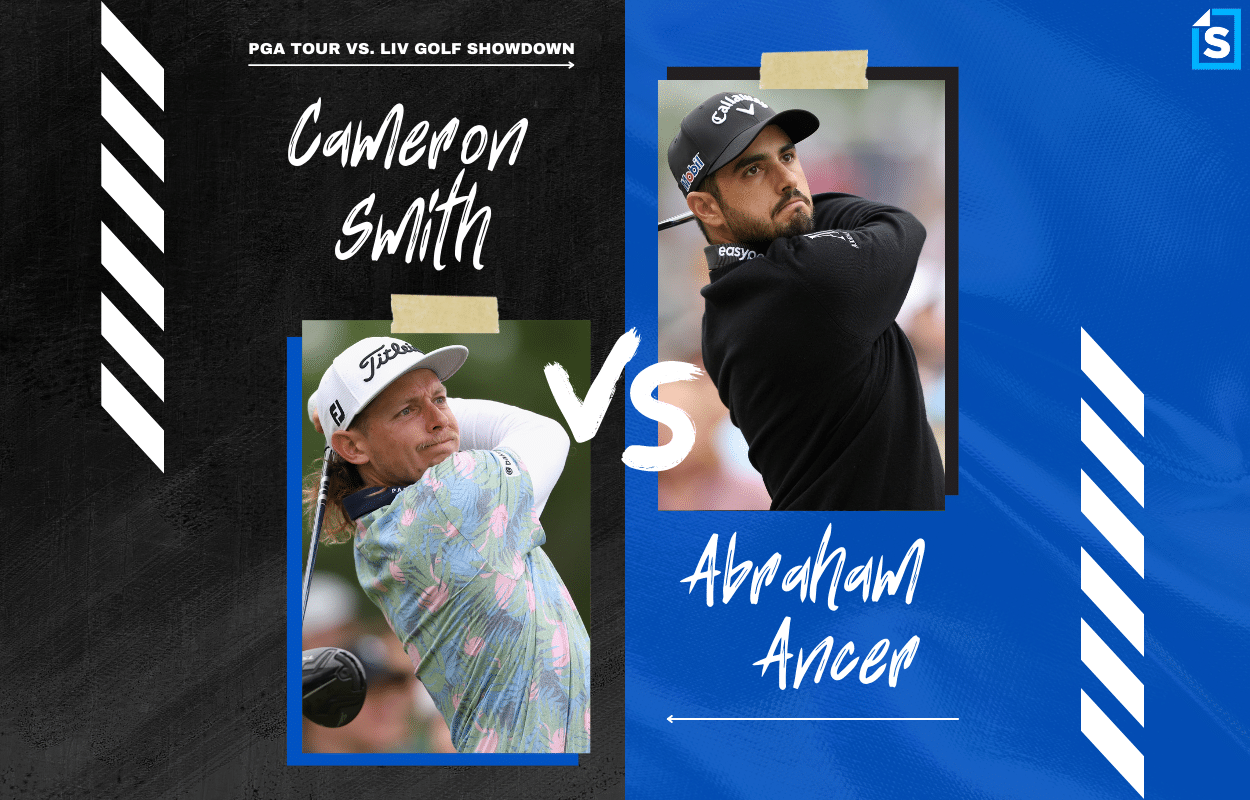 LIV Golf's Abraham Ancer may not be familiar to some, but he quietly got himself into the top 25 of the world rankings over the last year with some stellar play on the PGA Tour, including a big win at the WGC-FedEx St. Jude Invitational. He's actually LIV Golf's third-highest-ranked player behind only DJ and Koepka.
It's also been a big year for Australia's Cameron Smith. He kicked off his year by winning the Sentry Tournament of Champions in Hawaii and then notched the biggest win of his young career with an incredible performance at The Players Championship. Smith has also finished inside the top 10 at The Masters four of the last five years.
And he just scored the biggest win of his life with his first major championship, shooting 20-under to win The Open Championship at St. Andrews. Ancer tied for 11th. This would be a better match than you might think — unless, of course, Smith's putter gets hot like it did on the Old Course. Because nobody's beating him then.
Justin Thomas vs. Kevin Na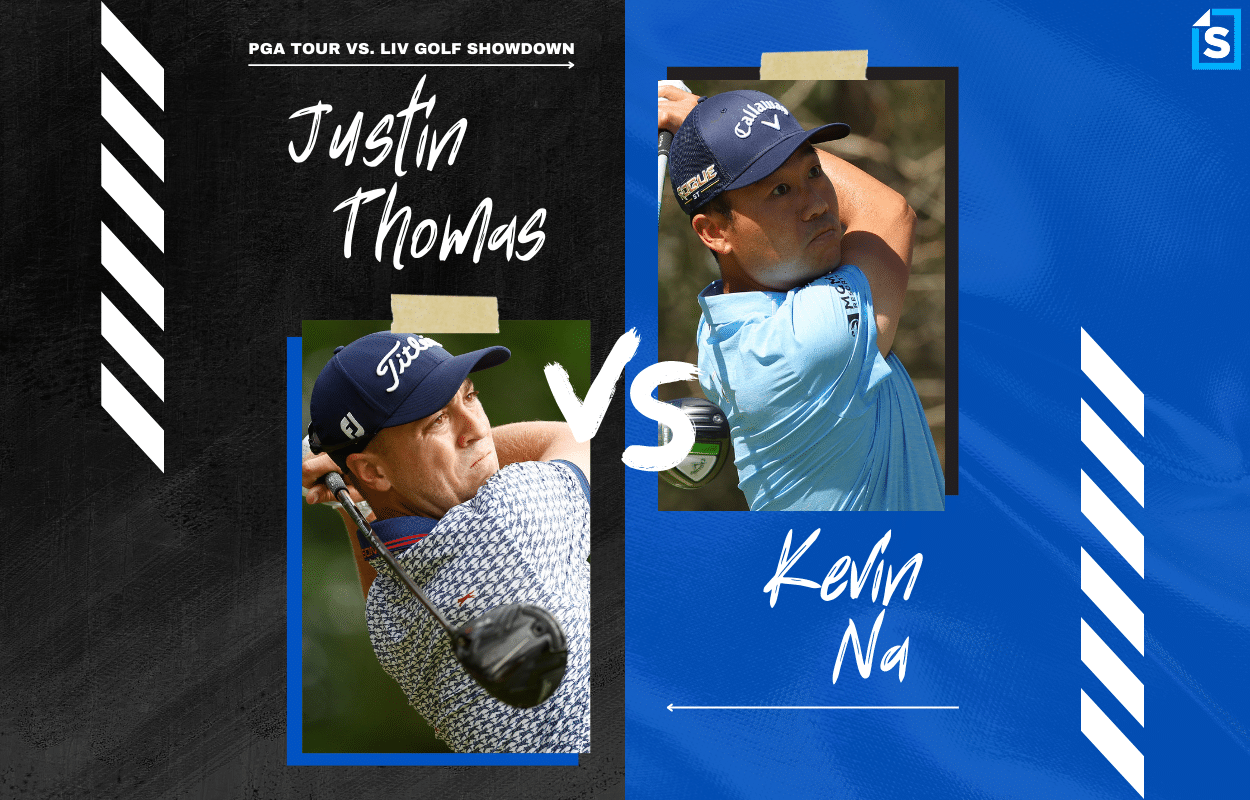 I came really close to matching up Justin Thomas with Brooks Koepka since he's also a multiple-time major champion. But I obviously went another way with Cantlay.
I figured if a West Side Story or The Outsiders-type rumble broke out that Cantlay might fare a little better than JT, all 160 pounds of him. Kevin Na enters the battle with an inch and seven pounds on Thomas, but at least it's closer.
All kidding aside, Justin Thomas vs. Kevin Na would be highly entertaining. Given JT's knack for cracking jokes, it'd be great to see his take on Na's signature quick walk to the hole. And, honestly, I like Thomas near the middle of the pack for the PGA Tour. He plays with a lot of emotion and could give his team that much-needed spark in the middle matches.
Collin Morikawa vs. Sergio Garcia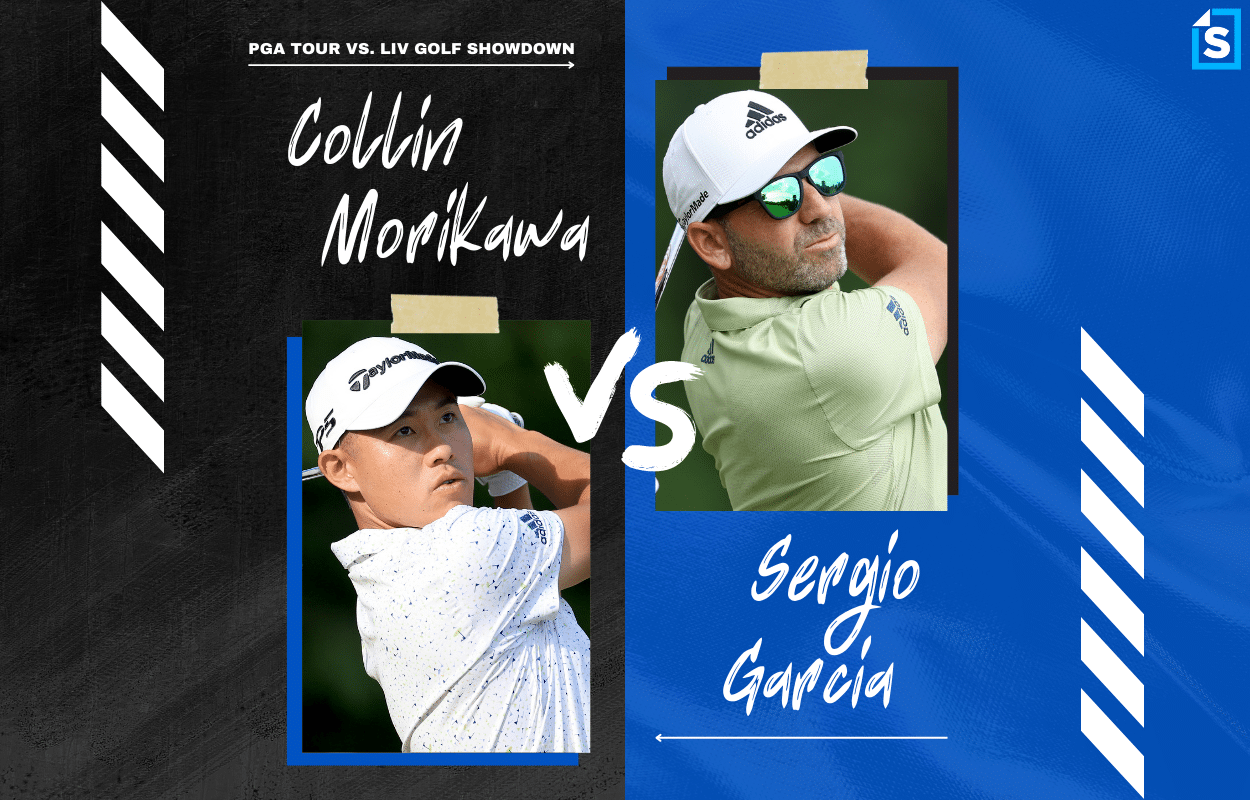 ln another battle of major champions, we've got Collin Morikawa for the PGA Tour and Sergio Garcia for LIV Golf. Of course, their respective paths to those major wins were a bit different.
It took Sergio Garcia a record 74 starts to get his, finally notching the elusive accomplishment at The Masters in 2017. As for Morikawa, he won in major start number three, winning the 2020 PGA Championship at TPC Harding Park. And then he won a second in start number eight, winning the 2021 Open Championship at Royal St. George's.
Garcia hasn't finished higher than 19th in a major since his Masters win and may not get many more chances to win a second. But he thrives in these team events and owns the record for the most all-time victories in the Ryder Cup.
Jordan Spieth vs. Lee Westwood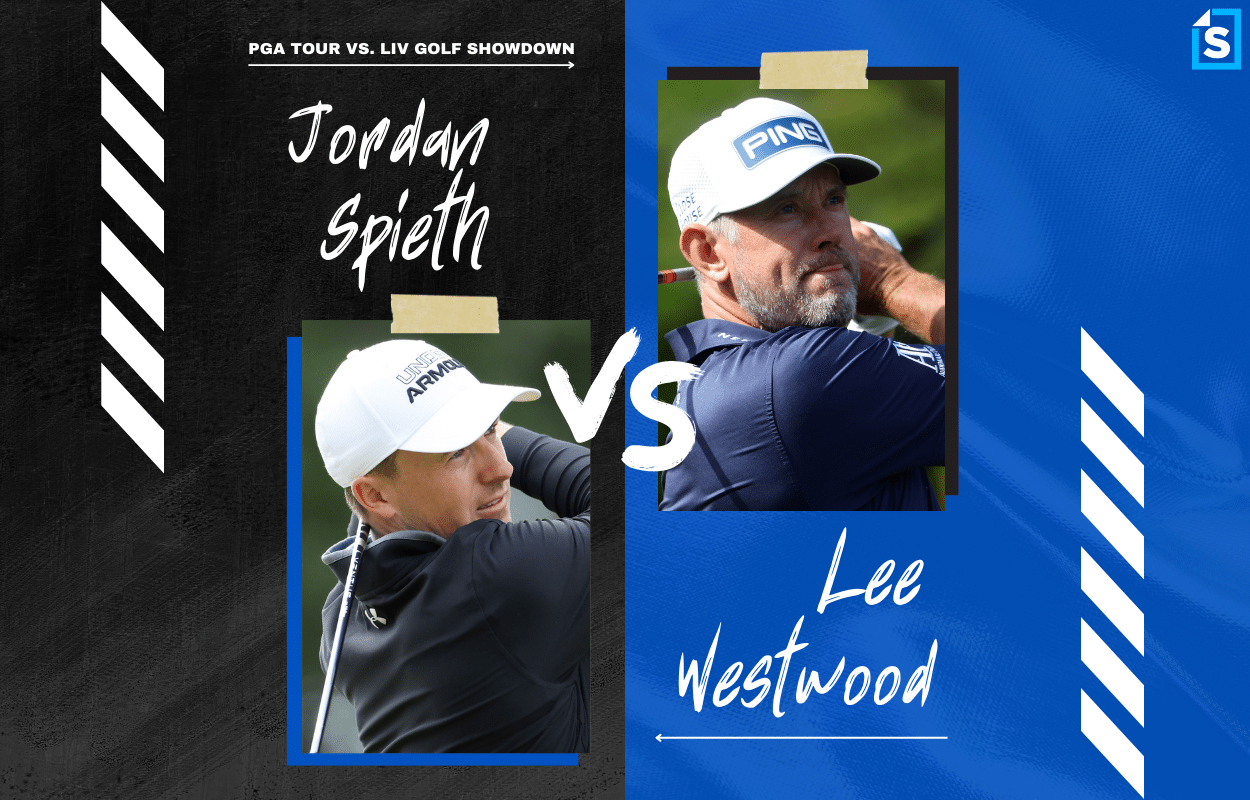 ln a second straight new school vs. old school matchup, we've got Jordan Spieth taking on Lee Westwood.
Both have held the top spot in the world rankings, but we all know the big difference in their respective resumes. Spieth, still not even 30, already has three major championships and is just a PGA Championship shy of the career Grand Slam. Westwood, on the other hand, holds the record for the most major championships played without a victory.
Okay, I promise I'm done taking digs at guys like Sergio and Westwood for their records in majors. It's just so easy.
Spieth vs. Westwood would be fun to watch. They're both very calculated in their approach to the game, and, honestly, if you take away the accent, Westwood seems like he'd be a Texas guy like Spieth, doesn't he? Even in his late 40s, the Englishman can go low and contend in tournaments. This is far from a slam-dunk win for Spieth and the PGA Tour team.
Matt Fitzpatrick vs. Charl Schwartzel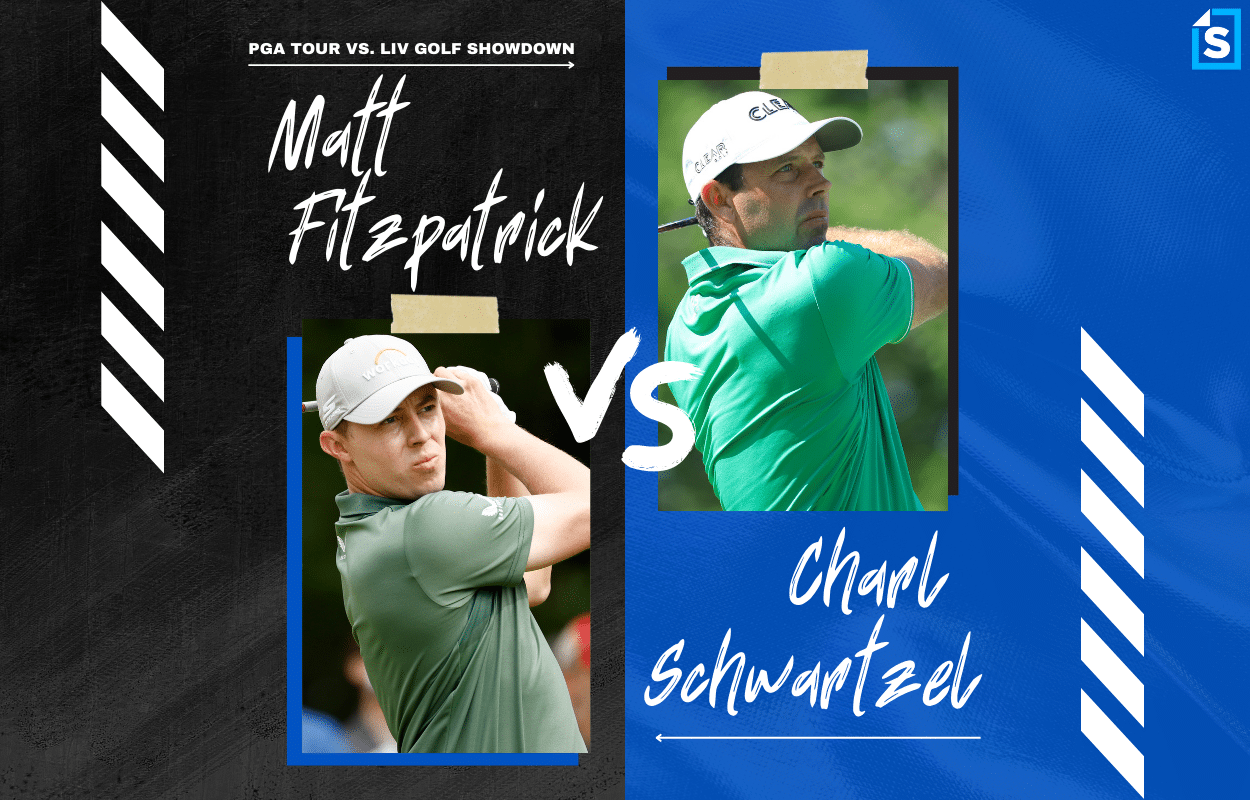 If you look at the full LIV Golf roster, Charl Schwartzel honestly might not have made this 12-man squad had I done this before the Saudi-backed series kicked off, even as a past Masters champion. Talor Gooch got left out. Branden Grace got left out. Martin Kaymer got left out. But then Schwartzel went out and won their first event. So how can he not be included?
In this scenario, I've got him squaring off with fellow major champion Matt Fitzpatrick, the reigning U.S. Open champion. I thought about pitting Fitzpatrick against fellow Englishman Lee Westwood, but that seemed a little lazy. That's why you didn't get Jon Rahm vs. Sergio Garcia either.
And, honestly, I like this Fitzpatrick-Schwartzel matchup better anyway.
Will Zalatoris vs. Ian Poulter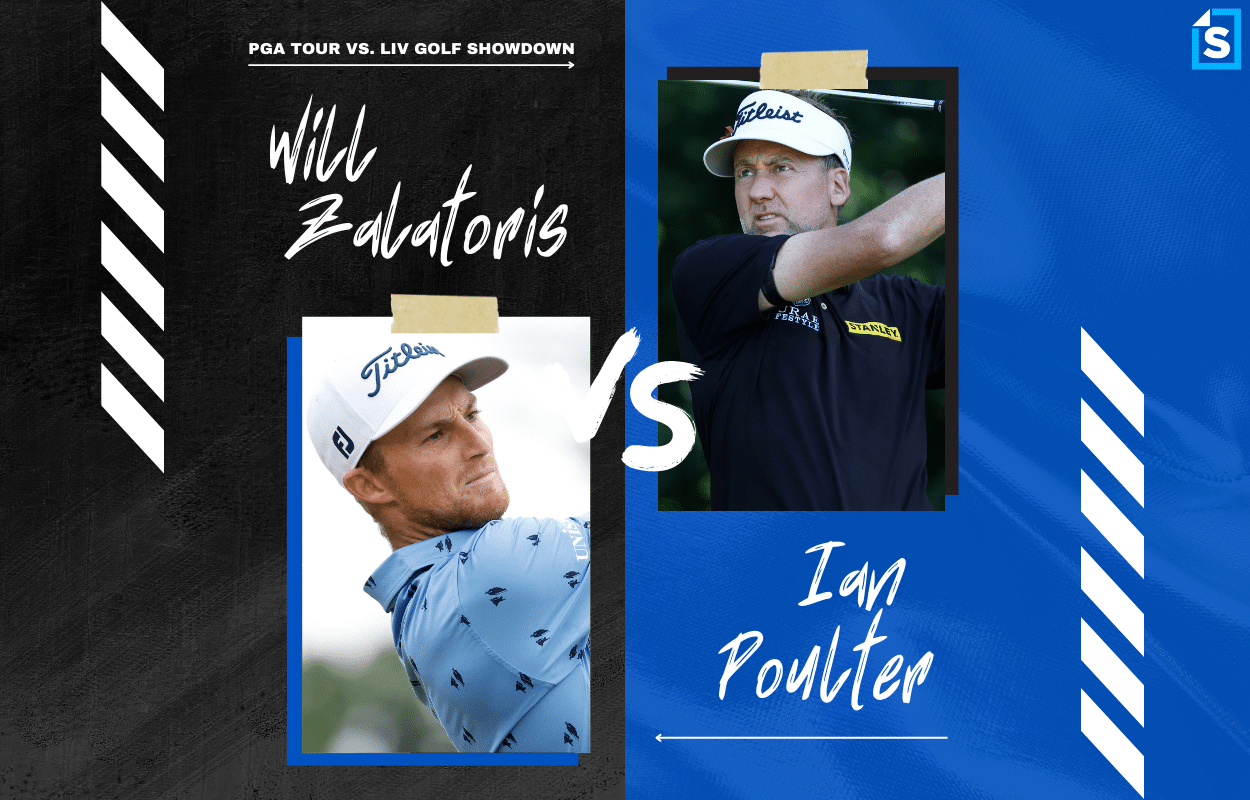 Last but certainly not least, we've got Will Zalatoris vs. Ian Poulter.
Like Schwartzel, Poulter probably shouldn't have made the LIV Golf team, especially given how he's played recently. But given his legendary performances in the Ryder Cup, I genuinely believe Greg Norman would put him on this team if this were a real event.
I had a big decision to make filling the last spot on the PGA Tour team, and I nearly went with Viktor Hovland, who is easily the biggest snub of this entire fictional event. But with what he's done lately, how could Will Zalatoris not be included?
And I would love to see Zalatoris take on Poulter, who played his first professional tournament in 1995, the year before Willy Z was born. So Poulter obviously has the edge in experience. But I'd take Zalatoris against anyone on the LIV Golf team right now. Or anyone in the world, for that matter. That's why he's here.
So there you have it, folks. The PGA Tour vs. LIV Golf. Who ya got?
Stats courtesy of PGATour.com and LIVGolf.com
Like Sportscasting on Facebook. Follow us on Twitter @sportscasting19 and subscribe to our YouTube channel.