Ranking Bubba Wallace, Kyle Busch, and the 7 Best Bets to Win the 2023 Daytona 500
The big day has finally arrived in NASCAR world. Welcome to the 65th annual Daytona 500 and the official start of the 2023 NASCAR Cup Series season.
Before the green flag waves on The Great American Race, here are the seven drivers that — for various reasons — have the best shot of writing their name in the history books at fabled Daytona International Speedway in Daytona Beach, Florida.
7. Aric Almirola
At this time one year ago — or even six months ago — Aric Almirola, who'd announced plans to retire after the 2022 season — wasn't expected to even be on the starting grid for the 2023 Daytona 500, much less a contender to win the race.
But Almirola will be one today, and he'll have a nice view when he takes the green flag from Row 2 in the Stewart-Haas Racing Ford he rode to Victory Lane in Thursday night's second qualifying race.
Of course, Almirola is no stranger to being fast on superspeedways, as one of his three official Cup Series wins has come at Daytona, with another taking place at Talladega — NASCAR's other superspeedway. Almirola would actually, in all likelihood, have two points-paying wins at Daytona if the final half-lap of the 2018 Daytona 500 had played out differently.
Leading the pack on the entry to Turn 3, Almirola lost control of his No. 10 car and slammed the wall thanks to a bump from Austin Dillon, who went on to take the win.
If any driver in today's race probably feels like the Daytona 500 owes them one, it's Almirola.
6. Kyle Busch
One of five former Cup Series champions in today's field looking for his first Daytona 500 win, Kyle Busch endured a major setback in Thursday night's second qualifying race when his race-leading No. 8 Richard Childress Racing Chevrolet was tagged from behind by the Chevy of Trackhouse Racing's Daniel Suarez and slammed the outside wall.
The accident not only ruined Busch's night, but it also meant the two-time Cup Series champion and his new team would need to pull out a backup car for Sunday's main event.
Despite starting near the rear of the field in a vehicle that likely won't be as fast as the primary car his team built for Daytona, Busch has the talent, the equipment, the confidence, and the motivation to finally claim the illustrious Harley J. Earl trophy that's eluded him in 17 previous tries.
5. Alex Bowman
An already-big Daytona Speedweeks for Alex Bowman, who announced a multiyear contract extension with Hendrick Motorsports on Wednesday morning, got even bigger Wednesday night when the driver of the No. 48 Hendrick Chevy captured the pole for Sunday's race.
Bowman — no stranger to strong Daytona 500 qualifying performances after starting on the front row each of the past five years — will look to finally turn his familiar qualifying speed into a winning performance on race day after finishing no better than 11th in six previous Daytona 500 starts.
4. Joey Logano
It feels like an eternity since Joey Logano's first and only Daytona 500 triumph, which came in 2015.
Since then, the Team Penske driver has recorded a pair of fourth-place finishes and a pair of sixth-place finishes in the 500, but he's come home no better than 12th in his last seven starts at The World Center of Racing.
On the more positive side, Logano enters the 2023 season carrying the confidence that comes with being a reigning and two-time Cup Series champion, and he'll line up third on the starting grid after winning Thursday night's first Daytona 500 qualifying race, in which he led 25 of 60 laps in his No. 22 Ford.
3. Denny Hamlin
The only driver in Sunday's field with three Daytona 500 wins, Denny Hamlin has obviously mastered Daytona International Speedway's 2.5-mile high-banked, high-speed layout like few, if any, other drivers currently competing in NASCAR's premier series.
If Hamlin can simply — or not so simply — stay out of trouble and be around at the end of the 200-lap affair, history suggests he'll likely be the one to beat.
2. Bubba Wallace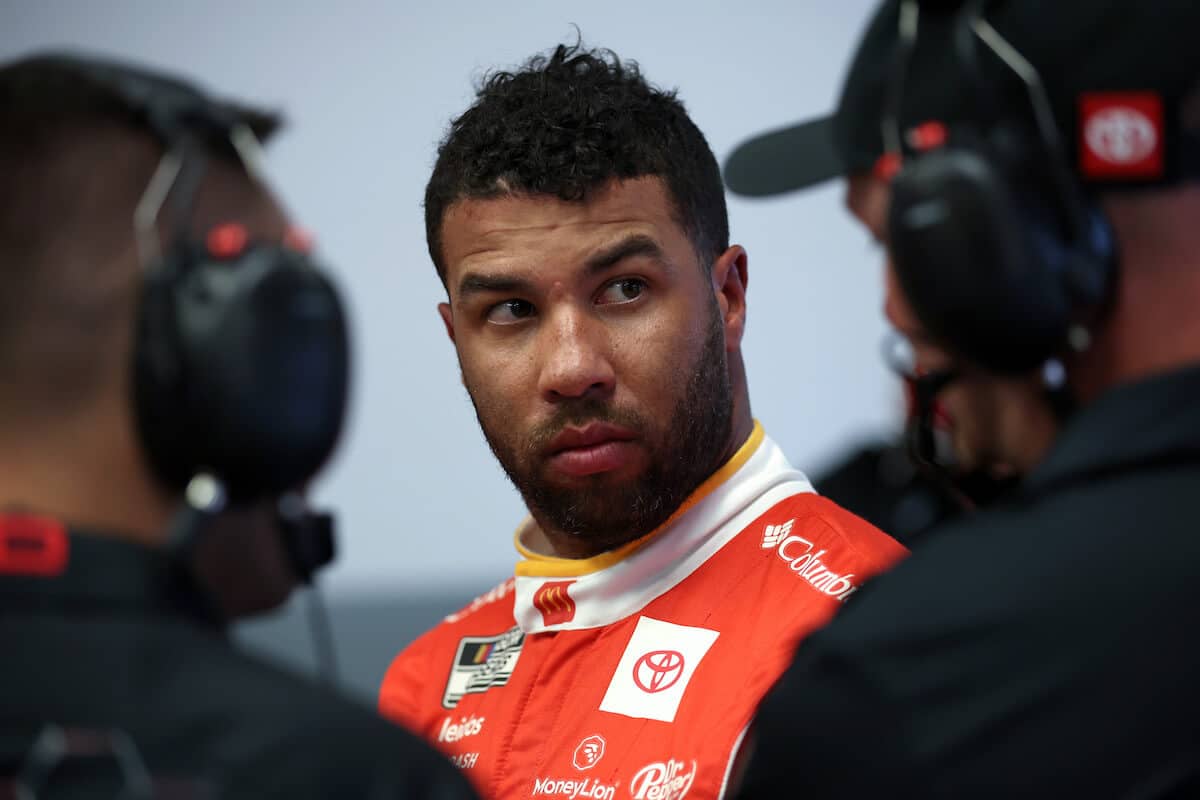 A runner-up finisher at the Daytona 500 in 2018 and 2022 with two different teams, Bubba Wallace has clearly figured out what it takes to run at the front and contend for wins at the illustrious speedway built by NASCAR founder William H.G. "Big Bill" France.
Will this be the day it all comes together and he's the one in the catbird seat when the checkered flag waves?
His team owner, three-time Daytona 500 winner Denny Hamlin, recently said he believes that Wallace is one of the sport's top superspeedway drivers, but the 23XI Racing driver has still never won a race at Daytona. 
Perhaps until today, that is.
1. Ryan Blaney
No one has been consistently faster on NASCAR's superspeedways over the last few years than Ryan Blaney, who has a win in the fall Daytona race and a pair of victories at Talladega.
That isn't the whole story, though.
The reality is that Blaney has come painfully close to winning the Daytona 500 multiple times in recent seasons, only to always experience a bitter defeat. It happened in 2020 when he finished second to Denny Hamlin, and it happened again last season when he finished fourth after leading 36 of 201 laps.
So far, Blaney's most impressive Daytona 500 performance has come in 2018 when he led 118 of 207 laps but finished seventh in his No. 12 Team Penske car.
Rest assured that no driver is hungrier for a Daytona 500 breakthrough, and neither will any driver likely have more speed if recent trips to Daytona mean anything.