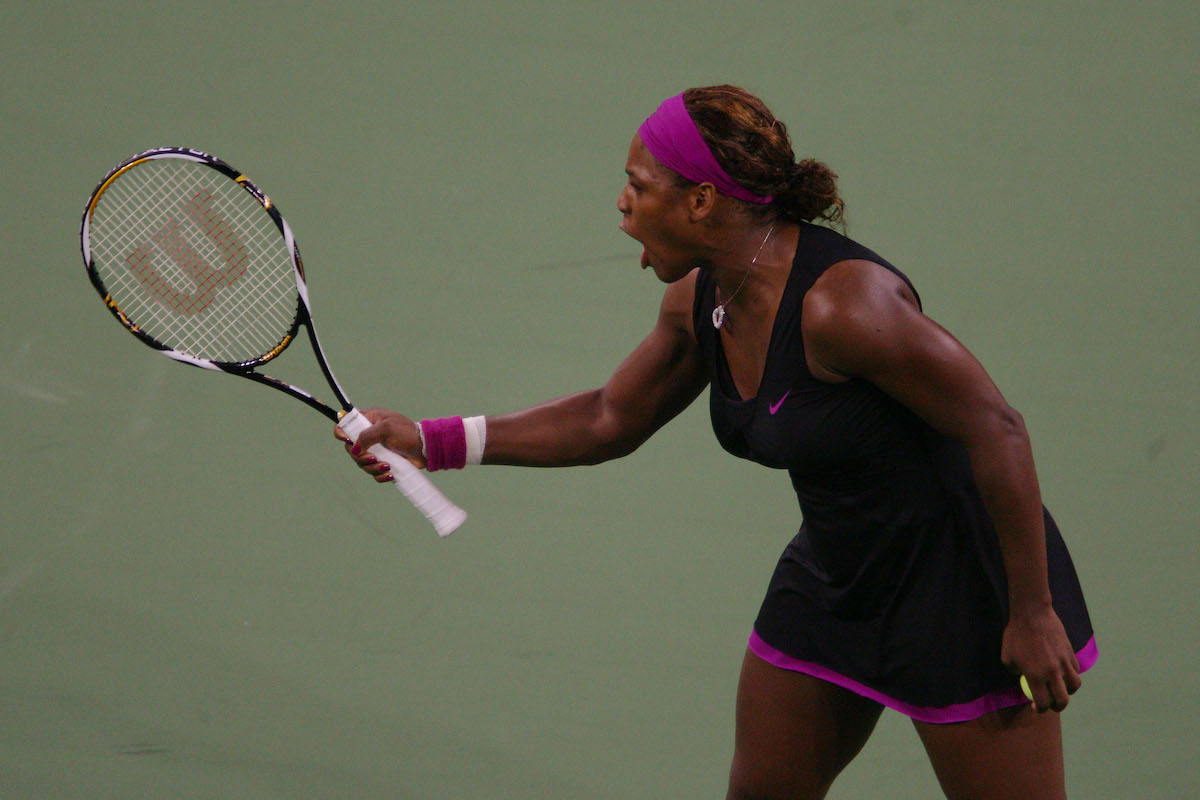 Serena Williams' NSFW Outburst During a Match Resulted in the Heftiest Fine in Tennis History
Serena Williams once exploded on a lineswoman during the 2009 U.S. Open and faced a hefty penalty for it.
Serena Williams will go down as one of the greatest athletes ever. Part of what made her so dominant on the court was her passion. Although this was a good thing, the tennis legend let her emotions get the best of her sometimes.
Williams produced many memorable moments throughout her career. She won the 2017 Australian Open while pregnant with her daughter, for example. In 2009, she went off at the U.S. Open, which resulted in her receiving the heftiest fine in tennis history.
Serena Williams' career struggles at the U.S. Open
There is something about the U.S. Open that didn't agree with Serena Williams. On the court, she won the Grand Slam six times and reached the finals 10 times. However, Williams experienced some verbal altercations at this event throughout her career.
The most recent incident came in 2018 against Naomi Osaka. In the second set, Williams was called for a code violation after her coach, Patrick Mouratoglou, gave her hand signals. Slamming her racket down earned the tennis star another violation, resulting in her losing a point. Williams then berated chair umpire Carlos Ramos for assuming she was cheating. She ended up losing the match and was fined $17,000.
Williams was involved in another verbal exchange at the 2007 U.S. Open. In the final round, chair umpire Eva Asderaki called a hindrance violation on Williams after the tennis player yelled at her opponent while addressing a return. The tennis legend had a few choice words for Asderaki during the changeover. The umpire rewarded her opponent, Samantha Stosur, the point for the game as a result.
Both instances involved Serena Williams' mouth getting her in trouble. In 2009, however, her words resulted in the biggest fine ever levied against a professional tennis player.
Serena Williams unloads on a lineswoman for calling a foot fault at the 2009 U.S. Open 
Entering the U.S. Open in 2009, Serena Williams was on a roll. She was fresh off winning her third Wimbledon title and had won three of her last four majors. Having succeeded at the tournament in 2008, Williams hoped to defend her U.S. Open title. She advanced to the semifinal round, where she faced unseeded Kim Clijsters.
Williams lost the first set against Clijsters 6-4. Frustrated about her performance, she slammed her racket and was received a warning for racket abuse. In the second set, Williams served down 6-5, hoping to send the match into a tiebreak. Before the serve, lineswoman Shino Tsurubuchi called her on a foot fault on her second serve. The then-26-year-old unloaded on her for making that call.
"I swear to God I'm [expletive] going to take this [expletive] ball and shove it down your [expletive] throat," said Williams, per ESPN.
She was given a point penalty for unsportsmanlike conduct after. Since it was her second violation, the match was over. Clijsters won.  
Serena Williams receives the largest fine for a tennis player in history
The profanity-laced rant Serena Williams said during the 2009 U.S. Open was one of the lowest points of her career. However, many could understand her frustration. Being called for what is considered a minuscule violation with the game on the line was a hard pill for her to swallow.  
Mackie Shilstone, a fitness trainer who's worked with Williams throughout her career, told ESPN:
"Some of her outbursts on the court, they have been misconstrued. I was there when the woman called the foot fault. That woman missed completely. People don't think athletes are supposed to be human or have hearts. There is no malice with Serena. It's the heat of the battle,"
Williams faced harsh consequences for her actions. Three months after her outburst, she was fined $82,500 and was placed on a two-year probation. This is the biggest fine a player has ever received in professional tennis history, according to ESPN. The tennis legend did apologize to the lineswoman for what she said.
All athletes have a meltdown moment, and Serena Williams is no exception. She made over $94 million in prize money during her career. So that $82,500 fine in 2009 is probably a drop in the bucket.
Williams retired from tennis in September 2022.
Stats and figures courtesy of WTA Tennis.