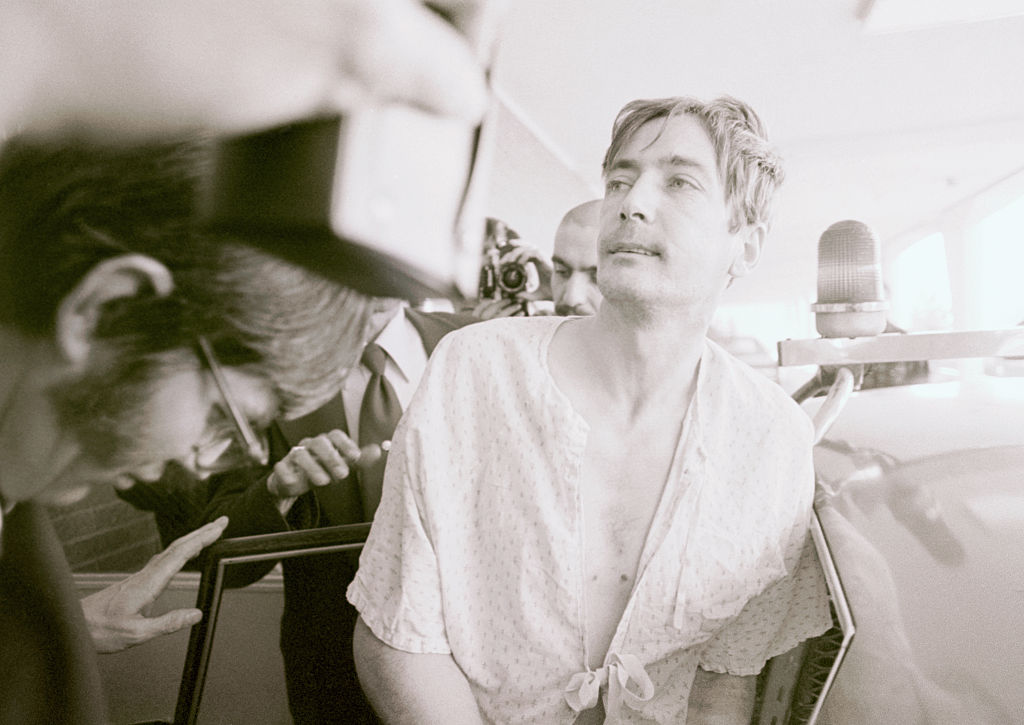 Serial Killer Gary Gilmore's Execution Inspired Nike's 'Just Do It' Slogan
The final words of the man executed in Utah in 1977
How many people inspired by the "Just Do It" message delivered by Nike athletes Michael Jordan and Rafael Nadal would be repulsed if they knew the origin of the world-famous marketing slogan?
Marketing and brand recognition are crucial
Think of a favorite food you eat or a product you use around the house, and it's likely that the logo on the box it came in or the catchy slogan from the commercial selling it quickly pops to mind.
That's the sign of a winning marketing campaign. And if the slogan is good enough, the company will keep riding it for as long as it can. That's certainly the case with "Just Do It," a fixture of Nike advertising since the late 1980s.
The first "Just Do It" ad featured Walt Stack, an 80-year-old marathon runner. Nike used it seven years later with another marathoner, HIV-positive competitor Ric Munoz. Along the way, a wide range of pro stars including Michael Jordan, Bo Jackson, Roger Federer, and Wayne Rooney appeared in "Just Do It" campaigns. More recently, controversial quarterback Colin Kaepernick was used in 2018 for the 30th anniversary of the campaign.
'Just Do It' was inspired by Gary Gilmore's final words
No U.S. state had carried out an execution in nearly a decade until Gary Gilmore, 36, was put to death by a firing squad in a Utah prison on Jan. 17, 1977. Gilmore had been convicted the previous year of killing a gas station attendant and a motel clerk.
According to Norman Mailer's acclaimed novel "The Executioner's Song," Gilmore was asked if he had any last words before the sentence was carried out by the five-firing squad. He responded, simply, "Let's Do It."
Some 11 years later, those words stuck in the mind of advertising executive Dan Wieden, who grew up in the same Oregon city as Gilmore. Focusing on those words while preparing a campaign pitch for Nike, Wieden altered the phrase to "Just Do It" and put it in front of executives at the shoe and apparel company.
"I went to Nike and (co-founder) Phil Knight said, 'We don't need that,'" Wieden said in 2015. "I said, 'Just trust me on this one.' So, they trusted me, and it went big pretty quickly."
Liz Dolan, who was the chief marketing officer at Nike, recalled that executives would search for a new slogan on a regular basis even after "Just Do It" took off, but the company was swayed by letters from people saying the simple phrase had inspired them in some facet of life.
So rather than swap out the words in a new ad campaign, Nike simply changed the spokesman or the cause from year to year.
'Just Do It' helped fuel a Nike turnaround
The shift to the "Just Do It" slogan came at a time when Nike was battling several competitors for dominance in the shoes and apparel business, with Reebok being particularly difficult to keep pace within the area of personal fitness.
Nike ended up righting its ship with the combination of $40 million of marketing for "Just Do It" and the collaboration that year of Michael Jordan and actor/director Spike Lee in the Mars Blackmon commercials. "After the launch of Just Do It, Nike brand sales were rejuvenated, increasing 1,000% over the next ten years,"
Jerome Conlon, Nike's director of brand planning, wrote in a 2015 column for Branding Strategy Insider. "And Nike truly stepped into its role as one of the world's (premier) iconic and soulful brands."