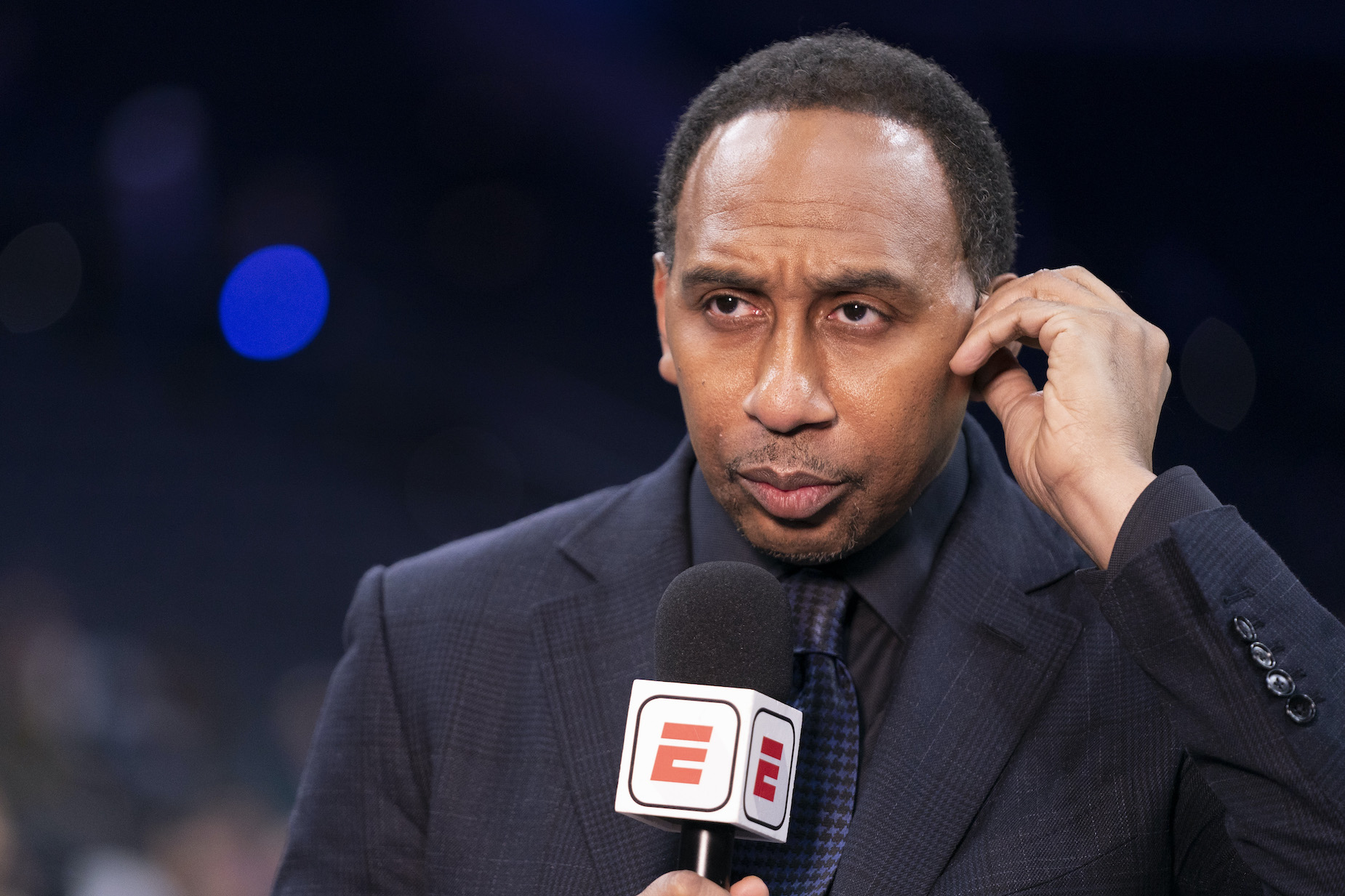 Stephen A. Smith Just Took to Twitter and Did Exactly What LeBron James Refused to Do: 'King James, It Really Is Necessary'
On Tuesday night, Stephen A. Smith took to Twitter to make a major announcement, then urged LeBron James to do the same.
If you turn on ESPN and listen to Stephen A. Smith on a given day, there's a decent chance you'll hear him discussing LeBron James. Those comments are usually focused on sports: is King James really the GOAT, for example? On Tuesday, March 9, however, Stephen A. mentioned LeBron in a much different context.
On his Twitter account, Stephen A. Smith posted a video that was more serious than most; somewhat surprisingly, it had nothing to do with sports. Instead, the ESPN host stepped up to do what LeBron James refused to do: pledge to get a COVID-19 vaccine.
Stephen A. Smith is a major player in the sports world
It goes without saying that Stephen A. Smith isn't everyone's cup of tea. Whether you like him or not, though, the ESPN host is one of the biggest names in sports media.
While Smith actually headed to college to play basketball, an injury kept him from spending much time on the court. He did manage to show his skills in another arena, though: sports writing.
After graduation, Stephen A. took a variety of newspaper jobs, eventually landing at the Philadelphia Inquirer. There, he made a name for himself and rose through the ranks to become a columnist. Smith also started branching out, appearing on radio and TV shows to talk all things NBA.
While things haven't gone completely according to plan—Smith has made plenty of controversial comments during his time on the air—the New York-native has still had quite the career. Whether you love him or hate him, you can't argue with Stephen A.'s success: he makes plenty of money, has his own ESPN+ show, and is one of the most recognizable names in sports media.
LeBron James refused to comment on getting his COVID-19 vaccine
As reported by ESPN, NBA Commissioner Adam Silver has hoped that some of the league's biggest stars could "educate and influence the public" about the importance and safety of the COVID-19 vaccine. Unfortunately for him, it seems like that plan is struggling to get off the ground.
Ahead of the NBA All-Star game, LeBron James was asked if he'd feel comfortable getting vaccinated. The LA Lakers star provided a noncommittal answer.
"That's a conversation that my family and I will have. Pretty much keep that to a private thing," James said, according to USA Today. "Obviously I saw Adam [Silver] had his comments about the vaccination. But things like that, when you decide to do something, that's a conversation between you and your family and not for everybody. I'll keep it that way."
James, it seems, isn't alone in that position. In another ESPN report, Adrian Wojnarowski explained that "many of the NBA's top players are expressing apprehension about accepting invitations to participate in league-sponsored public service announcements to bolster broader acceptance of the coronavirus vaccine."
Stephen A. Smith takes to Twitter to announce he's being vaccinated
During his time in the media, Stephen A. Smith has shared his opinions on virtually every matter. On Tuesday, March 9, he weighed in on another topic: vaccination.
"I fully understand where LeBron James is coming from right there," Smith began in a video shared on his Twitter account. "And I respect that man immensely for what he had to say because we know the shameful history this country has with what was essentially medical experimentation on Black folks. I understand wanting to keep medical issues private. I was right there with LeBron on this, but let me be straight with you on something. In the interest of full disclosure, after long, hard thought, spanning the last few months, I've decided that I'm getting the COVID-19 vaccine."
Smith went on to say that he would be getting his first vaccine that evening. He cited stats about how COVID-19 has affected the Black community—along with figures about how few vaccines have reached that same community—as his motivation for both signing up for his shot and speaking up about it.
"Why," he explained. "It's simple. People are dying. My people are dying."
Smith also addressed LeBron James, hoping that he'd speak out.
"LeBron James has done almost everything right since he entered the National Basketball Association," Smith concluded. "He's spoken out and been on the right side on huge issues, impacting the Black community over and over and over again. He's been a leader, an influence, an influencer. LeBron James has been an example. I encourage him to continue to be that shining example on this, again. It's necessary. King James, it really is necessary."