Tampa Bay Buccaneers Insider Rick Stroud Predicts Tom Brady's Retirement Age: '45, for Whatever Reason, Seems to Be a Weird Number That Stuck in His Head'
Tampa Bay Buccaneers quarterback Tom Brady is defying Father Time. After two decades and six Super Bowls with the New England Patriots, the GOAT moved south and won ring No. 7 in 2020 with the Bucs. In 2021 — at the age of 44 — he's led his team to a 12-4 record and could walk away with his fourth NFL MVP Award.
While Brady has publically stated he feels like he could play until age 50 — and certainly looks like he could at this point — Buccaneers insider Rick Stroud predicts that the Tom Brady Era of NFL football could be coming to an end sooner rather than later.  
Tom Brady's game shows very little slippage at 44
Tom Brady is 44 years old. Let's look at two of Brady's best seasons without any context:
Season A: 456-of-682 (leads league in both) for a 66.9% completion rate with for 4,990 yards (leads league), 40 touchdowns (leads league), 311.9 yards per game (leads league), 100.5 QB Rating
Season B: 398-of-578 for a 68.9% completion rate (leads league) with for 4,806 yards (leads league), 50 touchdowns (leads league), 300.4 yards per game (leads league), 117.2 QB Rating (leads league)
Which season is better? It's pretty hard to judge. But suffice to say, both those seasons are incredible. The numbers are ones that any NFL QB would take in a heartbeat.
Season B is Brady's 2007 season with the New England Patriots. It is considered one of (if not the) best QB season of all time and produced a 16-0 regular-season record. Brady was 30 at the time and took home his first MVP Awards based on the stat line above.
Season A is 2021 through 16 games. Brady's overall numbers are similar, if not better, and he's dealing with a lot this season. Between defending a title, COVID-19, mounting injuries on the Buccaneers, and controversy around every turn, this season has to be one of the more difficult campaigns in Brady's illustrious career.
Oh, yeah. And he's 44-years-old!
Is it outrageous to think Brady could play for a few more seasons when you look at the numbers above?
Tampa Bay Times' Rick Stroud says Brady's retirement could come soon
Rick Stroud of the Tampa Bay Times is as dialed-in to the Tampa Bay Buccaneers as anyone on the media. He's the one who broke the Antonio Brown fake vaccination card story back in mid-November.
On the Tuesday ahead of Week 18, Stroud joined the Dan Patrick Show to discuss all things Bucs heading into the team's last game of the regular season.
The conversation eventually turned to Tom Brady. Dan Patrick asked, "It's assumed that Brady is back next year in Tampa, correct?" Stroud responded, "Uh, I guess. I don't know."
The reporter then laid out the reasons Brady would or wouldn't come back for 2022. He noted he's under contract, but retiring wouldn't hurt the Bucs cap that much at all. Stroud also said how Brady's body feeling would be a factor. However, he admitted Brady told him if he doesn't have a major injury, he could play to 50.
The second major factor is Brady's family. Stroud noted Brady's three kids "are of the age where they're doing things outside the home," and the 22-year NFL vet may want to retire to spend more time with them soon. The Bucs insider summed up saying:
I can't see him playing more than one more year, Dan. I think 45, for whatever reason, seems to be a weird number that's stuck in his head. Does he walk away if they win? But he can win three in a row, and nobody's done that? … I don't know what Tom Brady will do, but I think that he'll be back next year.

Rick Stroud on Tom Brady retiring
After two decades in the spotlight, Brady keeps a pretty tight circle around him these days. So, it's no surprise that even the most connected Bucs insider doesn't know exactly what the QB will do.
That said, Stroud has just about the most educated guess that anyone can have, which means it may truly be time to start savoring watching Brady play while there's still time.
Can the Buccaneers win the Super Bowl and send the QB out on top?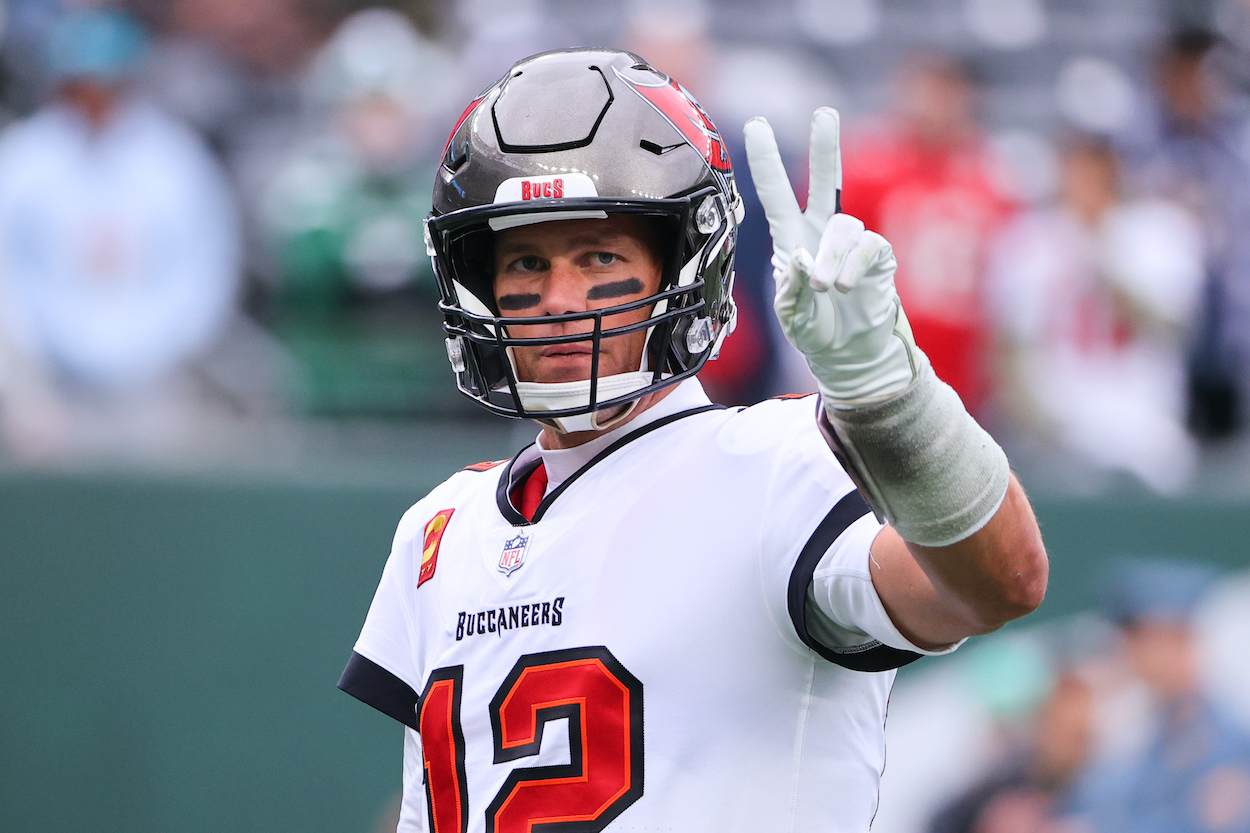 One of Rick Stroud's most interesting musings on Tom Brady's retirement involves him walking away on top, after another Super Bowl, ala John Elway or his primary rival, Peyton Manning.
While betting against Brady to win a Super Bowl is usually a losing proposition, recent events within the Tampa Bay Buccaneers organization are making it increasingly less likely that the former Michigan Wolverine will win his eighth Lombardi Trophy, and, shockingly, none of it has to do with the fact the team has a 44-year-old starting signal-caller.
Injuries will be the No. 1 factor if the Buccaneers lose in the playoffs. The Tampa Bay offense's skill positions are a complete mess right now. Top running backs Leonard Fournette and Giovani Bernard are out with no definitive timetable to return, and backups Ronald Jones II and Ke'Shawn Vaugh picked up knocks in the Bucs' 28-24 Week 17 win vs. the New York Jets, per Sports Illustrated.
The receiving corps is in even worse shape. Chris Godwin's season is over, and it seems like Antonio Brown's — via ankle injury or sideline antics – is too. That leaves Brady with two star pass-catchers instead of four, and neither Mike Evans nor Rob Gronkowski is the picture of health and durability in 2022.
The once-stout Buccaneers defense is banged-up too, heading into the playoffs. The Week 17 injury report included LBs Shaquil Barrett and Jason Pierre-Paul, and DBs Mike Edwards, Richard Sherman, Antoine Winfield Jr., Jamel Dean, and Sean Murphy-Bunting. All-Pro LB Lavonte David is also out injured, and the team is "hopeful" he can return for the postseason, per CBS Sports.
Even head coach Bruce Arians could land on the IR soon. The 69-year-old headman has a partially torn Achilles' tendon, and if it ruptures, he could miss games on the sideline, per FOX Sports Jay Glazer (h/t Bleacher Report).
If Brady wins the Super Bowl this year, with this MASH unit, and then retires, he'll be able to add Greatest Walk-off Ever to his list of career accomplishments.
All stats courtesy of Pro Football Reference