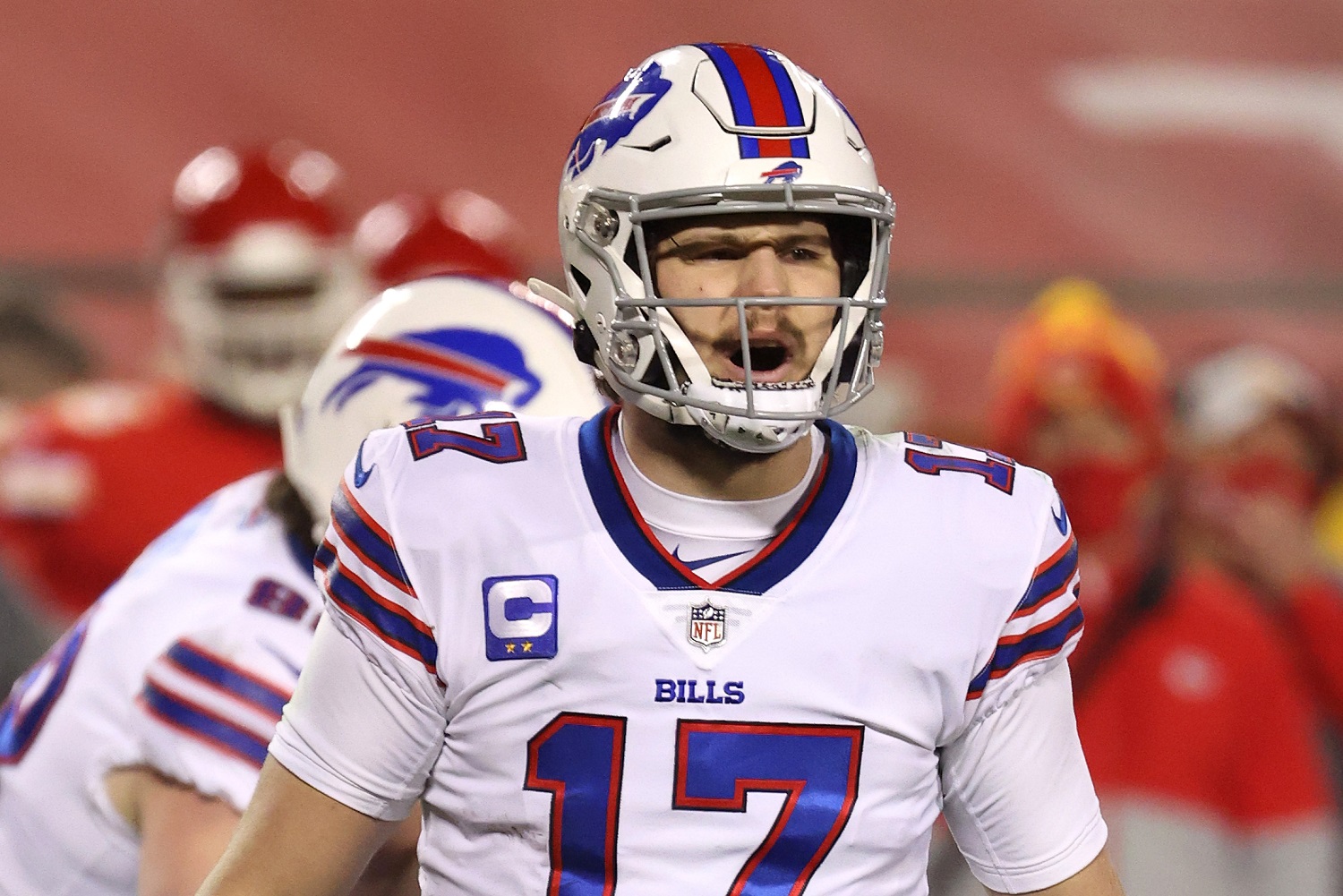 The Buffalo Bills Face a Crucial Decision With Millions of Dollars at Stake
The Buffalo Bills will be paying Josh Allen much more than the $2.5 million they're giving backup Mitch Trubisky, who has similar stats.
The Buffalo Bills are absolutely, positively going to pay Josh Allen. The question is how much he is worth after leading the AFC East titlists to the conference championship game against the Kansas City Chiefs.
In a city starved for a champion – their other major-sport franchise is the NHL's lowly Sabres – they can't possibly pay him enough, right?
But what is the right amount to invest in a signal-caller whose resume until the 2020 season wasn't any better than that of the $2.5 million guy the Bills just signed to back him up?
Josh Allen is getting a new Buffalo Bills contract
ESPN reporter Marcel Louis-Jacques tweeted last week that Buffalo Bills general manager Brandon Beane will talk with quarterback Josh Allen about a contract extension after the team is beyond the draft and free agency.
The Bills' biggest splash in free agency was bringing in New Orleans Saints receiver Emmanuel Sanders, a two-time Pro Bowl pick who just caught 61 passes in his 11th NFL season. The most interesting acquisition by far, however, was the signing of former Chicago Bears quarterback Mitch Trubisky to be Allen's backup.
The Bills aren't expected to do much else on the free-agent front, but they do have a full complement of draft picks. With the NFL Scouting Combine mothballed because of the pandemic, prepping for the draft will be more time-consuming than usual.
Still, Beane is capable of multi-tasking, meaning an announcement on Allen's new contract could come shortly after the draft.
Josh Allen and Mitch Trubisky have similar stats
It may not be apparent to casual NFL observers so used to hearing disparaging remarks about him, but the Buffalo Bills scored a coup by signing Mitch Trubisky for $2.5 million to back up Josh Allen this fall.
Trubisky had the misfortune of not being Patrick Mahomes or Deshaun Watson, who were still on the board when the Chicago Bears selected the North Carolina QB second overall in 2017, so he felt the wrath of Chicago fans. Mahomes and Watson landed huge contract extensions last year while the Bears decided to decline the fifth-year option on Trubisky.
Trubisky became a free agent this month after going 29-21 as a starter with 64 touchdowns and 37 interceptions over four seasons. He completed 64% of his passes and posted an 87.2 passer rating.
Now, take a look at Josh Allen's numbers: 28-15 record as a starter with 67 TDs and 31 interceptions over three seasons. He has completed 61.8% of his attempts and has a 90.4 passer rating. Keep in mind, too, that the 2020 season was easily Allen's best with 37 touchdowns and 10 interceptions.
In the interest of fairness, though, it should be noted that Allen is also a bulldozer of a runner with 1,562 yards and 25 touchdowns on the ground. On the other hand, Allen had more talent around him last fall than Trubisky ever had with the Bears.
Still, Allen's contract will be a lot more lucrative.
The Buffalo Bills may set the salary scale
Patrick Mahomes played just one game as a rookie in 2017 but was so dazzling the next two seasons that the Kansas City Chiefs rewarded him with a record-setting contract extension rather than only picking up his fifth-year option. The 10-year, $450 million add-on to his rookie contract is the gold standard of NFL deals. Meanwhile, the Houston Texans gave Deshaun Watson a four-year, $156 million extension.
Josh Allen is in the same draft class as quarterbacks Baker Mayfield of the Cleveland Browns, Sam Darnold of the New York Jets, and Lamar Jackson of the Baltimore Ravens. At a minimum, Mayfield and Jackson have assured themselves of fifth-year extensions.
Allen is a superior passer to Jackson and a better all-around quarterback than Mayfield. The situation for the three may mimic what Mahomes, Watson, and Dak Prescott went through last year when none of their agents wanted to be the first to strike a deal that sets a floor for the others rather than a ceiling.
If there is no movement by the others as the start of training camp approaches, then Allen and the Bills end up setting the pay scale for the Class of 2018. And with the new TV network deals set to kick in over the next two seasons, Watson's deal becomes the absolute minimum.
All stats courtesy of Pro Football Reference.