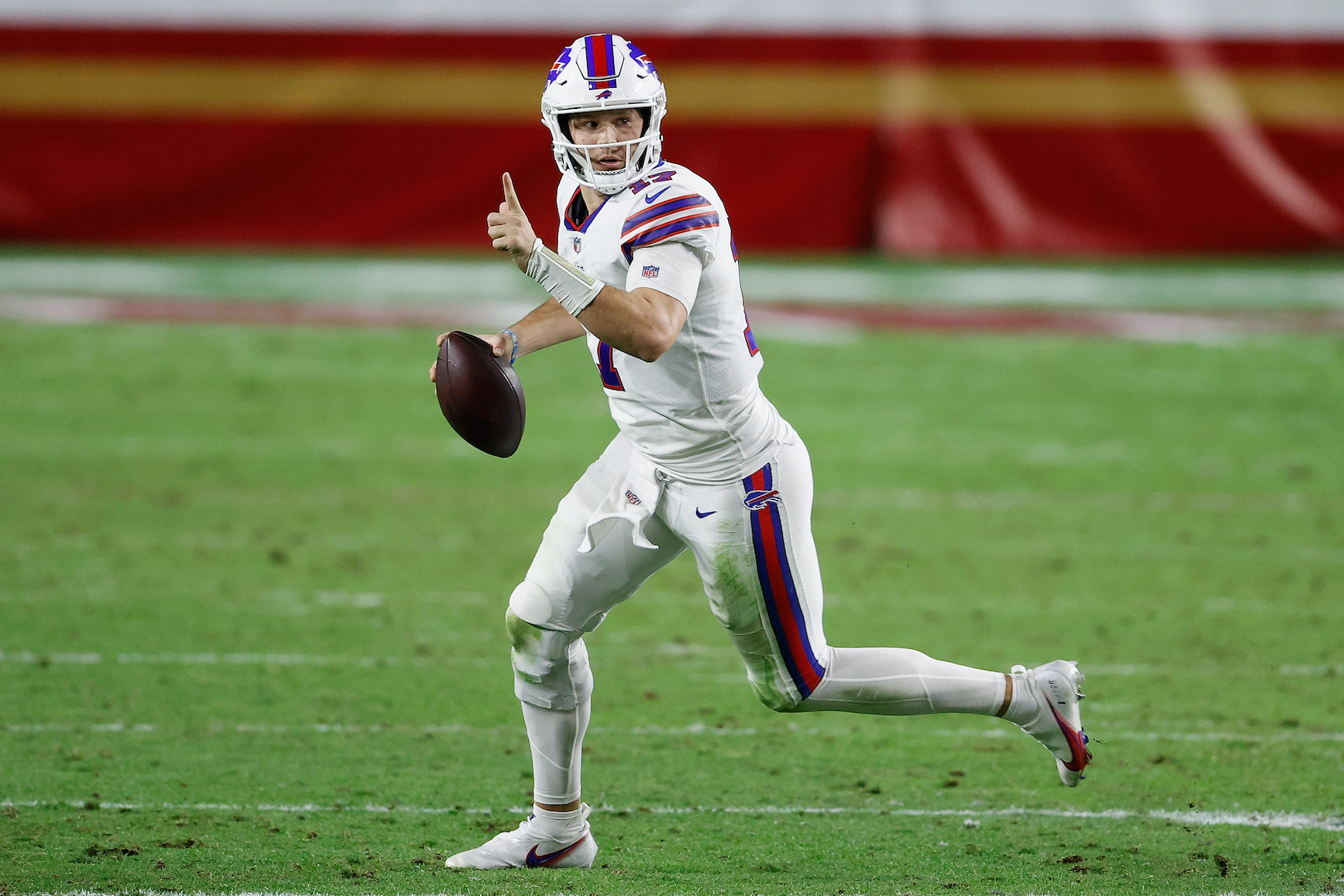 Josh Allen Could Turn His Nuts Into a Multimillion-Dollar Business Opportunity
Will Buffalo Bills quarterback Josh Allen makes good money on the gridiron, he could become even richer thanks to his nuts.
During his relatively brief time in the NFL, Josh Allen has grown into a legitimate star. While it originally looked like the Buffalo Bills quarterback lacked the finesse to thrive at the professional level, his game has grown with each passing season. Three years into his career, he's throwing the ball accurately, running the ball like a bruising back, and, perhaps most importantly, leading his team to playoff success.
Off the field, though, Josh Allen will be hoping that his business ventures find similar success. If things go right, his nuts could eventually turn into a multimillion-dollar payday.
Josh Allen looks like a legitimate NFL talent
As any football fan can tell you, all of the physical tools and natural talent in the world isn't a guarantee of NFL success. Josh Allen, however, seems prepared to make the most of his unique skillset.
Allen's football career didn't get off to the best start, though. He wasn't highly recruited out of college and, with some help from a family connection, suited up for Reedley College. Even after an impressive year at the JUCO level, though, he didn't receive much recruiting attention. He ended up transferring to Wyoming and joining the Cowboys.
After an injury-shortened 2015 campaign, Allen exploded in 2016; he threw for 3,203 yards and 28 touchdowns while rushing for seven additional scores. After playing out the 2017 season, the big quarterback was ready for the NFL.
When draft night rolled around, Allen joined the Buffalo Bills as the seventh-overall pick and, within a few games, had claimed the starting job. While his incredible arm and running ability have always been apparent, the quarterback has proven to be more than just a freakish athlete; during 2020, he completed almost 70% of his passes en route to an AFC title.
The Buffalo Bills quarterback is already pretty rich
Since he's still relatively new to professional football yet, Josh Allen hasn't gotten the chance to make Patrick Mahomes-level money just yet. With that being said, though, the Buffalo Bills quarterback is still doing pretty well for himself.
Based on Spotrac's numbers, Allen signed a fully-guaranteed $21 million contract when he joined the Buffalo Bills; that total included a signing bonus of over $13 million. Based on his performances to date, though, he'll be inking another deal sooner rather than later.
At the risk of making Mahomes the example for every quarterback contract, the Kansas City Chiefs signal-caller signed an extension after three years of NFL service; 2020 is Allen's third year in the pros. Even if the Bills don't offer him $500 million, they'll probably get the ball rolling on contract talks sooner rather than later.
Josh Allen could also make millions thanks to some expensive nuts
Josh Allen's earning power isn't limited to football, though. If all goes according to plan, he'll be able to reap the financial rewards of some expensive nuts planted on his family farm.
"I grew up on a ranch, basically in the middle of nowhere," Allen told Mark Sanchez on 4th and Forever. "My dad does cantaloupe, cotton, wheat, so now I'm going into pistachios with him. We just bought the trees, we're probably going to plant in probably March or April."
He also explained that since pistachios trees take multiple years to produce nuts, they won't plant everything at once. Instead, they'll switch over to pistachios roughly 100 acres at a time.
When all is said and done, though, the Allens plan to have 1,000 acres of pistachios, which should yield quite a profit. While there's obviously room for fluctuations depending on the market, yields, and other factors, USDA data indicates that, in 2019, growers produced about 2,500 pounds of pistachios per acre and sold those nuts for about 260 cents per pound. While a great deal can change in a few years, that bodes well for Allen's investment. The quarterback migh even have an early idea for a name.
"We haven't thought of any of the naming of our product yet," Allen explained, "but I'm thinking 'Josh's Nuts."