The Colts Are Helping Save the Fullback Position From Extinction
The fullback position in the NFL has been considered to be a dying position over the years. Teams do not run the ball in the Power I formation as much as they used to. However, it has recently had success again and now the Indianapolis Colts are a part of the movement to bring the position back.
A position that has died over the years
NFL teams seem to air the ball out a lot more than they used to. You can tell that by just looking at the huge numbers guys like Drew Brees and Tom Brady have put up throughout their careers. Less of a running attack equals fewer reasons to need a fullback. Some teams do not even have one on their roster. 
However, more passing is not the only reason fullbacks have almost gone extinct over the years. Bleacher Report's Mike Freeman wrote a story about fullbacks in 2013 titled, "Are Fullbacks a Dying Breed in Today's NFL?" He gave more reasons as to why the position is not as popular as it used to be. 
"There are many other positions in football where the collisions and violence are extreme, but fullback might be the most brutal of them all, because so many of their blocks are at or near full speed," Freeman wrote. "When offensive linemen use their hands to pass block, fullbacks are using their heads. When middle linebackers drop into pass coverage, the fullback is still head-knocking. All of these reasons (plus a few more) are why the fullback position, in its truest form, is just about dead."

Mike Freeman
If you needed any more proof that the position is a dying one, the NFL didn't even put any fullbacks on its All-Decade team. Kyle Juszczyk, fullback for the San Francisco 49ers, was not happy about this. He tweeted, "I guess no fullbacks played this decade."
Fullbacks had a resurgence in 2019
It was, however, a great Super Bowl for fullbacks this past season. Juszczyk, of course, played in the big game with the 49ers. The Kansas City Chiefs also had a fullback in Anthony Sherman.
There are several other great fullbacks in the league right now too. One popular one is Derek Watt who is the brother of J.J. Watt and T.J. Watt. ESPN did a story in 2019 too about how the fullback fraternity is really strong.
"It's cool because there's not a lot of us," Juszczyk said, according to ESPN. "So, it is just kind of like across teams, you feel like your own little team just because we're all kind of going through the same thing. I'm lucky enough that I get a pretty decent amount of recognition around here but a lot of other fullbacks in the league don't really get that recognition so they all kind of band together and give each other that recognition."

Kyle Juszczyk
Now, there is another team getting in on the action. 
The Indianapolis Colts signed a former Pro Bowler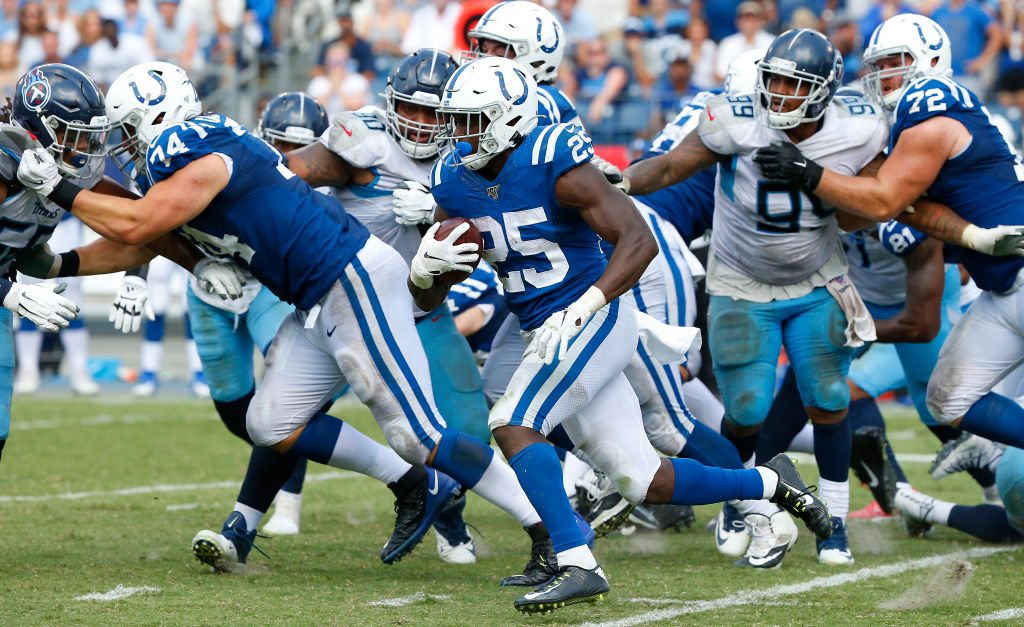 The Indianapolis Colts signed fullback Roosevelt Nix to a deal on Saturday. Nix played with the Pittsburgh Steelers the last five seasons. He also earned a Pro Bowl selection in 2017 after leading the way for Le'Veon Bell's 1,291 yards and nine touchdowns.
The Colts have not had a true fullback since 2013, according to Colts.com. Stanley Havili played in 13 games and had eight starts for the Colts that season.
The Colts will set Nix up for success. Indy has one of the best offensive lines in the entire NFL. They are led by offensive guard Quenton Nelson as he has been a first-team All-Pro in each of his first two seasons. Also, behind Nix will be running back Marlon Mack. Last season, Mack ran for 1,091 yards and eight touchdowns in 14 games.
So, when comparing the way teams utilized fullbacks in the past to the way they are used now, yes this is a dying position. However, some current fullbacks and some teams are working to bring the position back. Now, the Indianapolis Colts are in on the cause. Nix, along with the Colts' offensive line, will definitely be a scary sight for opposing defenses in 2020.