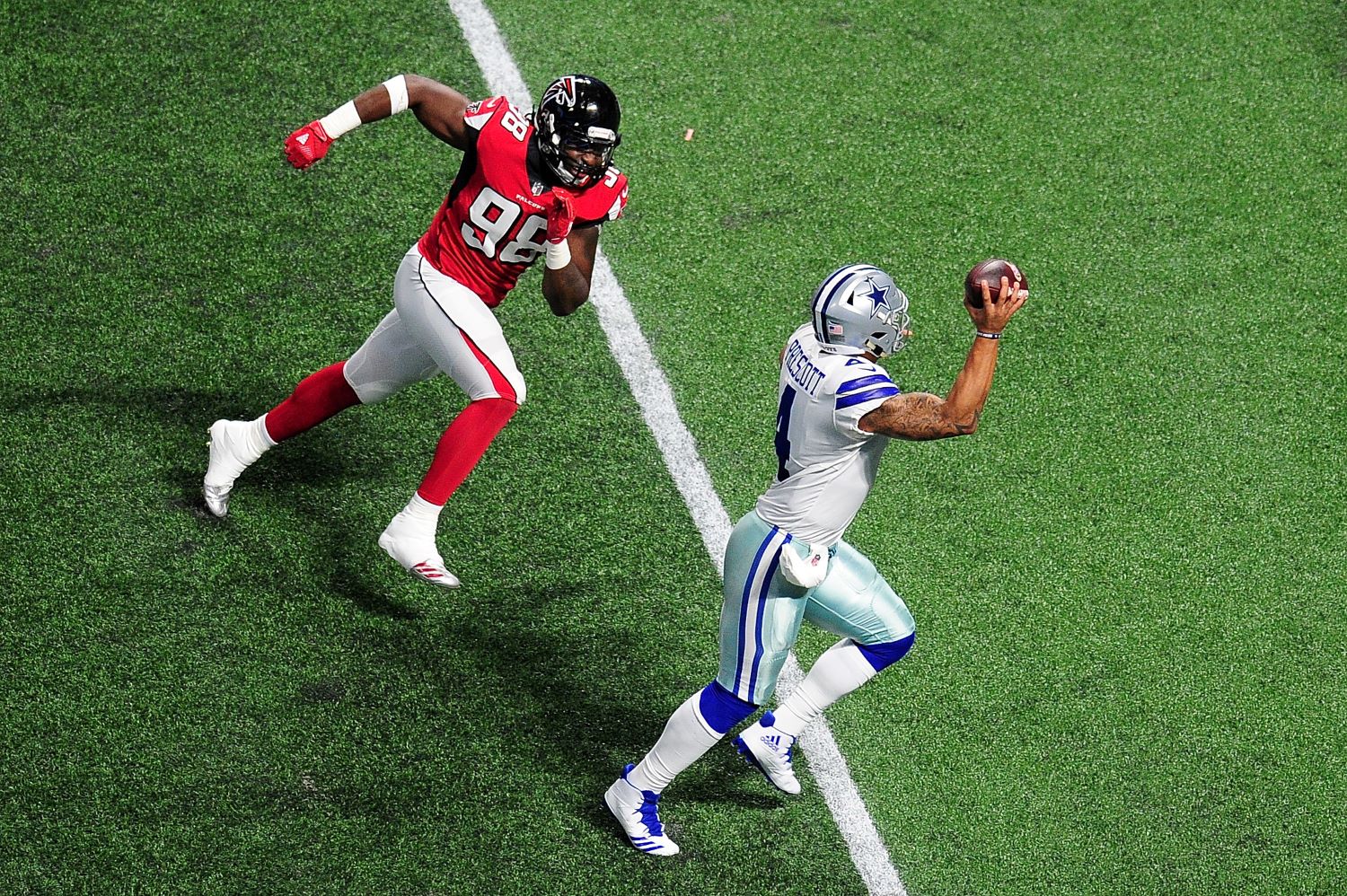 The Dallas Cowboys Have an $875,000 Path to Upgrade Their Pass Rush
WIth Takk McKinley available to sign with any NFL team, the Dallas Cowboys can upgrade their anemic pass rush for just $875,000.
Although the Dallas Cowboys own a 2-7 record, they still have a shot at making the playoffs thanks to the ineptitude of the NFC East. But if the Cowboys plan on playing in the postseason, they must fix their anemic pass rush.
Luckily for Jerry Jones, a former first-round pick who will cost just $875,000 for the rest of the season just became available.
The Cowboys have shown some improvement on defense in recent weeks
Due in large part to injuries, the Cowboys have been a complete mess on defense. In their first six games, they surrendered about 36 points per game. During that stretch, Dallas recorded just 11 sacks.
However, Mike Nolan's unit has shown some improvement in recent weeks. After surrendering 208 rushing yards in a 25-3 loss to the Washington Football Team, the Cowboys held the Philadelphia Eagles to just 222 total yards in a 23-9 loss. Dallas recorded four sacks in the first tilt between the two NFC East foes.
On Sunday, Dallas stepped up against a Pittsburgh Steelers offense that has had no trouble putting points on the board this season. Although they lost by a final score of 24-19, the Cowboys held James Conner to just 22 rushing yards.
Unfortunately for Dallas, Ben Roethlisberger threw for 306 yards and three touchdowns. A week after recording four sacks and six quarterback hits, the Cowboys failed to record a sack and hit Big Ben just twice.
Overall, Mike McCarthy's team has totaled a mere 17 sacks through nine games. Only the Atlanta Falcons have surrendered more passing touchdowns than the Cowboys And no team has allowed more points per game (32.2) than Dallas.
Dallas can upgrade its pass rush for $875,000
Despite having two talented pass rushers in DeMarcus Lawrence and Aldon Smith, the Cowboys could use another player who can get after the quarterback. And while he didn't live up to expectations in Atlanta, Takk McKinley could resurrect his career in Dallas.
The 6-foot-2, 265-pound defensive end just got waived on Monday. Since arriving as the 26th overall pick of the 2017 NFL draft, McKinley has struggled to stay on the field and deliver consistent results. He recorded six sacks as a rookie before totaling seven more in 2018.
Last season, though, McKinley's production plummeted. He finished the year with only 3.5 sacks and 13 quarterback hits in 14 games played.
The fourth-year pro has recorded one sack and seven QBH on just 85 defensive snaps this season.
Still, given his draft pedigree, the 25-year-old should resurface elsewhere. And considering he will cost about $875,000 for the rest of the season, McKinley would be a terrific low-risk, high-reward signing for the Cowboys.
A change of scenery could do wonders for a player who clearly possesses the ability to rush the passer. Because Lawrence and Smith demand so much attention, McKinely would benefit from more one-on-one opportunities. That could lead to more production from a player who totaled 10 sacks in his final year at UCLA.
Where will Takk McKinley sign?
Ultimately, the Cowboys (along with the rest of the NFL) have a chance to add a former first-round pick at a cheap price. But will Dallas be the team that wins the sweepstakes for Takk McKinley's services? He could certainly take his talents elsewhere if the Cowboys don't make an aggressive push.
Could the New England Patriots take a flyer on the hybrid edge defender? Bill Belichick's team desperately needs playmakers along the front seven. McKinley would have a chance to earn ample playing time in New England and set himself up for a potentially lucrative payday.
Teams with legitimate Super Bowl aspirations could also explore bringing in the former Falcon. Given Jadeveon Clowney's health status, the Tennesee Titans seem like a logical landing spot for McKinley. The Titans have totaled just 10 sacks through eight games, so they certainly could use help in the pass-rush department. So could the San Francisco 49ers, who have struggled to pressure the quarterback without Nick Bosa.
Let's see which NFL team is willing to pay $875,000 to land a 25-year-old pass rusher who may still have untapped potential.
All statistics courtesy of Pro Football Reference.