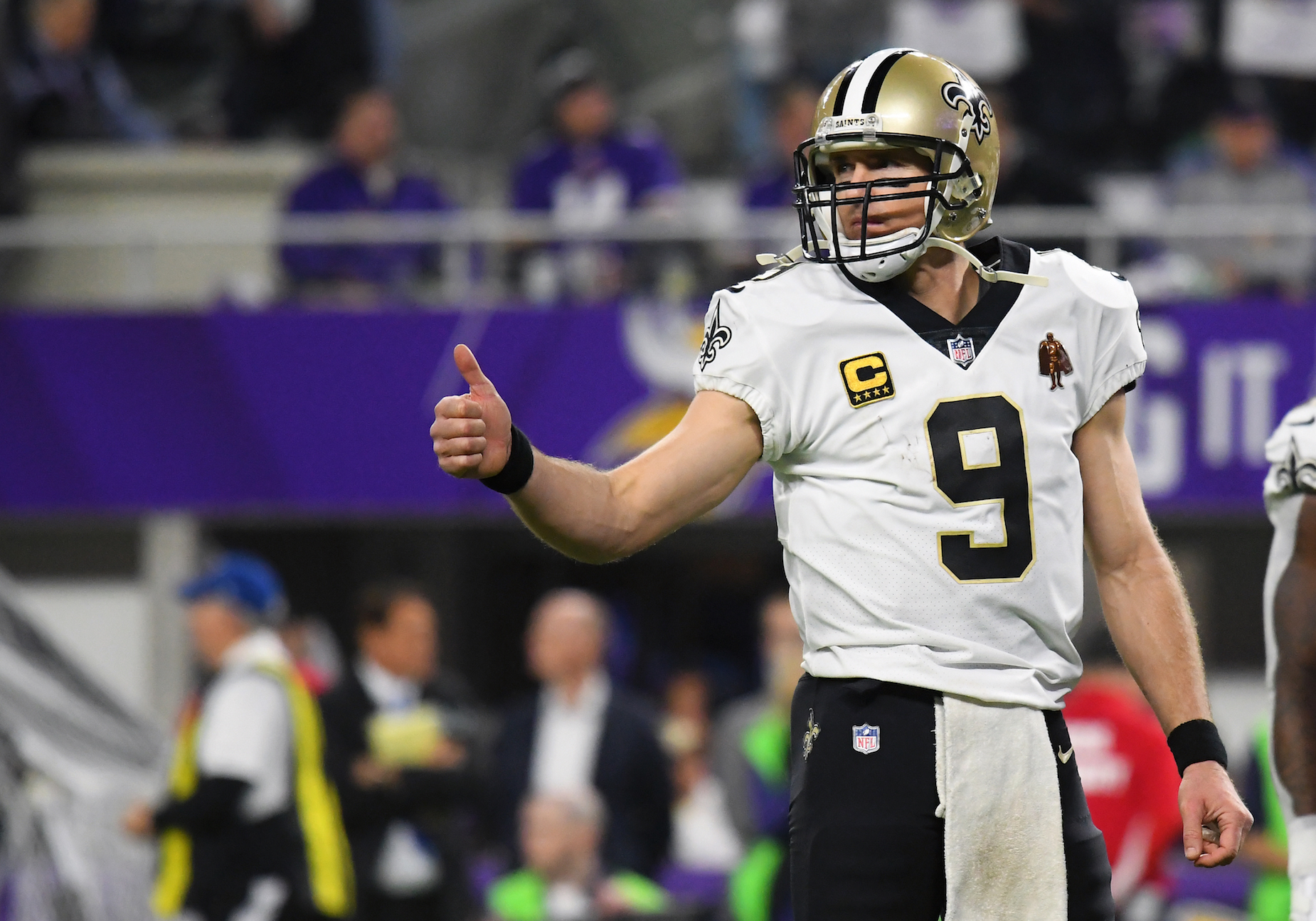 The New Orleans Saints Gave Their Fans the Best Possible News Ahead of Week 15
While the New Orleans Saints are still in a pretty good place, the NFC South team just gave their fans some great news about Drew Brees ahead of Week 15.
With the NFL season coming to the home stretch, the New Orleans Saints are still in a pretty good place. The team is sitting atop the NFC South with a 10-3 record; they've already clinched a playoff spot and still have a shot at securing a first-round bye. They've also managed to survive the absence of Drew Brees, which could have torpedoed their season.
Heading into a Week 15 matchup against the Kansas City Chiefs, though, the New Orleans Saints have some pretty good news for their fans. While beating the defending Super Bowl champs is never easy, Drew Brees should be back in action on Sunday.
The New Orleans Saints are still chasing the top spot in the NFC, even without Drew Brees
For most NFL franchises, playing without the starting quarterback is pretty close to a worst-case scenario. The New Orleans Saints, however, managed to do pretty well without Drew Brees under center.
Brees, of course, has been out of action since halftime of the Saints' Week 10 game against the San Francisco 49ers. He was eventually diagnosed with multiple broken ribs and a collapsed lung; those injuries landed the veteran signal-caller on injured reserve.
While many expected Jameis Winston to deputize for Brees, head coach Sean Payton tapped Taysom Hill as the team's starting quarterback. While he didn't exactly break any passing record, Hill put in four solid performances and led New Orleans to three victories.
Those results, combined with the Tampa Bay Buccaneers' inconsistencies, have left the Saints in a pretty strong position. The club has already clinched a playoff berth and can seal the NFC South title in Week 15 if results break their way. The NFC's sole first-round bye is still on the table, too, should the Green Bay Packers slip up down the stretch.
Drew Brees should be back in action for Week 15's meeting with the Chiefs
On the whole, Taysom Hill did pretty well during his cameo as the New Orleans Saints starting quarterback; while he wasn't the most reliable passer the NFL has ever seen, he didn't completely implode and managed to notch three wins. With all of that being said, though, he's no Drew Brees.
Thankfully for Saints fans everywhere, it seems like the veteran's time on the sidelines has come to an end. According to ESPN's Adam Schefter, Brees has been deemed ready to go and should lead New Orleans' offense onto the field in Week 15; head coach Sean Payton later confirmed the news during his media availability.
"Brees, 41, returned to practice this week after missing four games because of 11 broken ribs and a punctured lung," ESPN's Mike Triplett wrote. "Saints coach Sean Payton insisted that Brees would not be rushed back into the lineup and that he would need to 'be asymptomatic, feeling good, strong and like he can function and be an asset and play well.' Brees apparently met the standard he needed to reach."
The quarterback's return is good news for both Saints and NFL fans
Until Drew Brees takes his first big hit, no one outside of the New Orleans Saints organization will know exactly how the quarterback is feeling. Assuming he is ready to play, though, the signal-caller's return will be great news for football fans everywhere other than Green Bay.
For those in New Orleans, the benefits are obvious. While Taysom Hill didn't play terribly, Brees is a sure-fire Hall of Famer. If you're trying to catch Green Bay to clinch a bye and, beyond that, chasing a Super Bowl title, you want to be sending your best players onto the field. Even Hill himself would probably admit that the Saints offense runs better when the normal starter is standing under center.
Football fans outside of the Big Easy will also be glad to see Brees back in action, at least during Week 15. The game between the Kansas City Chiefs and the New Orleans Saints is, on paper, one of the best matchups that we'll see all season. Again, with all due respect to Taysom Hill, everyone wants to see Patrick Mahomes and Drew Brees go head-to-head.
If the New Orleans Saints seal the top seed in the NFC, Green Bay Packers fans won't be too happy to see Drew Brees back in action. For those in New Orleans and anyone who's hoping for a good Week 15 game, though, the quarterback is coming back right in the nick of time.