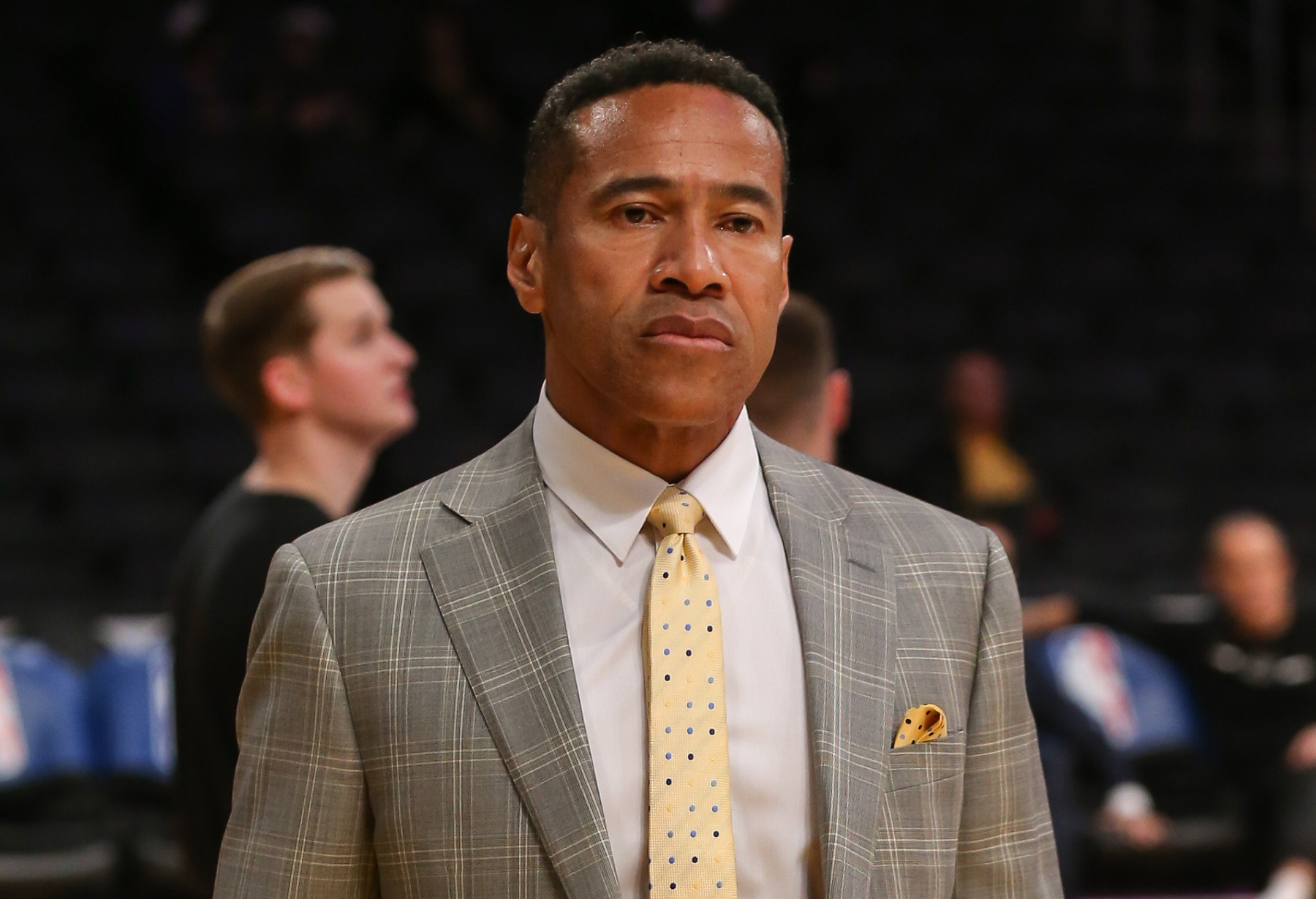 The Sacramento Kings Just Traded 1 Problem for Another With Their Latest Move
The Sacramento Kings have hired ESPN and ABC announcer Mark Jones, who has a history of controversial comments and retweets on Twitter.
There's fresh insight into how the Sacramento Kings franchise hasn't won an NBA championship since 1951. It turns out that when you trade one play-by-play announcer who stuck his foot in his mouth for another announcer who did likewise, you're overmatched while trying to compete with the Los Angeles Lakers on the court.
The Sacramento Kings may be poised to make a move
The best part about being a New York Knicks fan for the past decade is being able to take satisfaction in knowing the team is somehow less of a mess than the Sacramento Kings. That, though, may be changing. Whereas the Knicks are entering another rebuilding phase, the Kings have enough pieces in place to be interesting in the 2020-21 NBA season.
Luke Walton's first season as coach ended with a 31-41 record that deserves an asterisk. Sacramento had won 13 of its last 20 games before the COVID-19 pandemic shut down the season for 20 weeks. The Kings were brought to the bubble at Disney World beginning July 31. But with just eight games instead of 18, their 3-5 record left them outside the playoffs.
The Kings have six of their top seven scorers slated to return, beginning with point guard De'Aaron Fox (21.1 points per game), shooting guard Buddy Hield (19.2), and forward Harrison Barnes (14.5). If Walton can coax more rebounding out of forward Marvin Bagley and center Richaun Holmes, and the Kings draft wisely at No. 12 in the first round, they might just be worth talking about for one of the few times since they won the NBA title in 1951 as the Rochester Royals.
The problem they've made for themselves, however, revolves around just who'll be doing the talking.
Sacramento Kings announcer Grant Napear is gone
Grant Napear was the Sacramento Kings' play-by-play announcer for 32 NBA seasons and was also the longtime host of a local radio talk show. He lost both jobs a week after the death of George Floyd at the hands of Minneapolis police officers on May 25.
While hosting his radio show, Napear received a social media inquiry from former Kings center DeMarcus Cousins asking for his thoughts about the Black Lives Matter movement. Napear responded that all lives matter, which amounted to red meat for the cancel culture.
Cousins and others went on the attack against Napear, and the Kings and the radio station quickly distanced themselves from his remark. Both issued statements on June 2 saying they had parted ways with Napear.
Napear has since resurfaced with a podcast.
"It has been an amazing couple of months, absolutely amazing, and I will tell you that I've learned a lot," he said in his debut episode, according to the Sacramento Bee. "I have realized who my friends are in life; those who I thought were my friends that are not."
Napear has since been replaced as the Kings' play-by-play announcer by a man who has run through his own list of friends and enemies – and counts the law enforcement community in the latter.
ESPN announcer Mark Jones adds new duties
The Sacramento Kings may have air-balled if they thought that cutting ties with Grant Napear had immunized them from the social justice debate. That's because they have hired ESPN and ABC veteran Mark Jones as their primary play-by-play announcer, Awful Announcing reported.
Jones has worked for ABC and ESPN since 1990, handling pro basketball, college basketball and football, and the NHL. He has steered clear of controversy on the air, but his Twitter feed is full of comments and retweets critical of police and Republican public figures, including the president.
Jones made national news in September when he tweeted that he was refusing a police escort for a college game between Army and host Cincinnati.
"Saturday at my football game I'll tell the police officer on duty to 'protect' me he can just take the day off," he tweeted. "I'd rather not have the officer shoot me because he feared for his life because of my black skin or other dumb ish. I'm not signing my own death certificate."
The comment came shortly after a grand jury declined to hand up an indictment on the most serious potential charges following the police shooting of Breonna Taylor in Louisville.
The tweet was at odds with Jones' comments much further back on his timeline that praised police officers for assistance at various sports events. Outkick.com reported that Jones also shared a tweet labeling President Donald Trump as a "white supremacist terrorist."
The Kings may find themselves having to respond to advertisers who don't want their messages airing on games being called by someone they deem controversial.