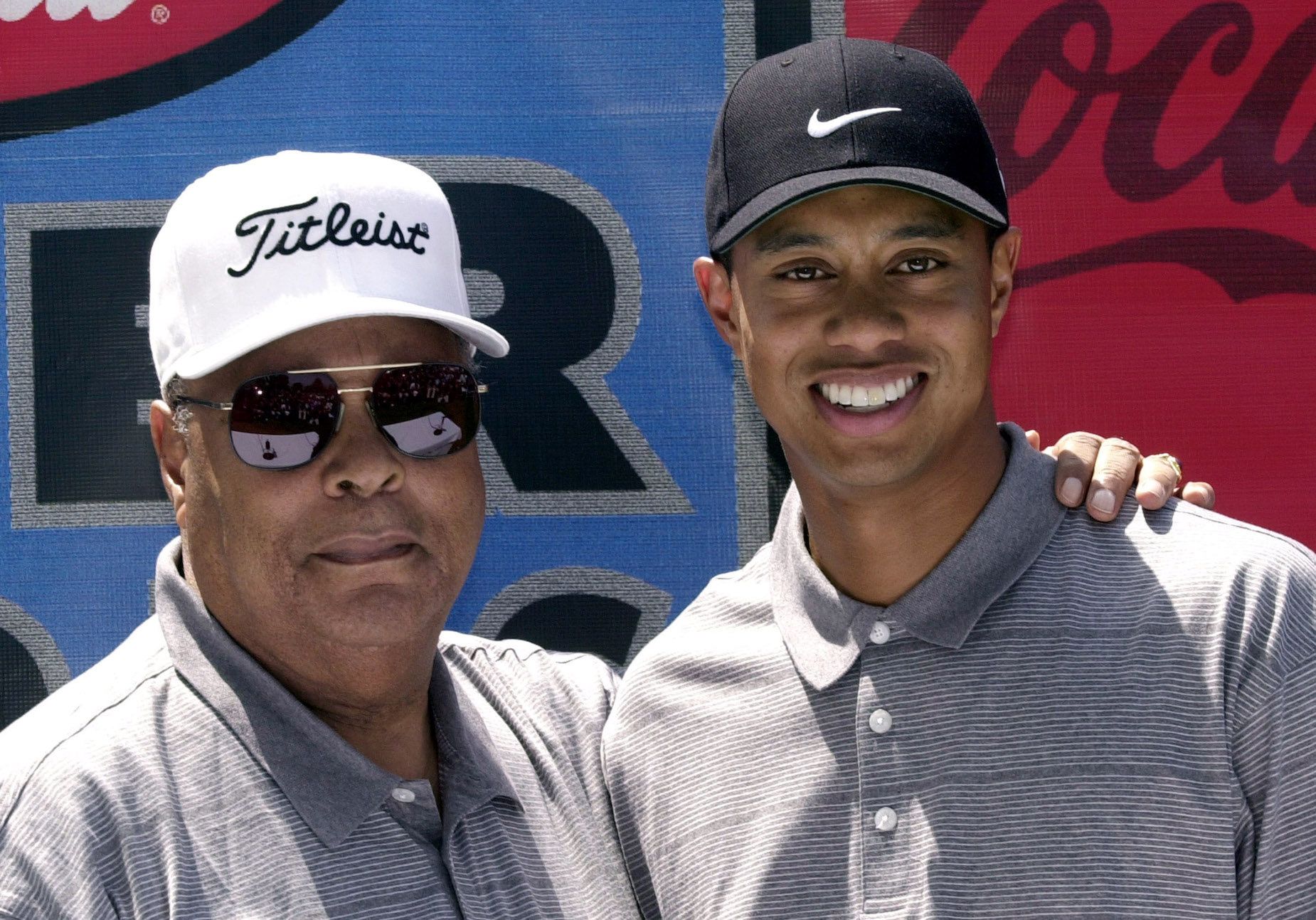 Tiger Woods Is Actually Named After His Father's Long Lost Friend
While everyone knows Tiger Woods, not everyone knows how he got his famous nickname. It all starter with his father's long-lost friend.
When you're instantly recognizable by one name, you know you've made it. By that measure, Eldrick 'Tiger' Woods has been a star for years. Even if you've never watched a round of golf before, you probably know Tiger Woods and, if nothing else, that he's pretty talented on the course. But how did he get his famous nickname?
Based on how sports nicknames work, it would be reasonable to assume that 'Tiger' has an ordinary origin; maybe Woods loved Frosted Flakes as a kid or attacked the golf ball with the ferocity of a jungle cat. In reality, though, Tiger is named after his father's long lost friend.
Tiger Woods' incredible rise to fame
Among hardcore sports fans, golf usually isn't a marquee attraction. Tiger Woods, however, has had a trophy-laden career that no one can ignore.
Growing up, Woods already showed incredible talent on the links. He appeared on a variety of TV shows, putting against Bob Hope and strutting his stuff on ABC's That's Incredible. He wasn't just good at performing parlor tricks, though, Tiger was also capable of winning rounds of golf.
Woods United States Junior Amateur title at age 15 and, when it came time for college, joined Stanford's golf team; he promptly began dominating the NCAA ranks and appeared in his first Masters and Open Championship. After two years at school, though, he decided he had enough. In August 1996, Tiger officially became a professional golfer.
Once he turned pro, Woods' star continued to rise. He promptly signed a deal with Nike and repaid their faith by winning the PGA Tour's Rookie of the Year title; the following spring, he took the top spot at The Masters. That would begin an unprecedented reign atop the golf world, making Tiger Woods a household name.
Earl Woods' long-lost friend was the original Tiger
When her son was born, Kultida's decided to name him Eldrick. While that decision had significance—the 'E' came from Earl Woods, and the concluding 'K' came from Kultida—the baby's father had a different idea.
As Tom Callahan explained for ESPN, Earl began calling his son Tiger on the second day of his life. While Tiger eventually became the perfect name for a fearsome golfer, capable of chasing down any opponent and claiming the title, the name actually has a much more sentimental origin.
Earl drew inspiration from "a lost comrade in Vietnam, Col. Vuong Dang Phong," who was known as Tiger.  "I knew, instinctively knew," Woods told Callahan "that my son was going to have fame. Someday my old friend would see him on television, read about him in a newspaper or magazine, and say, 'That must be Woody's kid,' and we'd find each other again."
Unfortunately, his plan didn't work out.  Phong's grave was eventually discovered outside of a North Vietnam re-education camp. He never knew that his namesake had become one of the world's top athletes.
Tiger Woods would have made his dad's late friend proud
While Col. Vuong Dang Phong never lived to see Tiger Woods become a global celebrity, the boy did live up to Earl's prediction. Tiger certainly had fame and then-some.
Although things have fallen apart a bit in recent years—Woods stepped away from golf after his extra-marital affairs came to light and, since then, he's battled back issues and struggled to regain his past form—you can't argue with Tiger's resume. He's won 15 career majors, monopolized virtually every individual award through the early 2000s, and has taken home more than $120 million in winnings.
"Phong would be totally flabbergasted by Tiger, completely blown away," Earl Woods told Callahan in a Golf Digest piece originally published in 1997. "He would view him as his own son. He wouldn't know a damned thing about golf, but it wouldn't be necessary. He would be so proud and so happy."