Tom Brady Makes History (Again) and 4 Controversial QBs State Their Case: The 3 Most Intriguing Matchups of NFL Week 1
The 2021 NFL season is finally upon us! After the long, football-free slog from February to September, America's game (sorry baseball) is finally back. There is no meaningless regular season (sorry NBA) that nobody cares about (sorry NHL, MLS, et al.). It is just 17 weeks of storyline-packed matchups that not only promise intrigue but delivers. That is what you can expect from the NFL Week 1 slate.  
Right off the bat, pro football offers a host of fascinating matchups that will help define the 2021 NFL season. To get you ready for what's in store starting Thursday, here are the three most intriguing matchups of Week 1.  
Dallas Cowboys vs. Tampa Bay Buccaneers – Thursday, September 9, 8:30 p.m. EST, NBC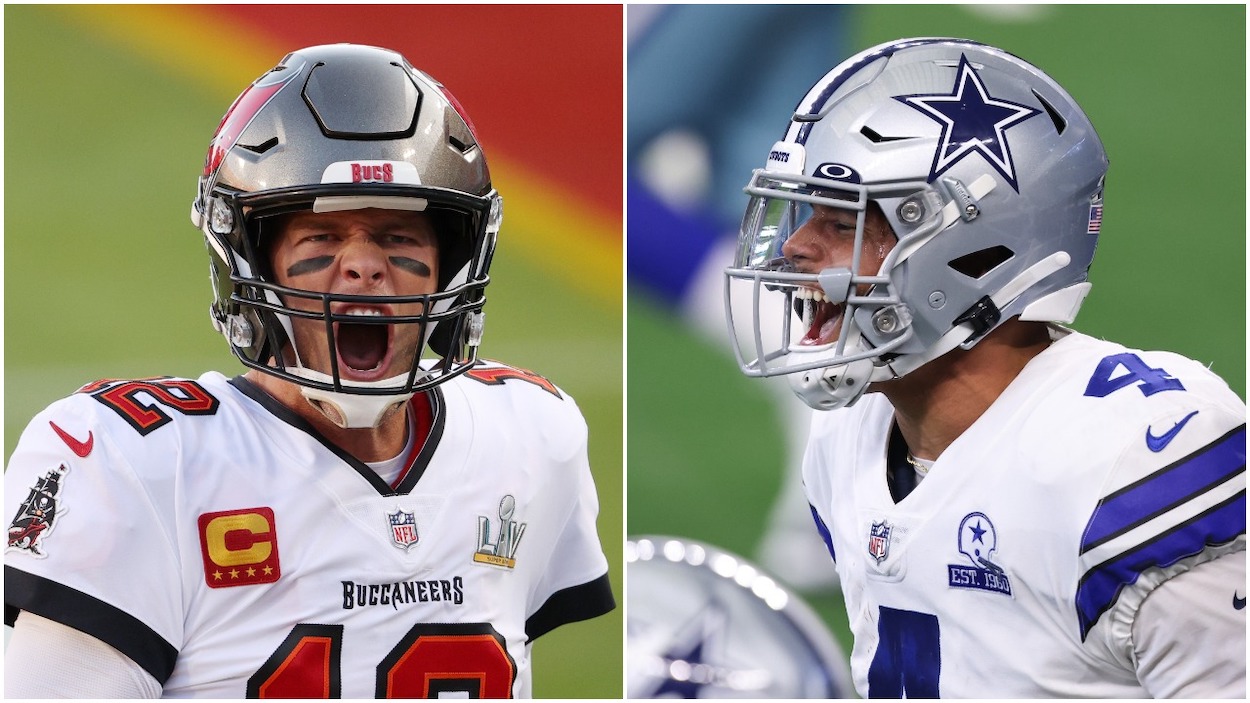 The league is wasting no time getting to the drama. In true NFL Week 1 fashion, the season kicks off with an incredible matchup featuring the reigning champs. This year, it's Super Bowl vs. Hard Knocks to start it all.
Just by stepping on the field, Brady will tie Brett Favre for the most regular-season games (302) played by an NFL quarterback. After that, he's just 1,154 passing yards from throwing for the most in history and five sacks from breaking Favre's record in that category as well.
His biggest goal this season will be to break his own records, though. He is already the oldest signal-caller to start a playoff game and to win the Super Bowl. His road to these records starts against the Cowboys on Thursday.
As for America's Team, they put on a snooze-fest of a Hard Knocks in training camp and have a franchise QB coming back from a major injury in 2020 and a minor (possibly lingering?) injury in the preseason.
On the other hand, they have a possibly transcendent second-year wideout in CeeDee Lamb and a rookie linebacker who looks like a game-changer in No. 12 overall pick Micah Parsons. The 2021 Cowboys season will likely not be average. It will either be a stellar return to glory or a tire fire.
Thursday night will go a long way toward setting the tone for which way it goes.
Miami Dolphins vs. New England Patriots – Sunday, September 11, 1:00 p.m. EST, CBS
Tua Tagovailoa and Mac Jones both showed up in Tuscaloosa, Alabama, in the recruiting class of 2017. Jones redshirted during his true freshman season while Tagovailoa replaced incumbent starter Jalen Hurts in the 2018 National Championship game and led the Crimson Tide to a title. Jones replaced Tagovailoa after a season-ending hip injury in 2019 and won his own National Championship trophy the following year.
Now, the two are starters for rival AFC East squads competing for the No. 2 spot in the division behind the Buffalo Bills.
Tagovailoa was hit or miss in his rookie season last year. He threw for 1,814 yards, 11 touchdowns, and five interceptions. He looked ineffective at times, but that was in an offense designed for Ryan Fitzpatrick, not him.
The offense (and the team) are all his in 2021. The Hawaiian now has a small window to prove he's the man before the franchise — poised to win now after years of ineptitude — looks in Deshaun Watson's or another QB's direction.
Nipping at the Dolphins heals for a potential wild card spot is the New England Patriots. After a disappointing first post-Brady season, Bill Belichick opened the free agent checkbook and drafted his new Tom Brady in Jones.
The 6-foot-3 Floridian played so well in the preseason that the Patriots cut former NFL MVP Cam Newton. Now, spoiled New England fans are hoping he can impress from the jump, just like Brady did two decades earlier.
The winning QB in this NFL Week 1 matchup will not only get a leg up on the division but in their careers as well.
New York Jets vs. Carolina Panthers – Sunday, September 11, 1:00 p.m. EST, CBS
The third most interesting NFL Week 1 matchup is the Jets QB Bowl in Carolina. Just three seasons after taking USC's Sam Darnold No. 3 in the 2018 NFL Draft, the Jets brain trust jettisoned the passer and threw their lot in with BYU signal-caller Zach Wilson.
The NFL schedule makers didn't waste any time putting New York's decision under a microscope by making Wilson vs. Darnold a Week 1 showdown.  
The New Jersey-based franchise could look like geniuses if Wilson leads the youngest team in the league to an early-season victory on the road. The rookie looked good in the preseason and some pundits, like Chris Simms, believe he was the most talented QB in the 2021 draft. A Week 1 W — especially if Darnold looks like he still sees ghosts in Carolina — would go a long way to confirming that the Jets made the right decision.
However, if the change of scenery refreshes the former No. 3 pick and he starts to look like the promising young talent the Jets thought they saw three years ago, the decision to give up on his so early will look foolish. It will be even worse for Gang Green if Darnold demolishes his old team head-to-head.
The New York Jets day of reckoning will be fascinating to watch no matter which way it goes during Week 1 of the NFL season.
All stats courtesy of Pro Football Reference