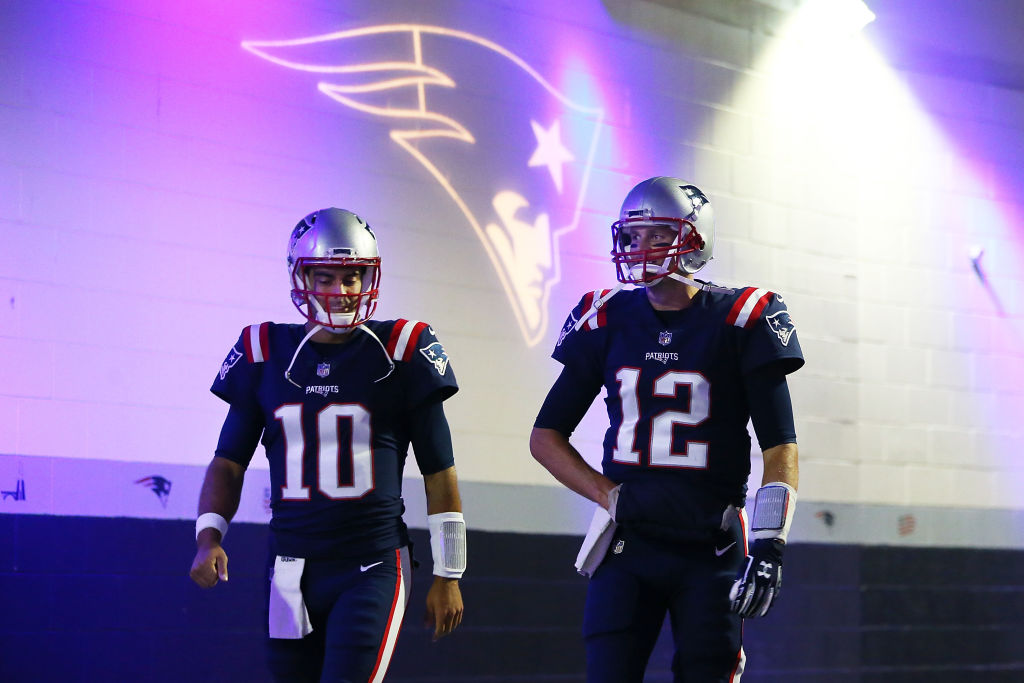 Tom Brady Sent Jimmy Garoppolo 1 Specific Message Ahead of the Super Bowl
Few NFL players have had as much Super Bowl success as Tom Brady. The veteran shared some of his wisdom with Jimmy Garoppolo.
During the Super Bowl, every single player and coach is under incredible pressure. Each starting quarterback, though, is under a special amount of stress, as the team's chances of success or failure are in his hands. No one knows that reality better than Tom Brady; his former understudy, Jimmy Garoppolo, will be stepping into that spotlight for the first time.

While Brady and Garoppolo aren't teammates anymore, the veteran quarterback still reached out to the 49ers starter. The six-time Super Bowl champ shared one specific message ahead of the big game.
Jimmy Garoppolo and Tom Brady's time together

While Tom Brady has been a New England Patriot for two decades, every NFL team needs at least two quarterbacks on the roster. From 2014 through 2017, that second man was Jimmy Garoppolo. 

Garoppolo played four seasons of college football with the Eastern Illinois Panthers; while the program might not be a nationally known powerhouse, the young quarterback posted massive numbers as a senior. On the back of that explosion, Bill Belichick and the Patriots selected him in the second round of the 2014 NFL draft. 

While Garoppolo and Brady seemed to hit it off, the former quarterback barely got a chance to play. Jimmy G only started two games in New England—which came when Brady was suspended after the Deflategate scandal—before being traded to San Francisco in 2017.
Tom Brady's advice for his former back-up

During Jimmy Garoppolo's time in New England, the Patriots won two Super Bowl titles. Going to the big game and starting under center, though, are two different things. The quarterback, however, has an experienced veteran in his corner.
During his NFL career, Tom Brady has appeared in nine Super Bowls; the Patriots quarterback has, of course, come out on top in six of those games. Since he knows a thing or two about handling pressure on football's biggest stage, the veteran decided to share a little wisdom with his former teammate.
"Yeah [Brady] shot me a text, just good luck and everything like that," Garoppolo told Michael Irvin on the NFL Network. "And you know just 'Go handle business,' you know, wasn't anything too complicated, just 'Go win."
Can Jimmy Garoppolo lead the San Francisco 49ers to a Super Bowl victory?

When the Super Bowl kicks off on Sunday evening, Jimmy Garoppolo will be in the scenario he probably dreamed of as a child: starting at quarterback in the Super Bowl. Can he lead his team to glory, though, or will his dream turn into a nightmare?
While facing off against the Kansas City Chiefs offense is never an easy task, Garoppolo seems to have all the tools he needs for success. The quarterback is supported by a strong running game and Kyle Shanahan's creative use of motion. He hasn't thrown very much during the playoffs, but don't mistake that for lack of ability; if the Chiefs pack the box, Jimmy G should be fine throwing into single coverage. His number one goal, though, will be keeping things calm and under control. 
On Sunday night, Garoppolo will undoubtedly be tempted to try to win the game single-handedly. That mindset, though, would be a trap. As Tom Brady noted, the quarterback's job is to help his team win; even if the San Francisco 49ers win without throwing a single pass, Garoppolo will still be a happy man.