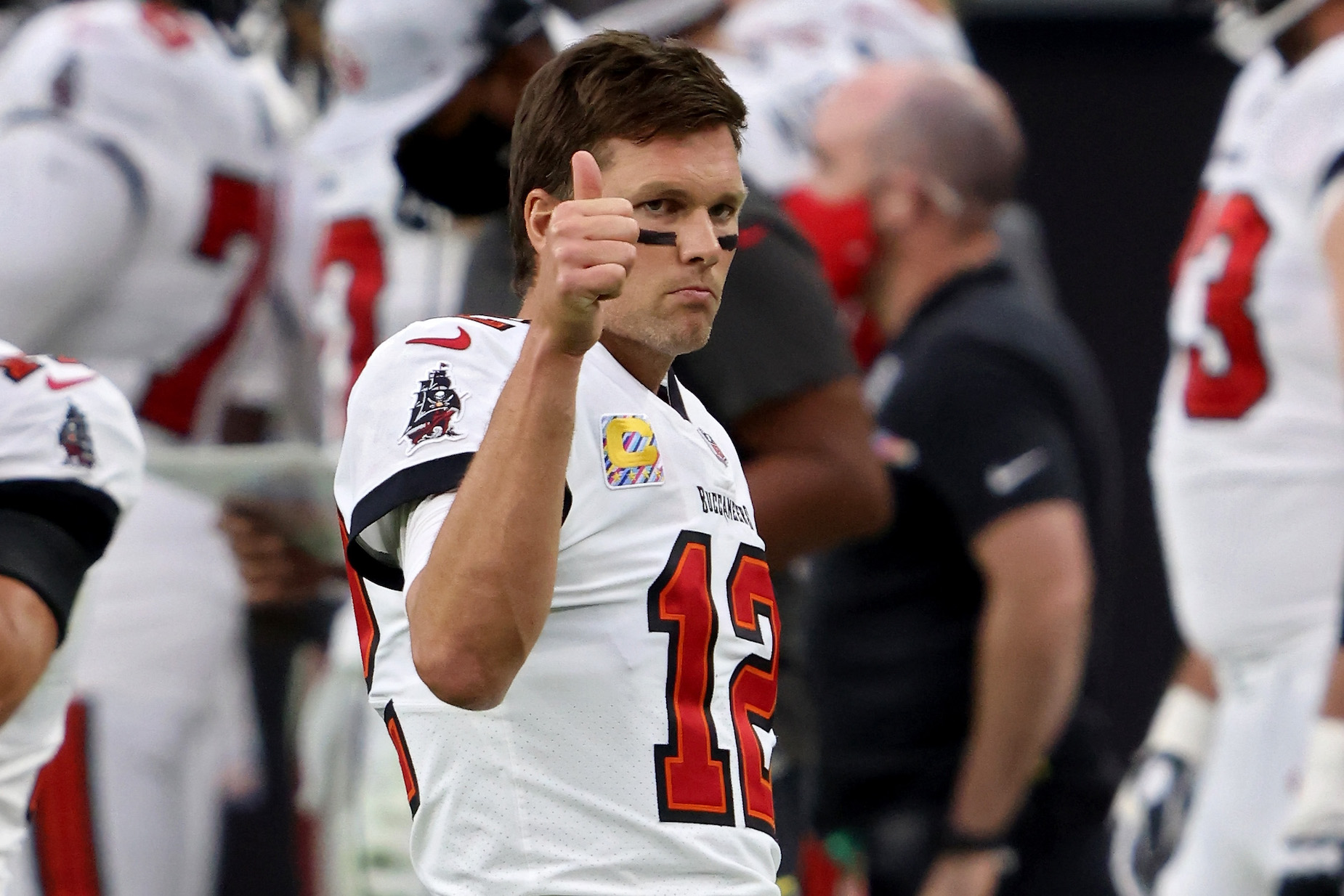 Tom Brady's Pregame Preparation Apparently Involves 'Protection Stones' and a Necklace Made By Gisele Bundchen
Every athlete has their own unique pregame routines. Gisele Bundchen has convinced Tom Brady to add a few extra steps to his.
Whether you love him or can't wait for the day when he finally retires, it's impossible to question Tom Brady's football resume. During his time in New England, the quarterback went from an anonymous sixth-round pick to a living legend; his career, to some extent, is a testament to hard work and self-belief.
Behind the scenes, however, the quarterback may be gaining an advantage from a more unconventional source. In 2019, Tom Brady revealed that his pregame preparation includes healing stones, protection stones, and a special necklace made b Gisele Bundchen.
Tom Brady has risen from anonymous quarterback to a living legend
In 2020, it's virtually impossible to discuss all-time NFL greats without touching on Tom Brady. Coming out of college, however, the quarterback didn't seem destined for much success at all.
Brady played his college football at Michigan before joining the New England Patriots as the 199th-overall pick of the 2000 NFL draft. When he arrived in Foxborough, he didn't exactly blow anyone away. Robert Kraft called the quarterback a "skinny beanpole," and Drew Bledsoe thought that his new understudy would never become anything more than a backup.
Those first impressions, however, would be proven incorrect.  In the fall of 2001, Bledsoe suffered an injury, leaving Brady to run the Patriots' offense. From there, the rest is history.
After that fateful change, Brady won 219 games with the Patriots; that regular-season success also set the stage for nine trips to the Super Bowl and six championships. The quarterback also won three NFL MVP awards during his time in New England and, despite moving to Tampa Bay, is still playing his trade at age 43.
Using protection stones and a necklace before the big game
Every athlete, whether they play in the NFL or a beer league, has their own pregame routines. Tom Brady, however, probably does things a bit differently than most.
On the TB12 website, the 'Tom's Gameday Checklist' page discusses the importance of things like sleep, hydration, and eating a good meal. In real life, however, the quarterback also adds some less conventional steps to his preparation.
"I've learned a lot from my wife over the years," Brady explained at a Gillette event. "She's so about the power of intention, and believing things that are really going to happen and she always makes a little altar for me at the game, because she just wills it so much. So she put together a little altar for me that I could bring with pictures of my kids."(H/T John Breech of CBS Sports)
Beyond that, the quarterback also has special stones and a necklace to help him do his best each Sunday.
"I have these little special stones and healing stones and protection stones and she has me wear a necklace and take these drops she makes and say all these mantras," Brady continued.
Even Tom Brady was skeptical of Gisele Bundchen's techniques at first
If you think those techniques are a bit unconventional, then you're not alone; even Tom Brady himself was skeptical at first. Eventually, though, the quarterback decided to place his faith in Gisele Bundchen's methods.
"At first, I was like, 'this is kind of crazy,'" Brady said. "And then, about four years ago, we were playing the Seahawks [in Super Bowl 49] and she said 'You better listen to me: This is your year, but this is all the things you're going to have to do to win,' and I did all those things, and by God, you know, it worked." Bundchen also apparently told Brady that 2015 wouldn't be his year, but 2016 was looking much better; the Patriots, of course, went on to defeat the Atlanta Falcons in Super Bowl 51 to cap off the 2016 campaign.
Since then, Brady has been a believer. While it's not clear if he still follows his wife's pregame routine, he's no longer skeptical of her advice.
"I stopped questioning her a long time ago," the quarterback continued. "I just shut up and listen." With that amount of Super Bowl success, it's hard to blame him.