Tony Stewart Is in Midseason Form, Zinging Himself While Discussing Kyle Larson
Whether he's driving, acting in his role as a team owner, or doing race commentary, no one in NASCAR matches Tony Stewart when it comes to stirring things up.
Stewart sparred with a rival driver in the SRX Series and railed at NASCAR for penalties assessed to Stewart-Haas Racing last year. He kicked off his 2023 role as a race analyst by landing a shot that landed squarely – on himself.
Tony Stewart regularly made news last season
Hall of Famer Tony Stewart made his usual quota of headlines on and off the track a year ago after kicking off the season at the Busch Light Clash and Daytona 500 as a booth analyst for Fox Sports.
The three-time NASCAR Cup Series champion wasn't happy with how drivers were racing him at South Boston Speedway in the SRX Series, which Stewart co-founded. He expressed his displeasure by going after Ernie Francis Jr., at one point grabbing Francis by this fire suit collar.
Off the track, he engaged in a two-front war with NASCAR late in the season, beginning with Kevin Harvick's now-famous review of the "crappy-ass parts" the sport's governing body supplied. NASCAR suspended crew chief Rodney Childers for four races and fined him $100,000 on Oct. 5 for what it called modification of a part supplied by a vendor.
Harvick and the team lost 100 points apiece, but Stewart-Haas Racing dropped its announced appeal when confronted with a second issue. NASCAR fined Cole Custer $100,000 and docked him 50 points, tagged the team for another 50 points, and hit crew chief Michael Shiplett with a $100,000 fine and an indefinite suspension for their role in helping Chase Briscoe advance to the playoff semifinals in controversial fashion.
"Super glad I'm going drag racing this weekend," Stewart told reporters. "If it weren't for the fact that I've got a couple of appearances that I have to make, I wouldn't be in another NASCAR race the rest of the year. Wouldn't waste my time."
Tony Stewart is a big fan of Kyle Larson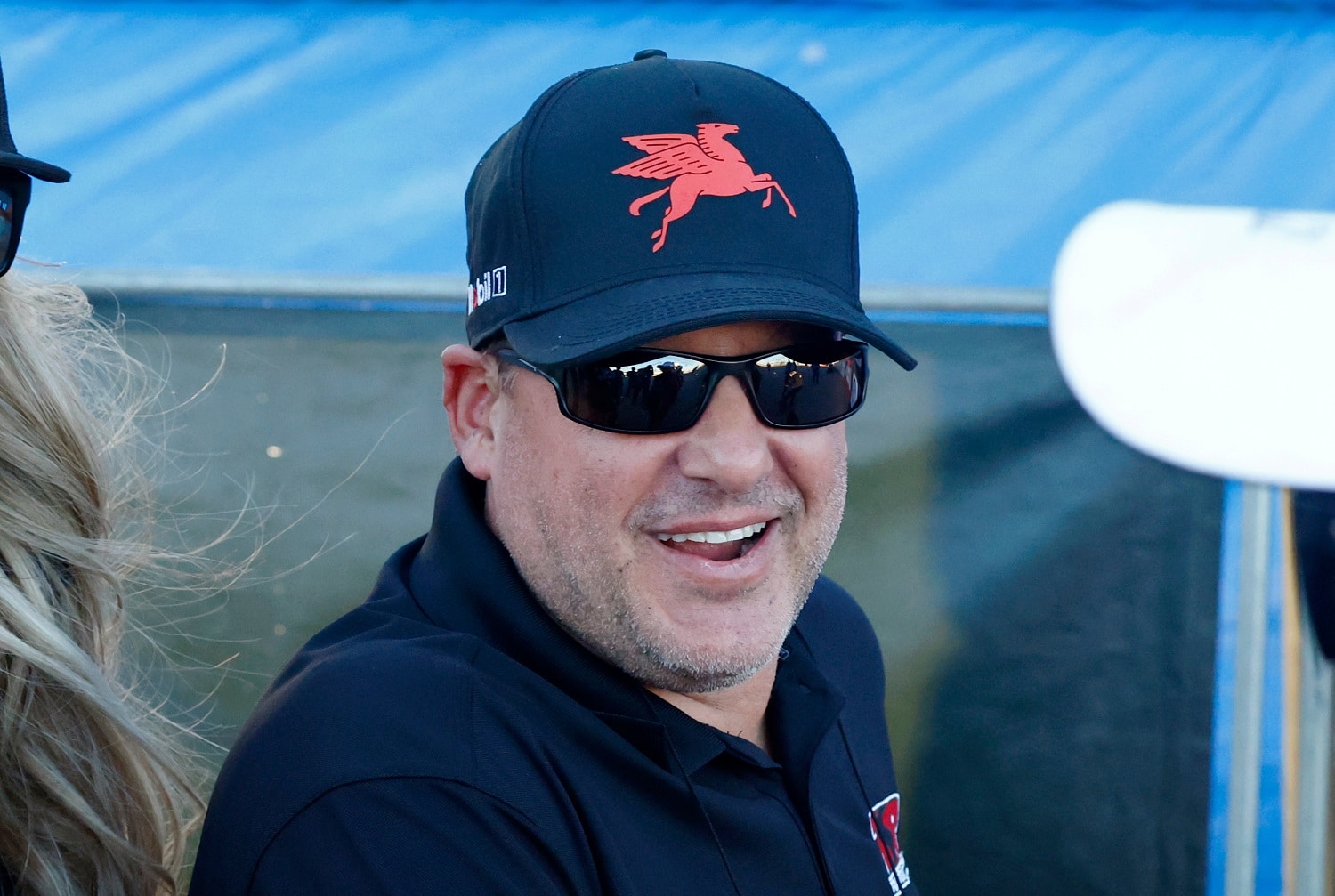 Tony Stewart has always been much more than just a NASCAR guy with a temper. He drove two full seasons of IndyCar, winning the 1997 championship, and captured the 2006 IROC title. Throughout his career, Stewart maintained a passion for racing on dirt tracks.
Kyle Larson does not yet have the experience or accomplishments, but he shares Stewart's love of racing sprint cars and midgets. It's widely accepted in NASCAR circles that Stewart wanted to hire Larson to drive a Stewart-Haas Racing Ford in 2021 but couldn't get the manufacturer to approve the hire.
Working alongside Clint Bowyer during practice for NASCAR's Busch Light Clash on Saturday, Stewart said he thought Larson adapted to new and different cars better than anyone – himself included.
"We're going to get a chance to see him see next year try a new discipline he hasn't been in yet  in an IndyCar at the Indianapolis 500," Stewart said on the Fox Sports broadcast. "This is going to be impressive to watch."
The Hall of Famer pokes fun at himself
Clint Bowyer entered the conversation as Tony Stewart continued to talk about 2021 Cup Series champion Kyle Larson. Bowyer likened Larson to Stewart.
"The coolest thing about it is it's just like your career," he said. "If he gets in a sprint car, he's fast. If he gets in a midget, he's fast. He's won the Chili Bowl. He's won sprint car races in World of Outlaws. … IndyCar's going to be the same way. Every generation has one, and he's certainly this generation's."
Bowyer then kidded his co-analyst by saying he did notice a difference: He recently saw Larson flying commercial, while Stewart is a company jet kind of guy.
Stewart, known for a quick and at times self-deprecating sense of humor, didn't miss a beat as he tied his history of run-ins to last year's incident between Larson and Bubba Wallace.
"There's another difference that I saw last year, too," Stewart said. "He had somebody pushing him and he didn't get in a fight."
And that's why NASCAR on a race day is even better when Stewart is in the booth.
Got a question or observation about racing? Sportscasting's John Moriello does a mailbag column each Friday. Write to him at [email protected]