Trevor Lawrence Could Be Missing At Least $150 Million From His Bank Account Through No Fault of His Own
As soon as the 2021 NFL draft officially begins, Trevor Lawrence's life will change forever. As the presumptive first overall pick, the former Clemson quarterback is set to claim a massive payday. To some extent, though, that will only be making up for lost time.
Ahead of Thursday's draft, Sports Illustrated's Andrew Brandt took a look at Lawrence's road to the pros, albeit from a financial perspective. Due to a combination of NCAA rules and unfortunate timing, the quarterback could have already missed out on as much as $150 million.
Trevor Lawrence is the top dog heading into the 2021 NFL draft
Some years, the NFL draft can be a bit of a mystery with no clear consensus on the first overall pick. 2021, however, isn't one of those occasions. While nothing is ever 100% guaranteed, it seems pretty safe to assume that Trevor Lawrence will be the first name called on Thursday night.
Lawrence made a name for himself in high school and, after graduation, took his talents to Clemson. He seized the starting job as a freshman and managed to lead the Tigers to the College Football Playoff National Championship. The quarterback almost repeated the feat during his sophomore campaign, but Clemson fell to LSU in the title game.
Despite an unconventional junior year—Lawrence himself tested positive for COVID-19, missing two games—the quarterback still posted strong individual numbers. On the back of that campaign, he decided that he was ready to enter the 2021 NFL draft.
Since then, the quarterback has been tapped as the obvious first overall pick. While it's theoretically possible that the Jacksonville Jaguars call a last-second audible, they've been openly winking in Lawrence's direction for a while now. On Thursday night, they'll just have to make it all official.
Missing out on as much as $150 million ahead of the NFL draft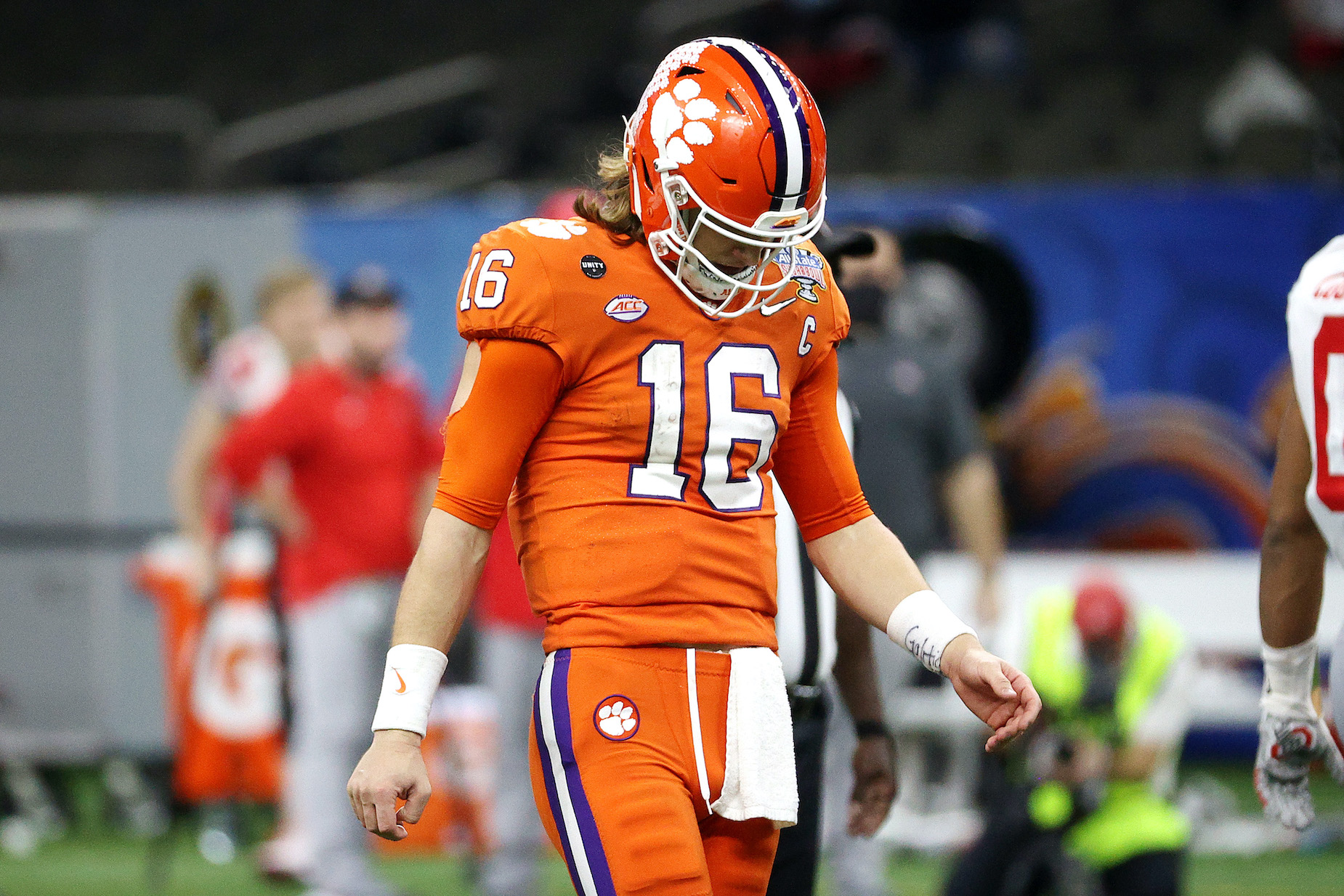 In isolation, it's pretty tough to feel bad for someone who's about the become the first overall pick of the NFL draft and make millions of dollars in the blink of an eye. Trevor Lawrence's financial situation, however, could be even better.
As laid out by Sports Illustrated's Andrew Brandt, Lawrence could have missed out on as much as $150 million through no fault of his own. A combination of bad timing and, unsurprisingly, both NCAA and NFL rules have combined to keep plenty of money out of the quarterback's pocket.
In regard to the timing, Brandt highlights how the 2011 CBA changed rookie contracts. Before that agreement, the players had all the leverage; Sam Bradford, for example, inked a six-year, $78 million contract with $50 million guaranteed. Lawrence won't be able to command anywhere near that sum. His rookie contract will also be affected by the league's lower salary cap, which stemmed from COVID-19 related revenue losses. Again, that's a case of bad timing that the quarterback couldn't control.
On the rule side of things, the NFL mandates that players have to three years removed from high school before entering the league, which, in turn, kept Lawrence from earning a professional salary earlier than 2021. The NCAA's name, image, and likeness (NIL) standards are also set to change just as the quarterback leaves college; the previous guidelines meant Lawrence couldn't profit off his star status without risking his amateur status.
In total, Brandt estimated that "between being drafted in the post-2011 CBA era, a pandemic, the only sport with a three-year eligibility rule and the pre-NIL era, Lawrence may have lost out on, conservatively, $150 million in earnings."
Trevor Lawrence will still make plenty of money in the NFL
Even for a professional athlete, missing out on $150 million is a major loss. Trevor Lawrence, however, shouldn't be too bothered over the long term.
Based on Spotrac's estimates, the first overall pick in the 2021 NFL draft will sign a contract worth just under $35 million. Lawrence will also have plenty of endorsement deals coming his way; he's already agreed to a cryptocurrency partnership, committed his future to Addidas, and teamed up with Gatorade.
While it's risky to try and predict the future—any player could get unlucky and suffer a serious injury—the quarterback's longer-term financial future also appears to be bright. Cris Collinsworth has already compared Lawrence to Patrick Mahomes, who, of course, earned himself a historic contract extension. Even if the Clemson alum can't live up to those standards, he should have no problem bringing home hundreds of millions.
During his time in college, Lawrence potentially missed out on plenty of cash. The 2021 NFL draft, however, will be the first day of the rest of his (financial) life.