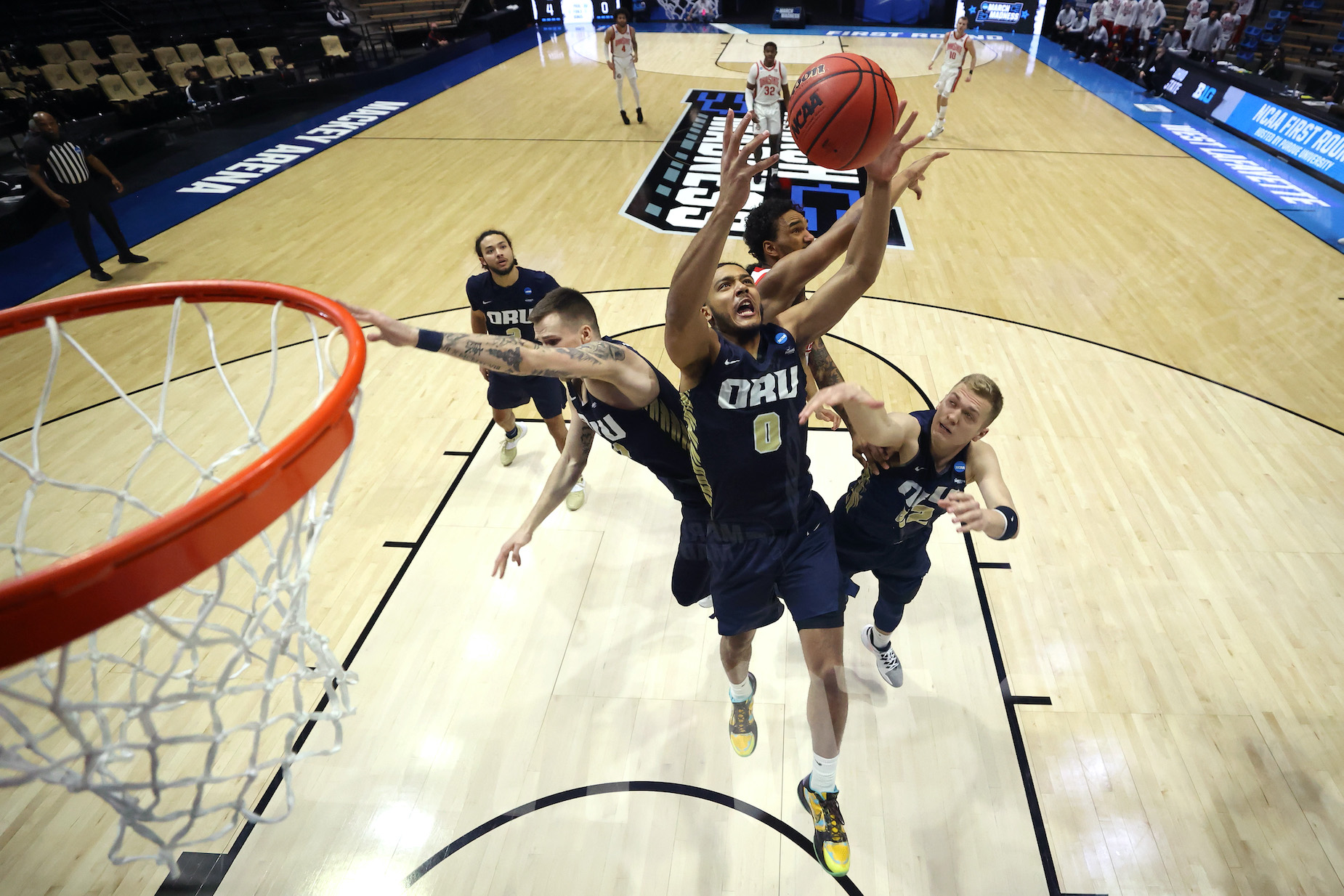 Who is Oral Roberts and Why Does He Have a University Named After Him?
After upsetting Ohio State, Oral Roberts University is now a household name for NCAA basketball fans. Who's the man behind the school?
Normally, blue-blooded programs like Duke, UNC, and Kansas dominate the college basketball scene. One of the joys of March Madness, however, is seeing which Cinderella schools will get their moment in the spotlight. In 2021, the Oral Roberts Golden Eagles have grabbed their opportunity with both hands, knocking off Ohio State in the first round of tournament action.
While that upset captured the imagination of college basketball fans (at least those outside of Ohio), it also raised an obvious question: who is Oral Roberts, and why is a University named after him?
The Oral Roberts University Golden Eagles could be 2021's top Cinderella story
Since every game is a win-or-go-home situation, March Madness theoretically gives every team a chance at glory. Even if their run ends in the round of 32, the Oral Roberts Golden Eagles have already made quite a name for themselves.
The team entered the 2021 NCAA Tournament as a 15-seed, earning the privilege of playing Ohio State in the first round. Despite being the David in a David vs. Goliath matchup, Oral Roberts pulled off the upset. The 16-point underdogs pulled off the upset, stunning the Buckeye in a 75-72 overtime thriller.
It's needless to say that the Golden Eagles' win came as something of a shock to the sports world. The program hadn't won an NCAA Tournament game since 1974; according to ESPN, nearly 14 million brackets had Ohio State coming out on top.
That's the joy of March Madness, though. In a single-elimination tournament, anyone can win a one-off game, even Oral Roberts University.
Who is Oral Roberts, and why is the university named after him?
For most schools in the tournament, their name gives some indication of where they're from. Oral Roberts University, however, is different; it's clearly named after a person. But who is the man behind the school?
As explained in a 2009 New York Times obituary, Oral Roberts was a "Pentecostal evangelist whose televised faith-healing ministry attracted millions of followers worldwide and made him one of the most recognizable and controversial religious leaders of the 20th century."
As for the university, Roberts founded it in 1963. Its origin, however, began many years earlier.
As explained in the Times obituary, Roberts had a serious case of tuberculosis as a teenager; he wasn't expected to survive. En route to see a healing evangelist, however, he heard a voice.
"It was as if I was totally alone," Roberts explained in an autobiography. "Then I heard that voice I've heard many times since: 'Son, I am going to heal you, and you are to take my healing power to your generation. You are to build me a university and build it on my authority and the Holy Spirit."
Oral Roberts, of course, survived and went on to create that university.
The Golden Eagles have already done their part to boost the school's popularity
Prior to their first-round upset, Oral Roberts University wasn't exactly a nationally-known name. If history is any indication, though, they'll be a bit more popular in the coming year.
Historically, teams that pull of Cinderella upsets see an increase in applications, even if they don't make a legitimate run at the title. As explained by The Atlantic, Florida Gulf Coast saw 27.5% more applications after reaching the Sweet 16; Lehigh University and Wichita State also experienced similar boosts.
As a religious school, it's not clear if Oral Roberts will experience the same surge in applications. If nothing else, though, the Golden Eagles have helped push their university into the national spotlight.