Zach Wilson Takes an Inadvertent Shot at Aaron Rodgers While Admiring the GOAT
If Aaron Rodgers throws for 95 yards in his one series during the Green Bay Packers' NFL preseason game on Aug. 21, the New York Jets' defense will have Zach Wilson to blame. It may not have been the rookie quarterback's intent to throw shade in the direction of a guy who throws darts, but it kind of reads that way.
Zach Wilson could post a strong rookie season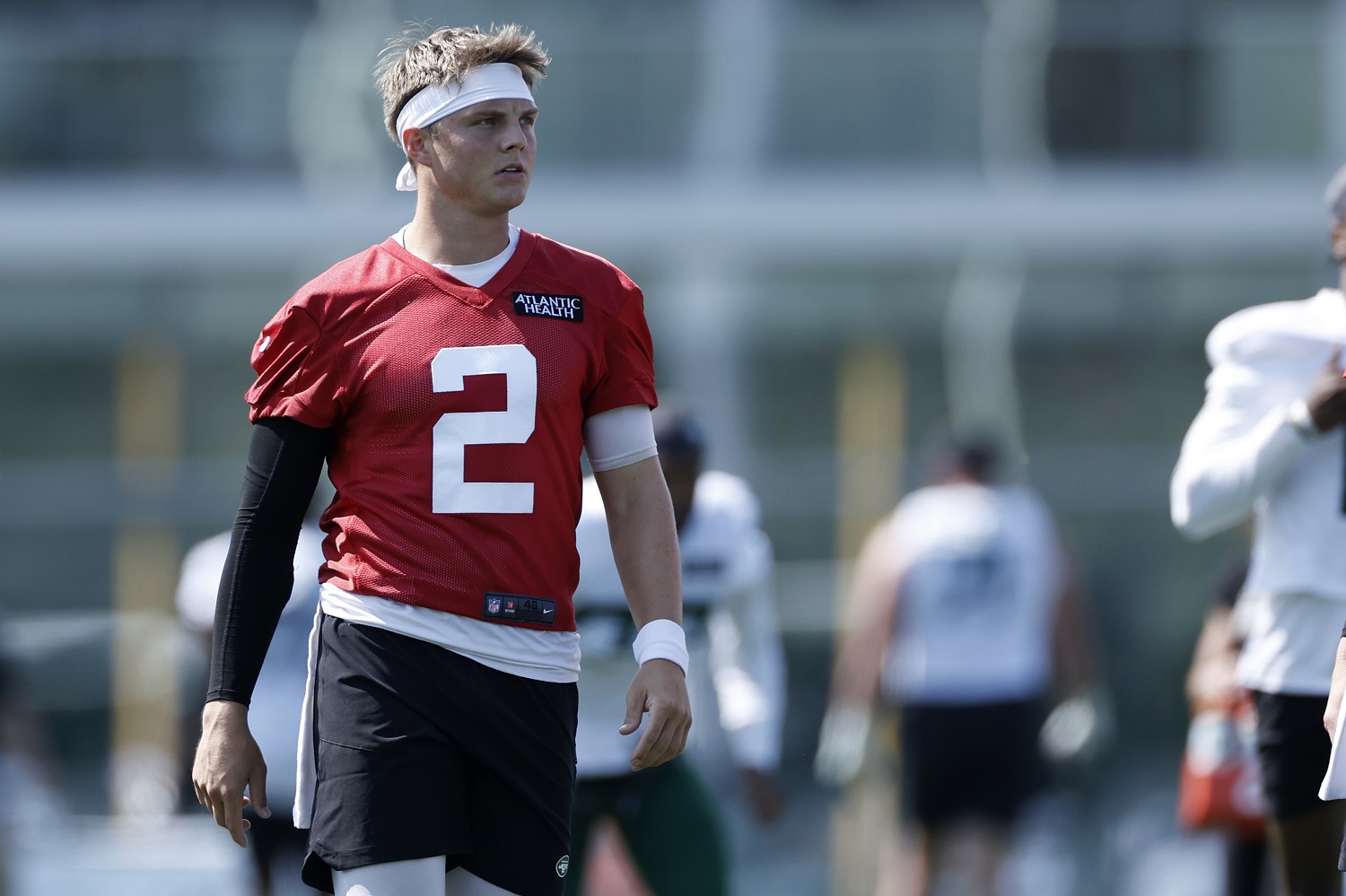 Of the five quarterbacks entering the NFL this fall as first-round draft picks, Wilson might be in the best position to make a big impact. Overall No. 1 pick Trevor Lawrence steps into a talent-deficient organization, and Trey Lance must first dislodge Jimmy Garoppolo before he can step into the lineup for the more dangerous San Francisco 49ers. Justin Fields and Mac Jones are also in the mix of NFL newcomers.
Wilson, picked second overall by the Jets, arrives in New York with solid college credentials out of Brigham Young and no competition for the starting position. The merits of that decision by the front office and first-year head coach Robert Saleh can and should be debated. Josh Johnson (signed on Wednesday), James Morgan, and Mike White offer neither competition nor suitable backup credentials for a team with a lot of work to do in a demanding division.
In addition, having a veteran around in the quarterbacks room might have helped Wilson rethink what he blurted out about Aaron Rodgers while trying to praise Tom Brady.
Zach Wilson takes an inadvertent shot at Aaron Rodgers
Wilson was a year old when Tom Brady made his NFL debut with the New England Patriots. Brady won three Super Bowls before Wilson started kindergarten and established himself as a future Hall of Fame inductee before Wilson reached junior high. He is now widely regarded as the greatest NFL player of all time.
Thus, it is understandable why Wilson expressed his great admiration for the man with whom he shares a birthday, albeit 22 years apart. In doing so, however, he made a remark about Rodgers that undoubtedly did not come out the way Wilson intended.
"Brady, in my opinion, is the greatest of all time, I mean I don't think you can argue that," Wilson said, according to Heavy.com. "Wherever he's at, they're winning. I've always been a Rodgers guy because of the flashiness, but the thing that's important in the game is winning, right? This is a team sport and it's all about winning."
There's more to Rogers' game than flashiness
To be sure, Rodgers does have some pizzazz to his game. Though he has twice led the league in sacks and has been taken down for losses 468 times in 190 games, the Packers veteran does possess elusiveness that results in creativity as he extends plays. He also has 25 game-winning drives to his credit, which might qualify at some level as flashiness.
What Rodgers doesn't have, however, is more than a single Super Bowl ring. Fair or not, that is a consideration in evaluating quarterbacks regardless of the quality of their supporting casts.
Still, it's hard to ignore Rodgers' ratio of 412 touchdown passes to 89 interceptions. (For reference, Brady's totals are 581 and 191, respectively.) That has nothing to do with flashiness, of course, but it is a reminder that Rodgers is among the best we've seen line up behind center.
Wilson undoubtedly meant no harm, but he would have been better off leaving Rodgers out of his comment.
All stats courtesy of Pro Football Reference.