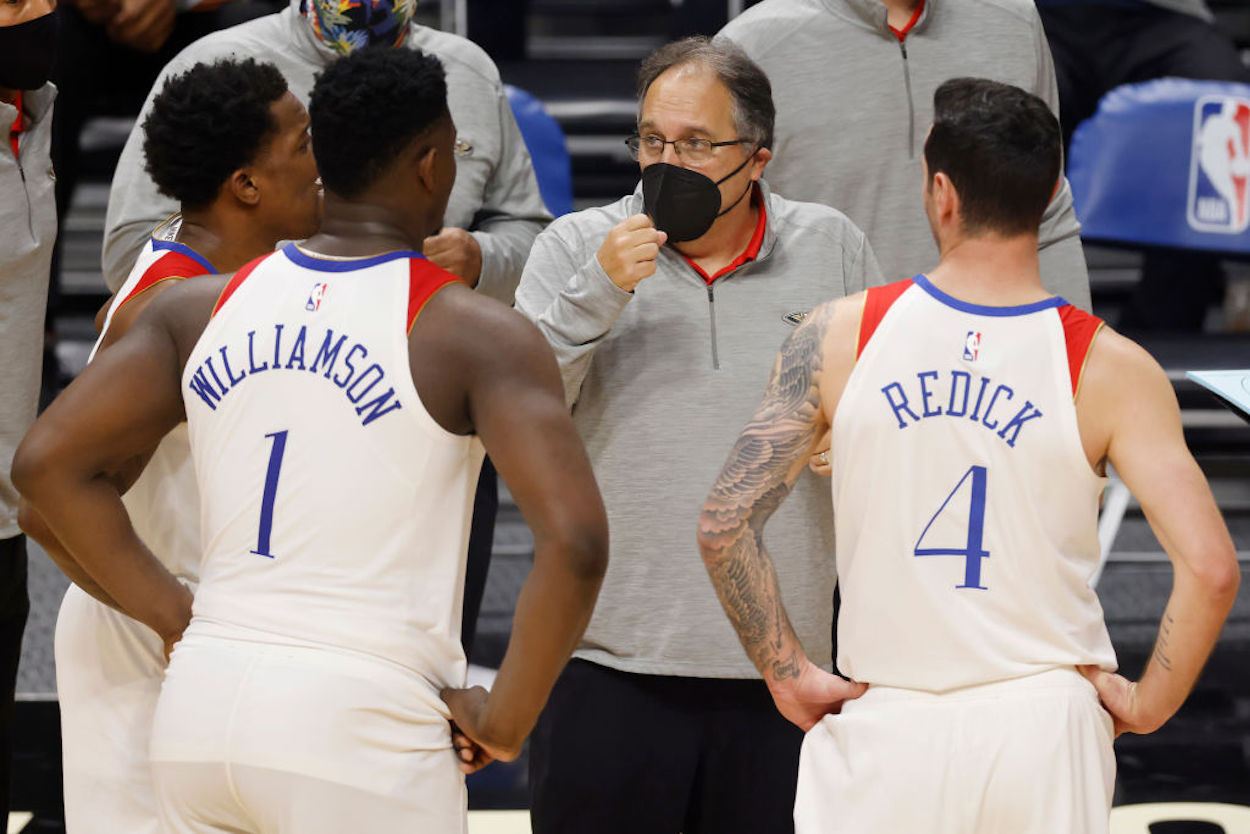 Zion Williamson Must Be Out of Line for JJ Redick to Betray the Duke Brotherhood
If JJ Redick is publicly ripping his former teammate and fellow Duke alum, Zion Williamson must have really dropped the ball.
While it can be a dog-eat-dog world in sports media circles, players do get some preferential treatment. Coaches are usually hesitant to publicly single out any one player out of fear they'll lose the locker room. Similarly, most former players who enter the media will try to play things a bit safe. When friendship and professionalism clash, you're probably not going to rip someone without a second thought.
JJ Redick apparently missed that memo. Or, perhaps more accurately, he may be so frustrated by Zion Williamson that he couldn't help but hold back.
Independent of the former sharpshooters' intentions, though, the implications seem clear. Zion has gone so far off the rails that even the Duke brotherhood can't protect him.
JJ Redick ripped Zion Williamson for all to see
During his time on the court, JJ Redick had no problem firing away from long distance. In the media, it seems like that tendency to let it rip is still alive and well.
During an appearance on ESPN's First Take, the former Duke Blue Devil and New Orleans Pelican took aim squarely at Zion Williamson for his failure to contact CJ McCollum after a trade brought him to the Big Easy. Beyond the fact that they're now teammates, the guard is a respected veteran and the current president of the NBAPA. Surely that warrants a text from the current (if perpetually injured) face of the franchise.
This is something I addressed with Zion in front of the team," Redick said. "This is going back to his rookie year, … a pattern of behavior with Zion that we are seeing again and again. I was his teammate; I can describe him as a detached teammate, that is an accurate statement."
He didn't stop there, though. Redick also seemed to suggest that Williamson was giving less than 100% to the cause.
"There's a responsibility that you have as an athlete when you play a team sport to be fully invested," he continued. "You're fully invested in your body, you're fully invested in your work, and you're fully invested in your teammates. That is your responsibility, and we have not seen that from Zion."
If JJ Redick is betraying two different brotherhoods, something must be truly troubling
As mentioned above, Redick's comments are notable because of his recent ties to the Association. He only retired in September 2021, and, as he himself noted, he shared a locker room with Zion. There's another connection, though, that also underlines the potential problem.
Beyond their NBA link, both Redick and Williamson played at Duke. The Blue Devils basketball program literally brands itself as "The Brotherhood." That bond is especially apparent during Coach K's last season, as the entire sports world is in tribute mode. Barring extreme circumstances, no one affiliated with Duke is going to say anything negative about the program. Just look at Jay Williams' reaction to the Tommy Amaker story for an example of that reality.
It's also worth noting that, as flagged by Scott Kushner on Twitter, Redick has had his issues with David Griffin and the Pelicans organization. The fact that he's appearing to side with them over Williamson should not be overlooked.
For Redick to both share some locker room perspective about a former teammate and throw a fellow Blue Devil under the bus, there has to be a problem. There's no way to know his motivations, but, given his podcasting success, it's unlikely that the NBA veteran needs to prove he can be an impartial analyst. That would seem to leave sending a very pointed message as the top hypothesis.
At this point, Zion Williamson needs to hear the message for his own sake
Regardless of Redick's intentions, the message has clearly been sent. This is no longer Reddit rumblings or anonymous reports that Zion isn't behaving like a true pro. This is a former teammate and someone who, in theory, should be in Williamson's corner. At this point, though, the ball is in the big man's court.
While it's been some time since we've seen him at his best, Williamson looked like a one-of-a-kind athlete in college. Take, for example, his block against Virginia. No one should be able to close out a three-point shooter from the opposite block and send the ball into the fifth row, but Zion made it look easy. Even if his game wasn't the most refined, that sort of raw talent literally cannot be taught. That should be the foundation for everything else.
Instead, the foundation seems to be cracked. Injuries have undeniably played their role in Williamson's struggles, and it's impossible to know if he's done enough to help keep himself healthy. Even if he's been a perfect patient, though, working out alone, failing to speak to teammates, and communicating through your own camp doesn't provide the best image. Stars, for better or worse, play by their own rules. Zion, however, isn't putting in the performances to justify special treatment.
At this point, Williamson is nearing the end of his rookie contract, and he's looking more like Greg Oden than the next coming of Charles Barkley. Even if he's hamstrung by his body, Zion has to take ownership of the parts of his legacy that he can control. That means being a good teammate, putting in the work, and doing what it takes to both get himself back on the court and help his team win. Fans can understand and forgive injuries or attitude issues, but no one is going to feel bad for someone who doesn't seem like they care.
For years, the book on Duke players was that they couldn't cut it in the NBA. While that has changed a bit in recent years, Zion Williamson needs to shape up or risk becoming one of the biggest busts in Blue Devils history.