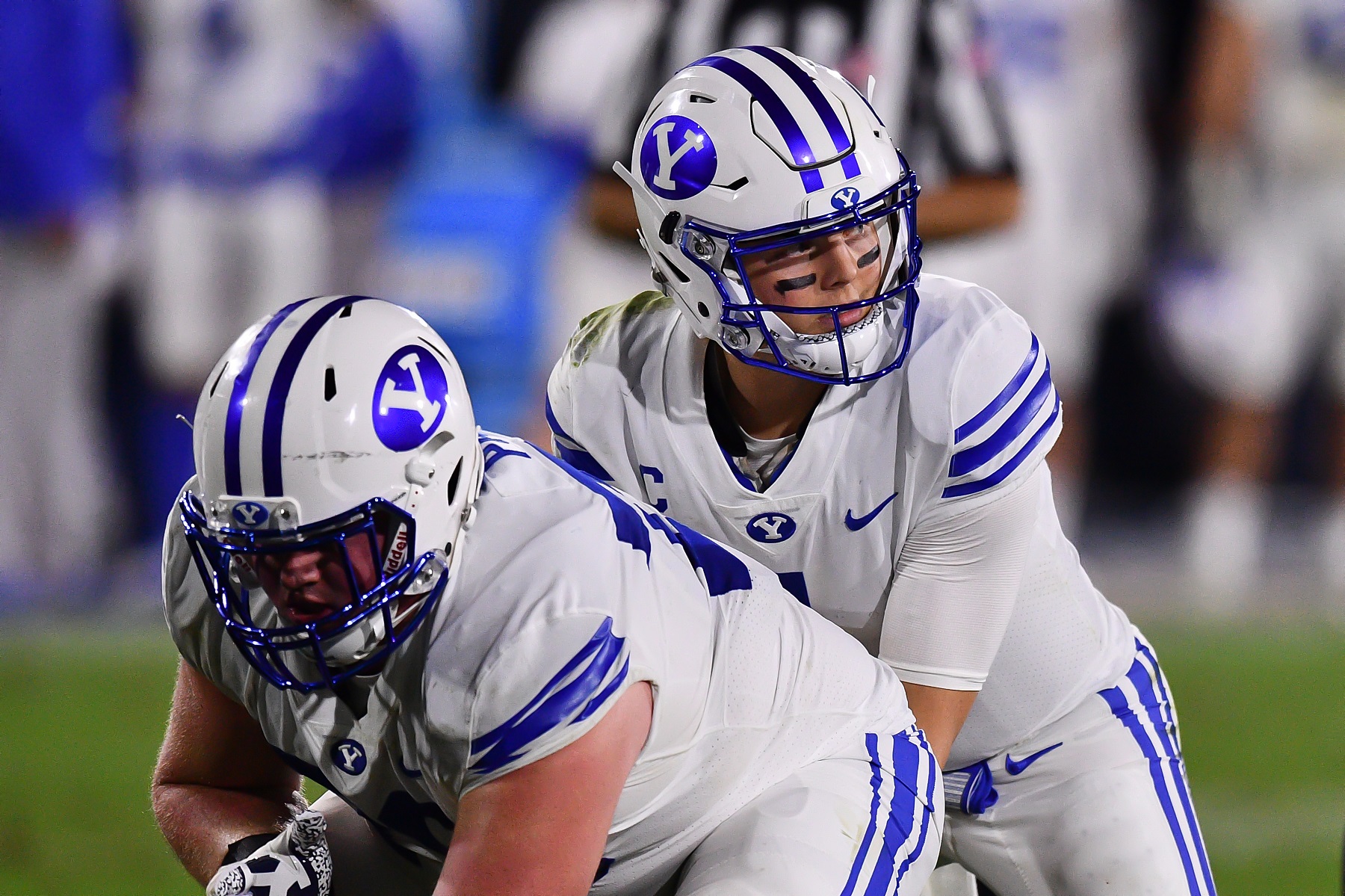 A Top College QB's Draft Hopes May Be Crushed by a Comparison To Johnny Manziel
A website is reporting concerns by NFL personnel men that BYU quarterback Zach Wilson possesses some of the same negative qualities that derailed Johnny Manziel's career.
The good news for Zach Wilson is that he is destined to be playing in the same league with Patrick Mahomes and DeShaun Watson next fall. The name of the quickly rising BYU star has started showing up near the top of lists for the best quarterbacks in the NFL draft. The bad news is that he's drawing comparisons to Johnny Manziel rather than Mahomes or Watson.
Zach Wilson is on the rise at BYU
Zach Wilson was on the radar of the pro scouts before the 2020 season as potentially one of the best quarterbacks in the NFL draft despite a dropoff in performance between his freshman and sophomore seasons. At 6-foot-3 and 210 pounds, he has the right build for the position.
The athletic, scrambling signal-caller greatly improved his accuracy this season by completing 73.4% of his attempts, and he finished with 33 touchdown passes to just three interceptions. Though a longshot for the honor, he could join the list of Heisman Trophy-winning QBs that in recent years has included Johnny Manziel, Lamar Jackson, Baker Mayfield, Kyler Murray, and Joe Burrow.
As the current year progressed, Wilson even rose to No. 2 among QBs on some early draft charts. He's still slotted behind Clemson star Trevor Lawrence on everyone's board, but Wilson has moved ahead of Justin Fields of Ohio State and Trey Lance of North Dakota State. A few have even suggested that he could be the second player taken in the 2021 NFL draft if he passes up his final season of eligibility at BYU.
Zach Wilson needs to shake off a comparison to Johnny Manziel
Zooming up the list of the best quarterbacks in the NFL draft brought BYU quarterback Zach Wilson considerable attention in the second half of the season. Unfortunately for Wilson, 21, he has attracted detractors in the process. According to the Walter Football website, the "character concerns" label has been attached to his portfolio.
The website reported that one NFL team's scouting director has decided that Wilson "has character concerns, rich kid who is an entitled brat – uncle owns Jet Blue, parents are a pain, not a leader, selfish, and he's a know-it-all."
"Rich kid who is an entitled brat" is more or less the same label that scared many teams away from Johnny Manziel coming out of Texas A&M in 2014. The Cleveland Browns didn't heed that warning at the 2014 draft and quickly regretted it.
Adam Schefter doesn't buy the comparison to Johnny Manziel
The same NFL observer who slapped the "entitled brat" label on BYU quarterback Zach Wilson had some positive things to say, according to the Walter Football website:
"He is fun to watch, but is he a one-year flash in the pan? He's a backyard baller who is fun to watch."
Which end do you believe when a dog is both barking and wagging its tail?
ESPN's Adam Schefter says he isn't buying the Johnny Manziel comparisons for Zach Wilson, regarded as one of the best quarterbacks in the NFL draft. Schefter believes Wilson be the second quarterback selected in 2021.
"I've heard nothing but great things about the guy, and that he's got 'special intangibles.'" Schefter said.
Added Schefter: "I know people that know him pretty well, and they speak pretty highly about him."
Like Sportscasting on Facebook. Follow us on Twitter @sportscasting19.