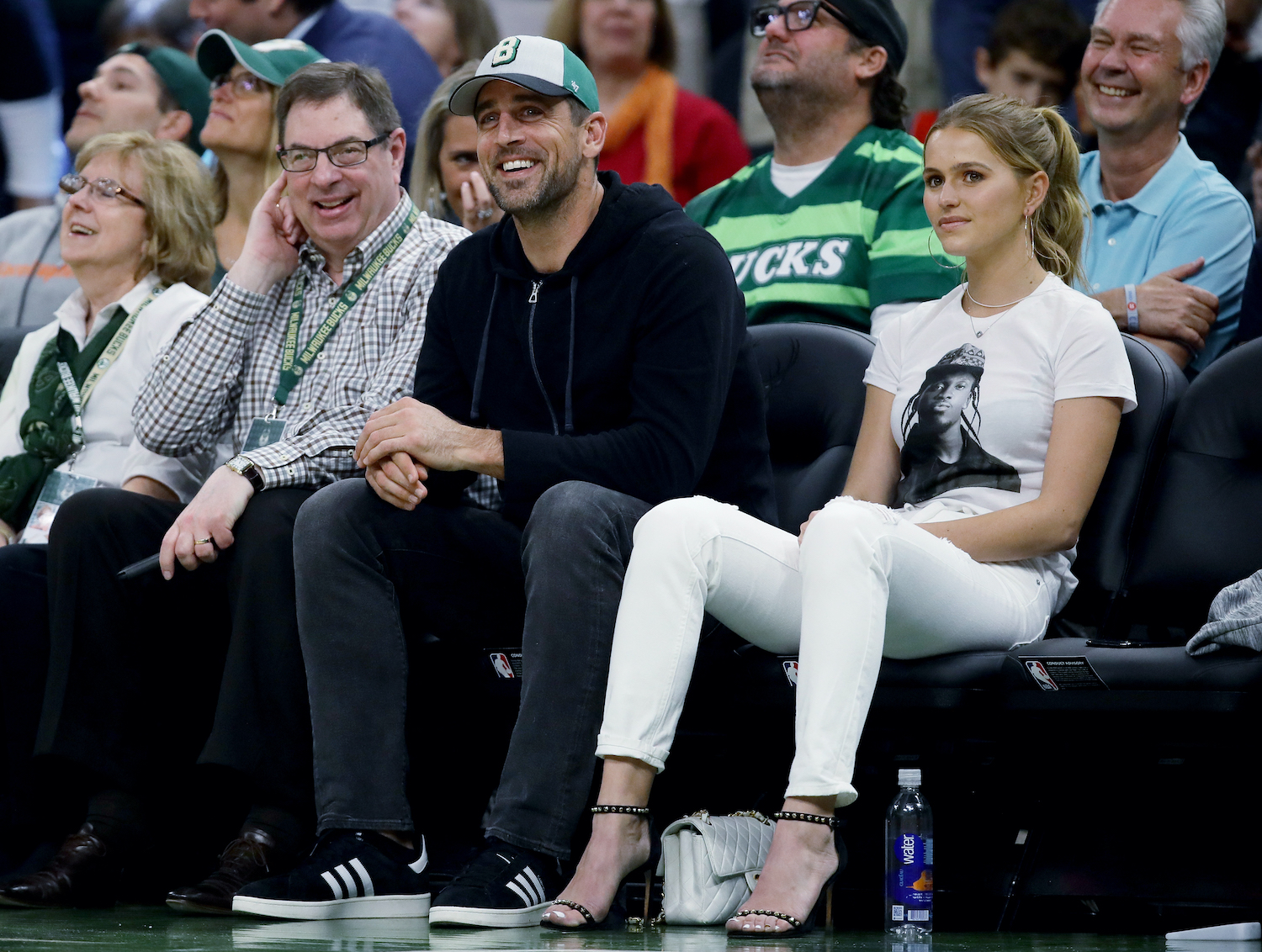 Aaron Rodgers Can Score a New Championship Ring in Wisconsin This Summer Before Potentially Leaving the Green Bay Packers
Even if Aaron Rodgers' days with the Green Bay Packers are numbered, he can keep winning championship rings in Wisconsin.
During an ordinary NFL offseason, Aaron Rodgers would be getting himself ready for another campaign with the Green Bay Packers. 2021, however, has been anything but ordinary. Thanks to some unresolved drama, it's unclear if the quarterback will ever play pro football in the state of Wisconsin again.
Even if relocation or retirement is on the cards, though, Rodgers could still score another championship ring in the Badger State. While it won't quite carry the same satisfaction as a Super Bowl title, the quarterback could add some NBA hardware to his trophy case.
Aaron Rodgers could be staring down the barrel of an early retirement or a move away from Wisconsin
Based on his on-field performance during the 2021 campaign, Rodgers would be a desirable piece of any Super Bowl contender's puzzle. Despite that reality, a contractual issue could have the quarterback staring down the barrel some offseason changes.
For those who need a refresher on the news, reports emerged around the 2021 NFL draft that Rodgers had become happy with the Packers brass. While we still don't know the exact root cause of the problems — it could be drafting Jordan Love, cutting Jake Kumerow, or something else — it seems pretty clear that the quarterback feels disrespected by his employer.
With all of that being said, though, both sides are trapped in a stalemate. Rodgers doesn't want to play to return to Wisconsin but is still under contract. Similarly, Green Bay doesn't want to trade their star player for pennies on the dollar. At this point, no one is willing to blink.
It neither a trade nor a reconciliation is on the cards, one potential nuclear option is for the quarterback to retire. If he hopes to play football again, retiring and rejoining the league in 2022 would allow him to free himself from the Packers organization without the financial consequences of holding out. Retirement would also provide the obvious long-term solution if the quarterback simply wants to call it a career and move on to different endeavors.
At this point, though, it's unclear exactly what the future holds. It seems like the quarterback leaving Wisconsin, either to retire or to join another team, is a legitimate possibility, though.
Aaron Rodgers could score another championship ring in Wisconsin thanks to the Milwaukee Bucks
Should Rodgers decide to call it a career, that would obviously put a bow on his NFL resume and end his chances of winning another Super Bowl championship. Earning some additional rings, however, are still on the table.
During his time on the gridiron, Rodgers has earned millions of dollars and invested in a variety of businesses. One of those was the NBA's Milwaukee Bucks. In 2018, the star quarterback had become a minority owner of the franchise, securing a 1% stake in the club.
While owning 1% of anything might not seem impressive, it's still a valuable investment. Although it isn't clear how much Rodgers ponied up for his initial investment, the Bucks have only become more valuable with each passing year. As of February 2021, Forbes estimated that the club was worth $1.65 billion, making Rodgers' share worth $16.5 million.
Beyond that financial upside, the Bucks are within touching distance of the 2021 NBA title. Nothing is guaranteed, especially if Giannis Antetokounmpo isn't 100%, but Milwaukee's success still gives Rodgers a secure another championship. While it goes without saying that being a minority owner of a winning NBA team isn't quite the same as leading the Packers to a Super Bowl victory, it would still be a nice consolation prize if the quarterback is potentially leaving America's Dairyland behind.
If you want championships, teaming up with the Milwaukee Bucks was a smart move
According to the Milwaukee Journal Sentinel, Rodgers bought into the Buck due to his love of basketball and his affinity for Wisconsin. While the second part of that equation may be changing — if the quarterback leaves the Packers in a lurch, he probably won't be too popular anymore — the move also carried some obvious benefits from a sporting perspective.
While hindsight is always 20-20, Rodgers picked a good time to team up with the Bucks. Even though Milwaukee is yet to get over the hump and officially lift the Larry O'Brien Trophy, the franchise is in a pretty good place. In December 2020, the club managed to secure Giannis' long-term commitment. In a superstar-driven league, that move will keep the team on the map and give them a chance to compete for NBA titles instead of slipping back into obscurity.
Again, it's unlikely that Aaron Rodgers will look at the Milwaukee Bucks' success and view it as a direct replacement for chasing a second Super Bowl championship. If he's considering leaving Wisconsin, though, the chance to win a few more titles in the Badger State, even from the sidelines, is a nice going-away present.