Bill Belichick Could Copy Patrick Mahomes and the Chiefs' Game Plan to Turn Mac Jones Into a Franchise Quarterback
Whether you like it or not, the modern NFL centers around star quarterbacks; teams either have one, or they're trying to find one. For the first time in what feels like an eternity, Bill Belichick found himself on the wrong side of the divide last year. Without Tom Brady, the New England Patriots struggled and found themselves on the outside looking in when the postseason arrived.
During the 2021 NFL draft, Belichick snagged Mac Jones, presumably hoping he'll become the Patriots' next franchise quarterback. Don't expect to see him under center right away, though. According to early reports, it seems like New England will take a page out of Patrick Mahomes and the Kansas City Chiefs' game plan and look at the big picture.
Mac Jones is, at least in theory, Bill Belichick's new franchise quarterback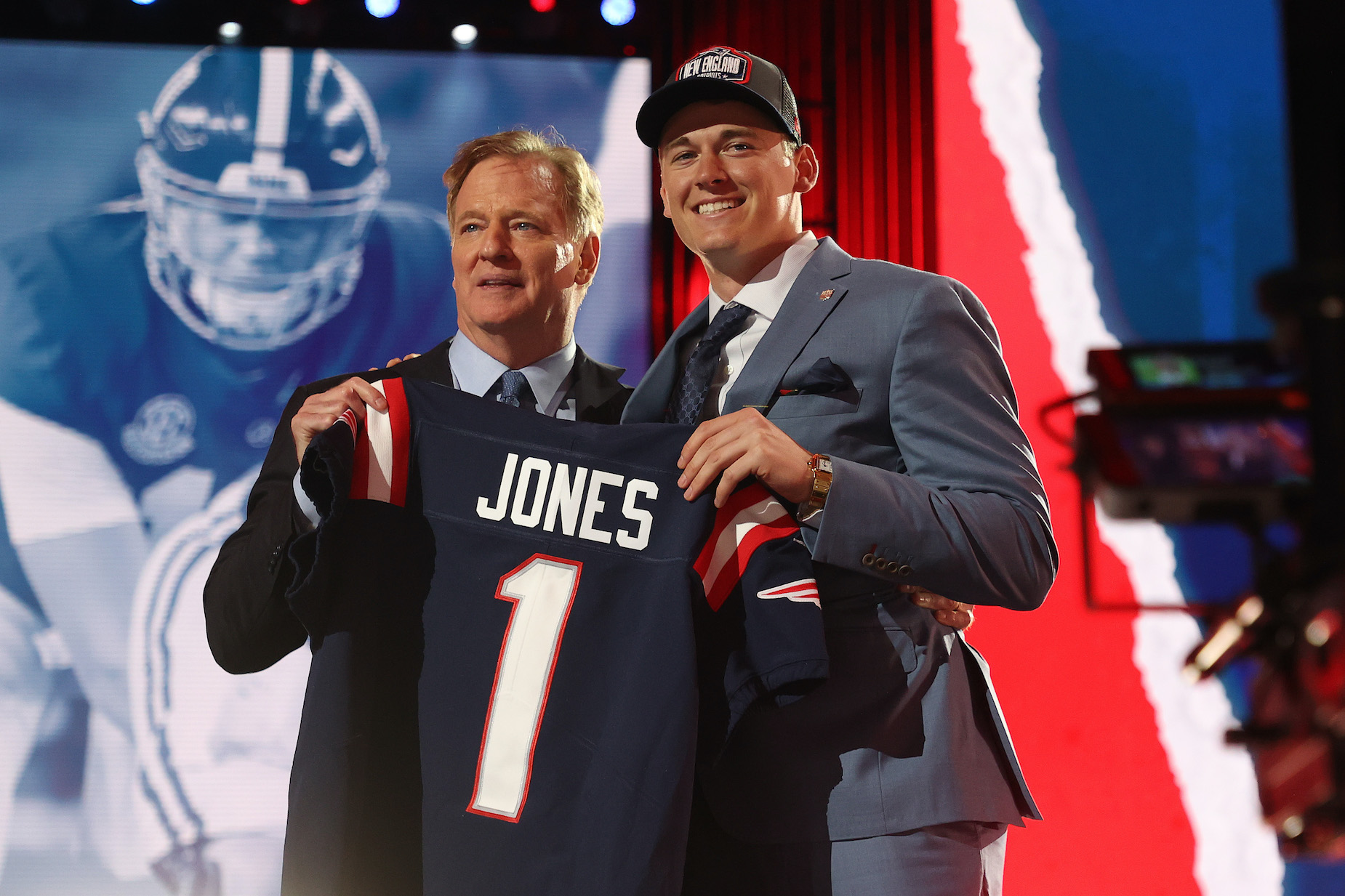 Since he's usually not one for verbose press conferences, it's unlikely that football fans will ever directly hear Belichick admit to making a mistake. Selecting a new quarterback in the first round of the 2021 draft, however, comes pretty close to an admission of guilt.
From a quarterback perspective, 2020 was a disaster for the Patriots. Tom Brady left town as a free agent, leaving Brian Hoyer and Jarrett Stidham as the leading candidates for the starting job. Before the season began, though, Cam Newton arrived and moved to the top of the depth chart.
While football fans were excited to see a more mobile quarterback leading the Patriots' offense, Newton didn't exactly click. Although there were some mitigating factors—the quarterback tested positive for COVID-19 and didn't have the greatest supporting cast around him—Superman failed to take flight. Cam finished the campaign with 2,657 passing yards, eight touchdown passes, and 10 interceptions.
In light of those struggles and an apparent lack of faith in Stidham, Belichick selected Jones in the first round of the 2021 NFL draft. While it's only reading tea leaves at this point—as mentioned above, the Patriots coach is never going to spell out his grand plan directly—it seems safe to assume that the Alabama man will be New England's long-term plan under center. If nothing else, you don't use the 15th overall pick on a project just to throw it away two years later.
Don't expect to see Mac Jones starting right away, though
Given the team's offensive struggles last year, plenty of Patriots fans would be happy to see Jones step under center right away. It appears, however, that the rookie will have to wait his turn behind Newton.
"I think Mac Jones will take a redshirt year. He's going to have to prove it," Michael Lombardi explained on his podcast, according to CBS Boston. "One thing Belichick is not going to do, he's not going to give anybody a job, whether he picks him 15th or picks him 1,500th. They're going to have to earn it. And Mac Jones is going to have to go in there and earn it. And I think it'll be a great quarterback room for them. I think they have great competition in the room. And we'll see what he can do. And they'll get a chance to really develop him and allow him to work on his craft and really get him ready to play."
That hypothetical would match up with some other pieces of the Patriots' puzzle.
Newton, of course, signed another one-year contract, keeping him in New England through the 2021 campaign. Belichick has also reiterated that Cam is the team's quarterback. While no one knows what the Hoodie is thinking, the stars would seem to be aligning for a quarterback change in 2022.
A redshirt year recently worked out well for Patrick Mahomes and the Kansas City Chiefs
From a fan's perspective, redshirt seasons can be unpopular; if a team is going to lose, which, to be fair, isn't a foregone conclusion given the Patriots' offseason, then those losses might as well serve a developmental purpose.
With that said, learning the ropes from the safety of the bench can be beneficial. Just look at Patrick Mahomes and the Kansas City Chiefs.
Although Mahomes was a first-round pick with plenty of raw talent, Andy Reid and the Chiefs let him spend a year behind Alex Smith. The quarterback has since talked openly about that developmental year, telling Sports Illustrated's Albert Breer that it helped him learn about the mental side of professional football.
It goes without saying that spending a season on the bench won't guarantee Jones turns into an NFL MVP and Super Bowl champion. At the same time, though, we've seen that a redshirt year can work, provided it's done right.
After the first season in two decades without an established starting quarterback, Patriots fans will be eager for the new era to begin. Waiting a year, however, could prove to be well worth it. At this point, only time will tell.