The Boston Celtics Could Form Their New Big Three as Soon as Next Offseason if a Recent Report Proves to Be True
The Boston Celtics have two of the NBA's top young stars in Jayson Tatum and Jaylen Brown. However, if they want to have a real chance at competing for NBA titles, they need one more star to form a Big Three.
It's ironic that the Celtics — who started the current Big Three era with Kevin Garnett, Paul Pierce, and Ray Allen — are the ones on the outside looking in when it comes to teams with superstar trios. But a potential move next offseason could help them fix that problem, and they might actually be interested in pulling it off.
A recent report suggests that Boston could look into adding Chicago Bulls star Zach LaVine.
The Boston Celtics have a bright future with Jayson Tatum and Jaylen Brown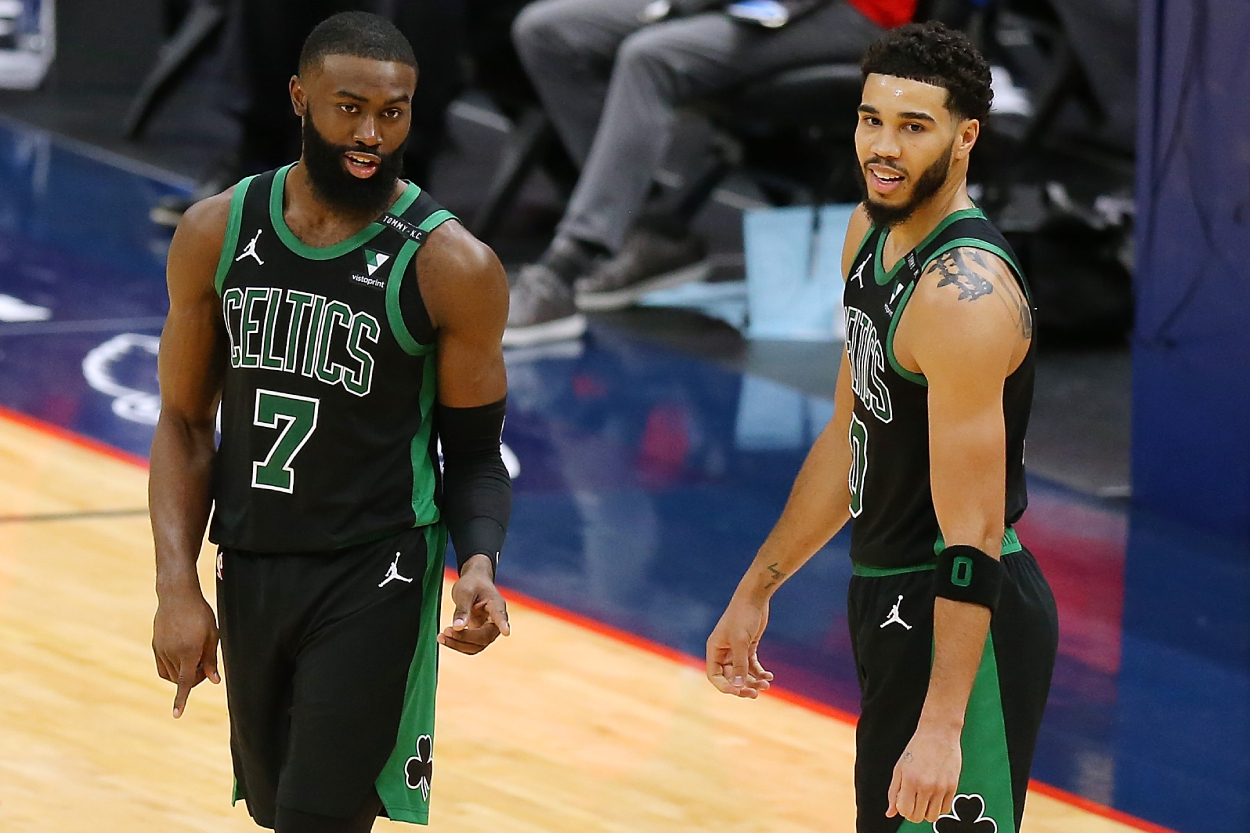 Throughout the past five seasons, the Celtics have been just barely on the outside of NBA title contention.
They reached the conference finals with Isaiah Thomas and company in 2016-17 but lost to the Cleveland Cavaliers in five games. The Cs then reached the conference finals again in 2017-18, but with guys like Kyrie Irving and Gordon Hayward out due to injury, they fell to the Cavs in seven games. Boston then lost to the Heat in the 2020 conference finals before losing in the first round to the Brooklyn Nets in 2021.
The team is still in a promising position, though.
The Celtics have one of the top scorers in today's game in Tatum, who posted 26.4 points and 7.4 rebounds per contest last season, which earned him his second consecutive All-Star selection. They also have another elite scorer in Brown, who was a first-time All-Star in 2020-21 with 24.7 points and 6.0 rebounds per game.
The two of them are tied to Boston for the foreseeable future, too, as the 23-year-old Tatum doesn't have a player option until 2025-26, and the 24-year-old Brown will be an unrestricted free agent in 2024. So, given their talent and the fact they are essentially the Celtics' future, Boston needs to capitalize on their current title window by forming a Big Three so that they can compete with the likes of the Nets, Los Angeles Lakers, and even the Milwaukee Bucks.
That is where Zach LaVine could come in.
Boston could be interested in signing Zach LaVine next offseason
Zach LaVine has become one of the most talented scorers in the NBA for the Chicago Bulls. He averaged 27.4 points, 5.0 rebounds, and 4.9 assists for Chicago in 2020-21, which helped him earn his first All-Star selection.
LaVine is an unrestricted free agent next offseason, and a report suggests that the Celtics could be interested in adding his services.
Gary Washburn of The Boston Globe recently reported that LaVine could be a potential target for the franchise in 2022, according to NBC Sports Boston. And if Bradley Beal decides to stay with the Washington Wizards or go elsewhere next offseason, LaVine could reportedly be their top target.
Obviously, the Celtics would rather have Beal, given that he was second in the league in scoring last season. But if they can't get the Wizards star and have to go with LaVine instead, a combination of him, Tatum, and Brown would be a dangerous Big Three.
Zach LaVine, Jayson Tatum, and Jaylen Brown would be a scary Big Three for the Celtics
Adding LaVine would easily make the Celtics contenders with the Nets, Lakers, and Bucks.
He not only averaged a career-high 27.4 points per game last season, but he shot career-bests 50.7% from the field and 41.9% from 3-point range. He would fit perfectly with Tatum and Brown, who also both shot over 7.0 long-range attempts per game last year and made over 38.5% of those shots. 
All three of them playing on the same squad would make it hard for each of the three stars to continue scoring over 24.0 points a night, but they would all be able to drop 30-plus in any given game.
That's a matchup nightmare for defenses.
The Celtics, though, would only make this move to try and win a championship — like they did when they formed their original Big Three in 2007 — and none of these guys have proven they are capable of winning titles yet.
They, however, would all make Boston one of the most talented teams in the league, and talent goes a long way when competing for trophies.
It's unclear whether the Cs are serious about going after someone like LaVine, but adding him would make them an NBA powerhouse yet again.
Stats courtesy of Basketball Reference; Contract info courtesy of Spotrac