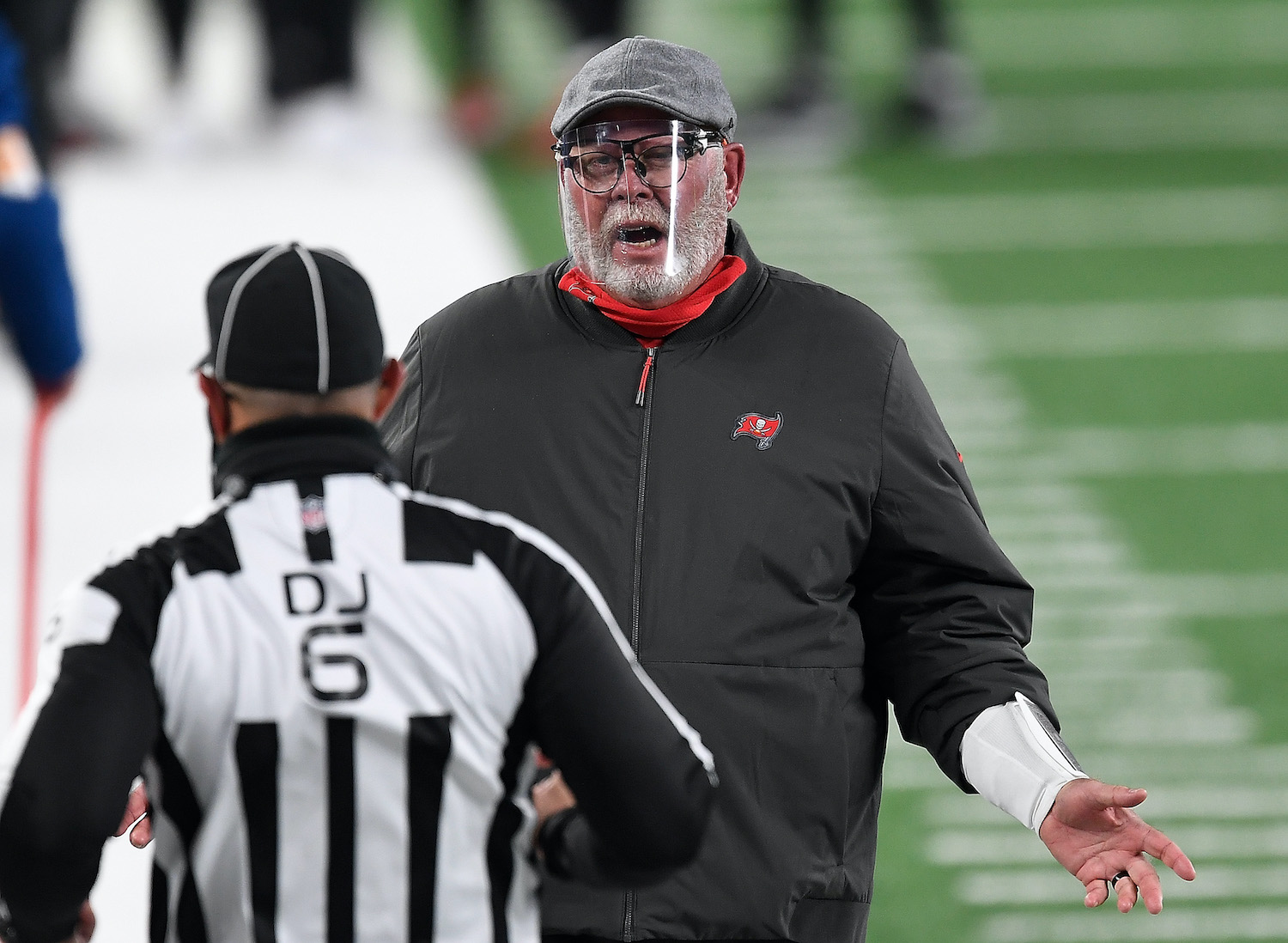 Bruce Arians Is Prepared to Make a Personal Change to Help His Tampa Bay Buccaneers Team Win Another Super Bowl Title: 'I'm Going to Have to Be Harder'
Bruce Arians is prepared to be even tougher on his Tampa Bay Buccaneers to help them become back-to-back Super Bowl champions.
When a team wins a championship, it's only natural for everyone involved to take their foot off the gas for a second and enjoy the moment. Once the next season begins, though, all of that success is consigned to the history books. Bruce Arians is prepared to ensure that his Tampa Bay Buccaneers understand that reality.
Ahead of the start of NFL training camp, the head coach did a sit-down interview with Buccaneers.com and fielded a question about his role in the team's effort to repeat as Super Bowl champions. Arians took that opportunity to fire a warning shot at his team, warning that they'd have a long summer ahead of them.
Bruce Arians has no problem being tough on his players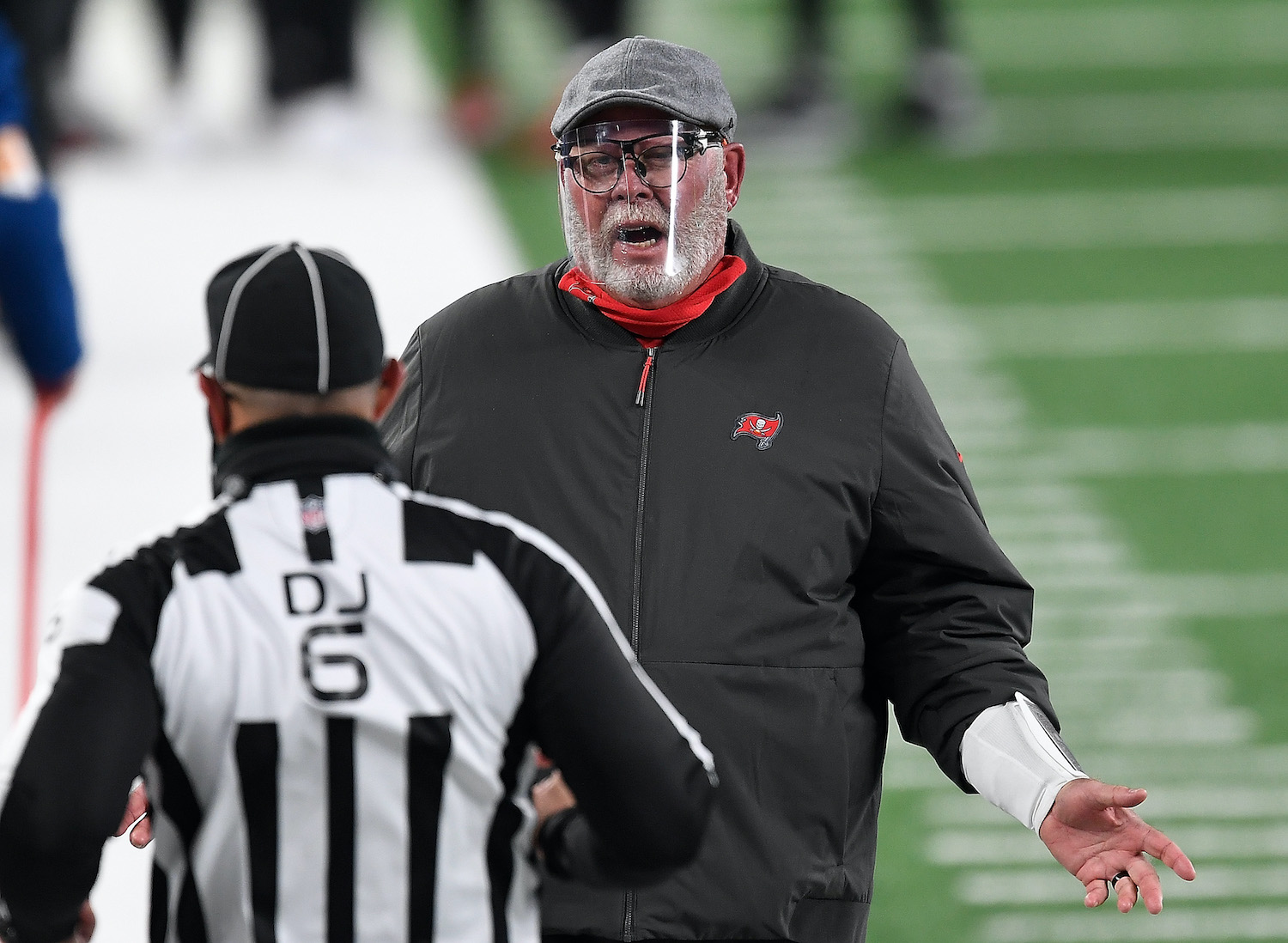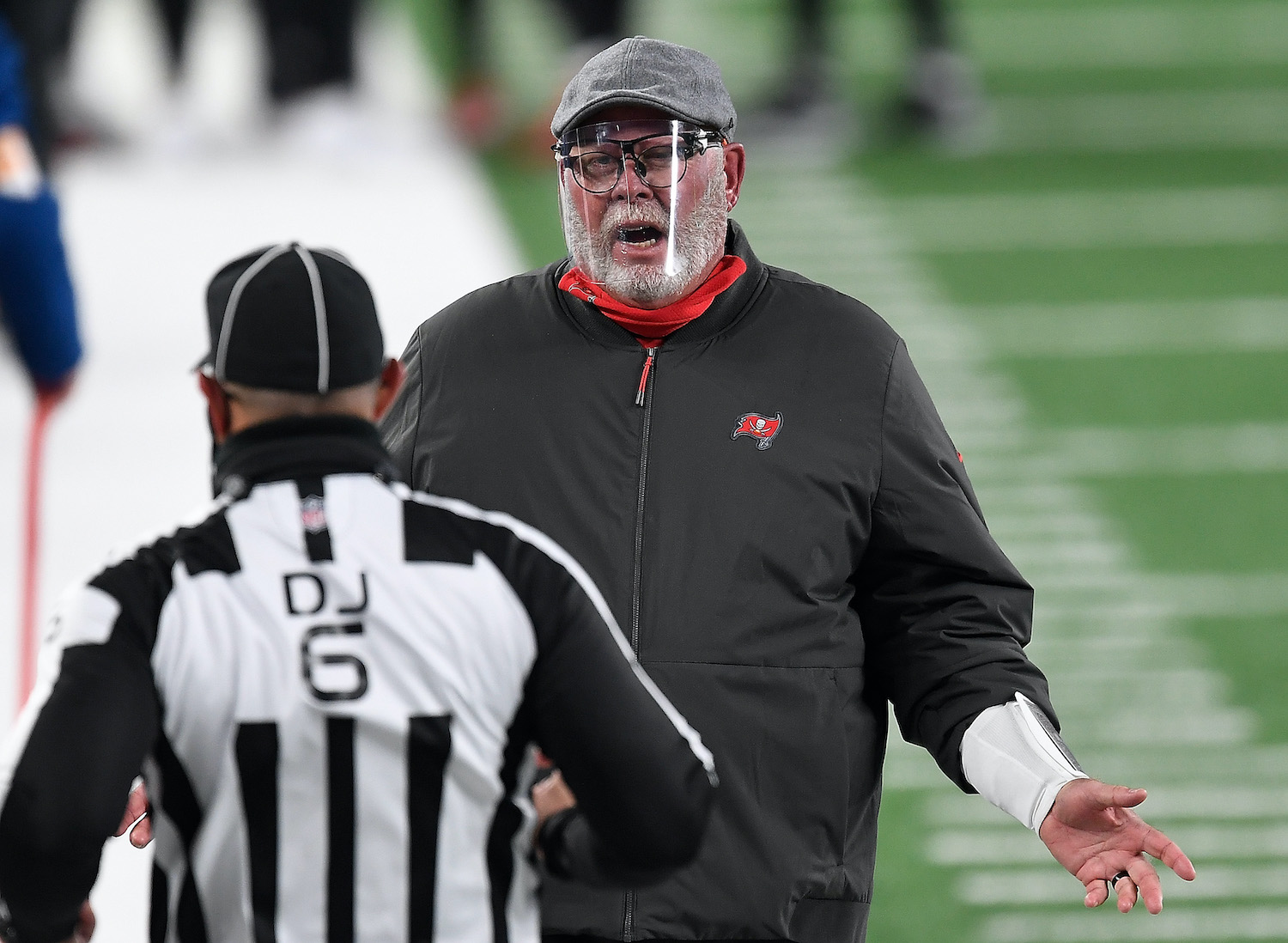 In modern sports, it's tough for any coach to be too much of a task-master. With players earning millions of dollars and capturing the attention of fans around the globe, they hold most of the power. Arians, however, still keeps things somewhat old school.
As laid out in a 2016 ESPN story, the Buccaneers head coach still abides by a lesson he learned from the legendary Paul 'Bear' Bryant. Starting with his time at Virginia Tech — he played under a Bryant disciple — and continuing through his time at Alabama, Arians learned to "coach 'em hard and hug 'em later."
If you'd like an example of how he puts that mantra into practice, you only need to look at how the head coach handled Tom Brady during their first year together. During the early days of the season, Arians had no problem calling out the quarterback and even publically blamed TB12 for some interceptions. When the team found playoff success, though, he hailed Brady's leadership and credited him for helping everyone in the organization believe that they could do something special.
Bruce Arians sends a strong message to his Tampa Bay Buccaneers team
While winning a Super Bowl title is quite the achievement, it won't stop Arians from coaching his Buccaneers hard. If anything, that success has inspired the coach to keep his foot on the gas during the 2021 campaign.
"I think for me, I'm going to have to be harder; make sure that we stay the hunter and not the hunted," Arians explained in a Buccaneers.com video. "We've relaxed a lot already this spring. Teams are getting ahead of us right now, but I think we can catch up quickly."
When asked how he'd go about that process, the head coach didn't waste any time coming up with an answer.
"Well, it starts in veteran minicamp. It's gonna be a tough one," he explained. "And training camp. We know what it takes to come to work every day. And I think our players know the level of competition at practice every day. I don't think I'm going to have to say much about it, except we're not anywhere near where we were last year. Just knocking them down a peg and making sure that this team doesn't think they're last year's team. Because last year's team won the Super Bowl, this team hasn't done crap."
Winning back-to-back championships is tough, but the Tampa Bay Buccaneers do have some factors working in their favor
Based on the context of Arians' comments — he spoke about mandatory minicamp as a future event, but the Buccaneers held theirs in early June — it's safe to assume he's already started being harder on his players. Beyond that coaching choice, though, Tampa Bay does have some additional factors working in their favor as they chase another Lombardi Trophy.
First, it's worth remembering that virtually the entire Bucs' roster is returning for another run at the title. While the Kansas City Chiefs proved that isn't a guarantee of success, it's undeniably a plus. From a talent perspective, Tampa has more than enough skill to cruise through the NFC South; looking at more intangible metrics, the players know what it takes to reach the top of the mountain and won't be overwhelmed by any challenges along the way. There's also a man on that roster by the name of Tom Brady, who knows a thing or two about producing in the biggest moment.
The defending Super Bowl champions also have another advantage: a weak schedule. According to CBS Sports, the Buccaneers have the fourth-easiest schedule in the entire NFL. For reference, the Chiefs will have to contend with the 11th-hardest schedule if they want to make it back to the big game.
While there's a good amount of luck involved in any championship run — a rash of injuries can render the season a lost cause — the Buccaneers do enter the 2021 NFL campaign in a pretty good spot. If nothing else, we know that Bruce Arians will have his squad on their toes and ready to be the metaphorical hunters.