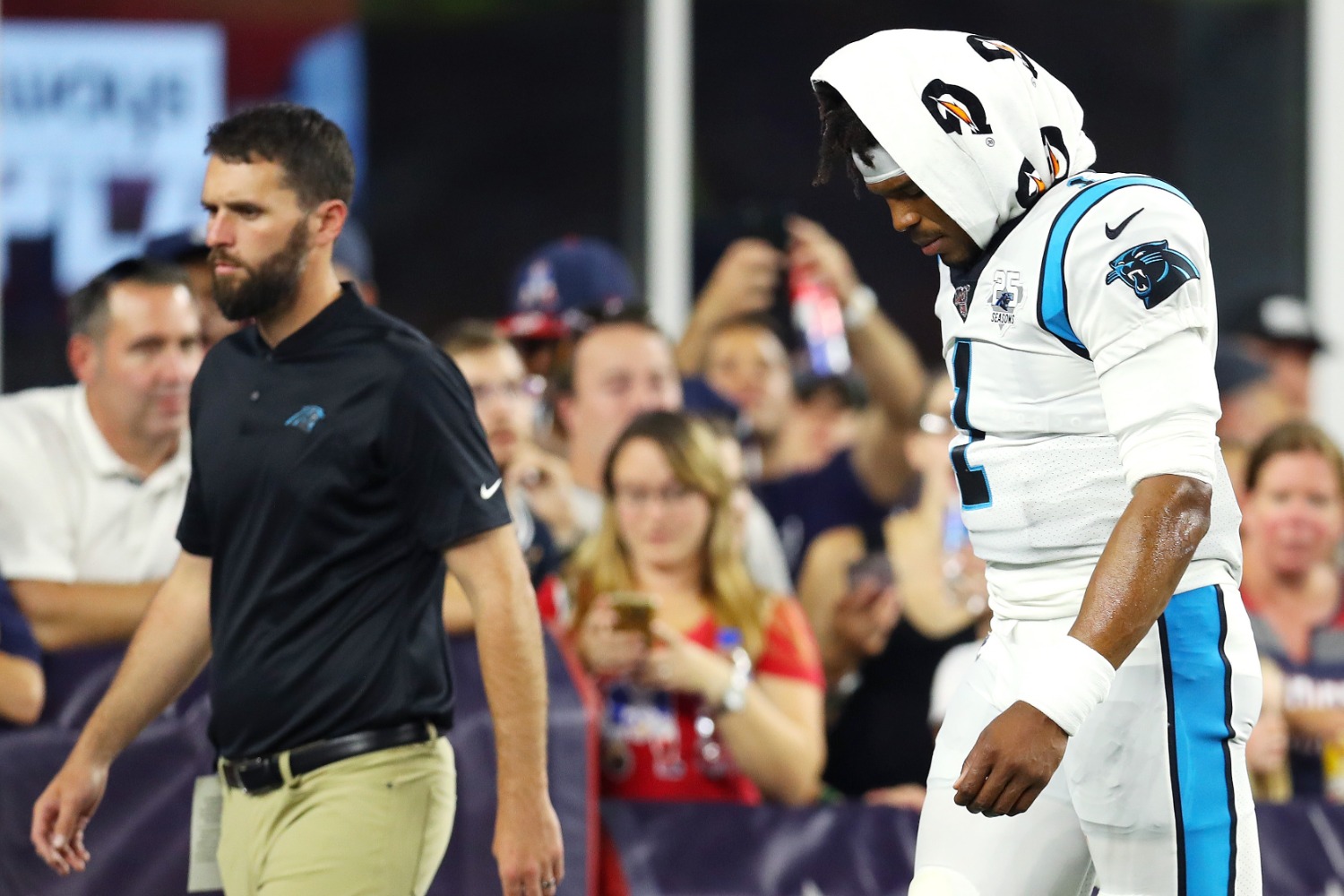 Cam Newton Just Suffered a Crippling Blow to His Redemption Story
Cam Newton just suffered a crippling blow to his comeback chances with Patriots right tackle Marcus Cannon sitting out the season.
Cam Newton went from dominating the NFL to spending months on the free-agent market. Once viewed as one of the elite playmakers in football, he joined the New England Patriots with a huge chip on his surgically-repaired right shoulder.
Determined to erase the memories of another injury-marred campaign, Newton just suffered a crippling setback to his redemption story courtesy of COVID-19. But will Tom Brady's replacement be able to overcome the Patriots' latest personnel loss?
Cam Newton joined the Patriots with a point to prove
When Cam Newton became the No. 1 pick nearly a decade ago, he represented a radical shift from conventional quarterbacks. At 6-foot-5, 245 pounds with legit wheels, the former Heisman Trophy winner tantalized Panthers fans with a rare combination of deep-ball proficiency and game-changing running ability.
At his peak, Newton represented the evolution of the modern-day quarterback. He took home MVP honors in 2015 while leading the Panthers to a Super Bowl berth. Unfortunately for Newton fans, that season turned out to be an outlier.
Injuries kept the athletically-gifted quarterback off the field in recent years. His throwing shoulder required two surgeries. Last year, he missed essentially the whole season after suffering a Lisfranc injury.
Cast aside by a new regime, Newton waited for months for a sniff of interest from NFL teams. With obvious concerns about his health, multiple franchises that could have offered an ideal landing spot elected to go in different directions. That put Bill Belichick in prime position to pounce on the former Panthers star.
By inking the former league MVP to a laughably cheap deal, Belichick found a high-upside replacement for Tom Brady. And for Cam Newton, joining the Patriots gives him the chance to write a redemption story playing for the greatest coach in NFL history.
Newton suffers crippling setback with Marcus Cannon opting-out
Newton struggled to stay healthy in Carolina due in large part to poor offensive line play. In 124 career starts, he got sacked 291 times. In what should go down as a criminal offense, the Panthers drafted just one offensive lineman within the first 100 picks from 2015-2018. It doesn't seem like a coincidence that Newton's decline started during that period.
Unfortunately for the ex-Panther, he just suffered a crippling setback that could bring back bad memories of running for his life in Carolina. On Monday, Patriots offensive tackle Marcus Cannon opted out of the 2020 NFL season. The 32-year-old underwent treatment for non-Hodgkins lymphoma as a rookie, so sitting out makes total sense given the risks of COVID-19.
For Newton, his redemption story just took a massive hit. Cannon boasts the most experience of any of New England's projected starters. Now, the Patriots will have to replace their longtime right tackle. And let's just say the options aren't inspiring. That could spell trouble for Newton, who could score a huge payday if he can stay healthy and play well in 2020.
Can the Patriots find a replacement in order to help their new QB?
Not all is lost for Cam Newton. He luckily joined forces with the architect of the greatest dynasty in professional sports. Bill Belichick has proven over the years that he can navigate through rough waters and still come out on top.
With Cannon opting-out of the season, the general manager known for scoring bargain-basement deals will have to get creative to replace his starting right tackle. Currently, Yodny Cajuste looks like the favorite to fill in. However, the second-year pro missed his entire rookie season and comes with durability concerns of his own.
Now that he has more salary-cap space to work with, Belichick could go shopping on the free-agent market. LaAdrian Waddle spent time in New England and would likely come at a cheap rate. Marshall Newhouse also hasn't found a home. However, Patriots fans don't need a reminder of how awful he played filling in for Isaiah Wynn.
Whatever route Belichick decides to take, his decision will have an enormous impact on Cam Newton's chances of writing a successful redemption story. Given his recent string of injuries, he needs to feel comfortable in the pocket and have time to deliver the ball to a cast of weapons that he has already started to build chemistry with.
However, if New England's offensive line can't keep him upright, Newton will once again leave fans and himself disappointed. Marcus Cannon opting out of the season represented a crippling blow to Newton's chances of vaulting himself back into the conversation of elite quarterbacks. He'll have to trust that Bill Belichick can figure out how to fill a gaping hole at right tackle.