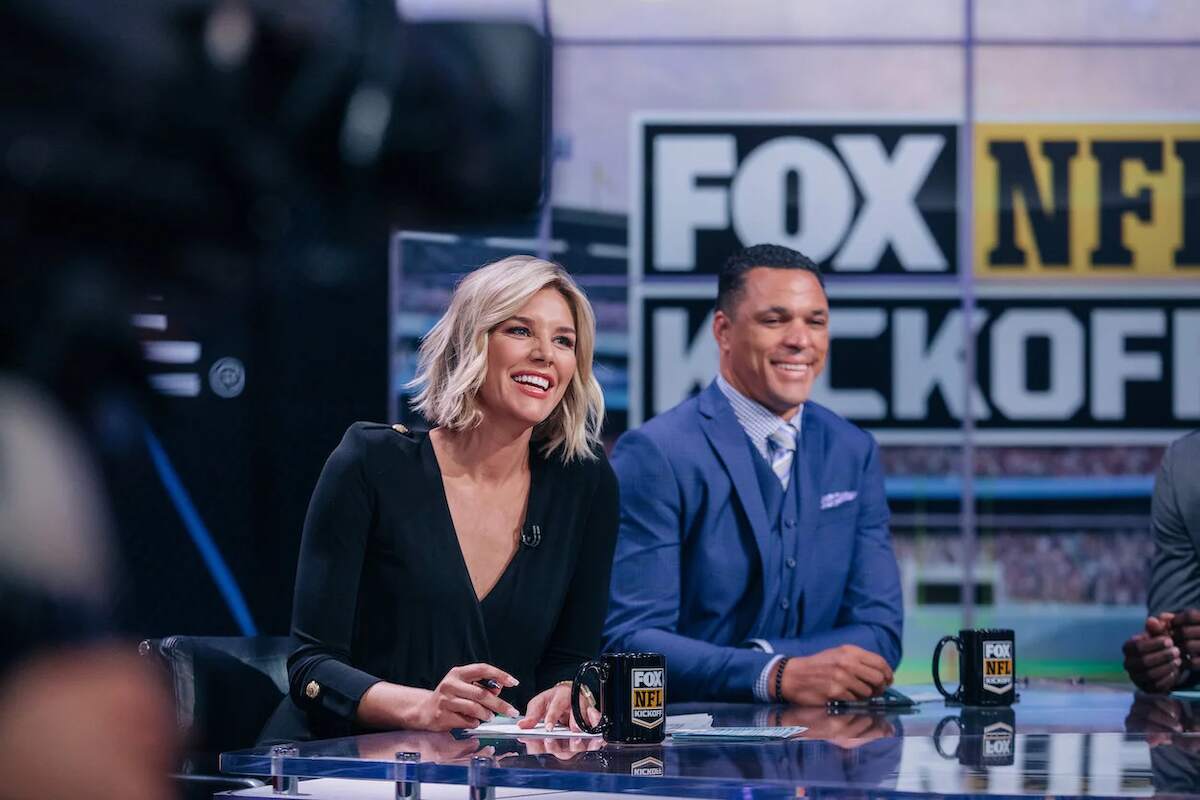 Charissa Thompson Surprised Podcast Co-Host Erin Andrews When Revealing the Time Mike McCarthy Kicked Her Out of Lambeau for Inappropriate Behavior
Charissa Thompson revealed an unbelievable story to her podcast co-host Erin Andrews about the time Mike McCarthy had her kicked out of Lambeau Field for inappropriate behavior.
Charissa Thompson and Erin Andrews have a lot in common. Both worked their way up the sports reporting ranks, including stops at ESPN, before landing their current jobs at Fox covering the NFL. Unfortunately, both have something painful in common. Each had their privacy violated when nude photos were leaked online. 
Thompson and Andrews have followed similar career paths. They have worked together at Fox for almost eight years and developed a close friendship. In 2021, the pair launched a podcast where they have "conversations you would have with your friends when you think others aren't listening."
In a February 2021 episode, Thompson detailed an incident before an NFC Championship game where things went horribly wrong. Mike McCarthy had her kicked out of Lambeau Field for inappropriate behavior.  
Charissa Thompson becomes a successful sports reporter
Charissa Thompson started her career at Fox Sports in 2006 as an assistant in the human resources department. After some time dabbling in the TV production side of things, Thompson moved to Colorado in 2007. She started her career as a production assistant at Fox Sports Net Rocky Mountain. 
Thompson got her break on-air when she served as a fill-in host for a show on the Colorado Rockies. Network executives in LA took notice, brought her back to California. She started working as a host on the Best Damn Sports Show. Around that same time, Thompson started making periodic appearances as a sideline reporter for Fox's NFL coverage and the Big Ten Network.
After a couple of stops at Versus, Yahoo Sports, and ESPN, where she worked on SportsNation, Charissa Thompson returned to her roots at Fox in 2013 for the launch of FS1. Since then, she's appeared on FS1 and the main network, primarily covering the NFL.
In 2018, Thompson fell victim to an invasion of her privacy when someone stole nude photos from her iCloud account and leaked them online.
Erin Andrews makes her way to the top of Fox NFL coverage
Five years before Charissa Thompson started at Fox Sports in the HR department, Erin Andrews made her sideline reporting debut in 2001 with the regional Sunshine Network in Florida. In 2004, after a stint with Turner South, Andrews went to work as an NHL reporter at ESPN. 
Andrews worked for the Worldwide Leader in Sports for eight years, covering a variety of sports, including college football, college basketball, and MLB. She brought that same versatility with her to Fox Sports when she joined the network in 2012.
Since 2014, Erin Andrews has been the top sideline reporter for Fox's No. 1 NFL broadcast team with Joe Buck and Troy Aikman. 
Like Charissa Thompson, Erin Andrews had a public incident where a nude video of her taken through a peephole outside her hotel room was leaked online. The man was arrested for stalking and served over two years in prison. Andrews sued the man and the hotel chain and won a $55 million settlement. 
Charissa Thompson reveals incredible story about time Mike McCarthy had her kicked out of Lambeau Field
January 2008. The 2007 NFC Championship Game with Brett Favre and the Green Bay Packers hosting Eli Manning and the New York Giants at Lambeau Field for a chance to face the undefeated New England Patriots in the Super Bowl. The teams not only had to battle each other, but the elements, as the temperature at kickoff was minus-1.
Before the game, Charissa Thompson was down on the field trying to put together a fun feature story for the Best Damn Sports Show.  
"So I see Eli Manning, and I'm like, hey, let's catch a few passes from Eli Manning because he's not like trying to concentrate on, I don't know, winning the game to go to the Super Bowl," Thompson joked with Erin Andrews on their podcast, Calm Down with Erin and Charissa.  
"Is this pregame you're doing this?" Andrews asked.
"Oh yeah, this is pregame," Thompson confirmed. "I'm out on the field, and Eli is so nice. He's like throwing me the ball, and I'm running around the field like a complete jackass when all of a sudden, out of the corner of my eye, I see Mike McCarthy at midfield with Green Bay security around him, and he's pointing at me. I'm like, 'Uh-oh.'"
"I would, too. You're on the field?" Andrews asked in disbelief.
"Oh yeah, running around like an idiot. I'm like, this is going to be a great feature. It's the whole environment of what's happening. I get escorted off the field by Green Bay security. Mind you, I'm working for Fox. And still Mike McCarthy had me escorted off the field because I was out of control."
In addition to catching passes, Charissa Thompson admitted she was doing snow angels on the 30-yard line at one point. She said when she was being escorted out, she was threatened with never being allowed to return. She has since returned to Lambeau. However, she didn't do any snow angels or catch any passes.  
Like Sportscasting on Facebook. Follow us on Twitter @sportscasting19.