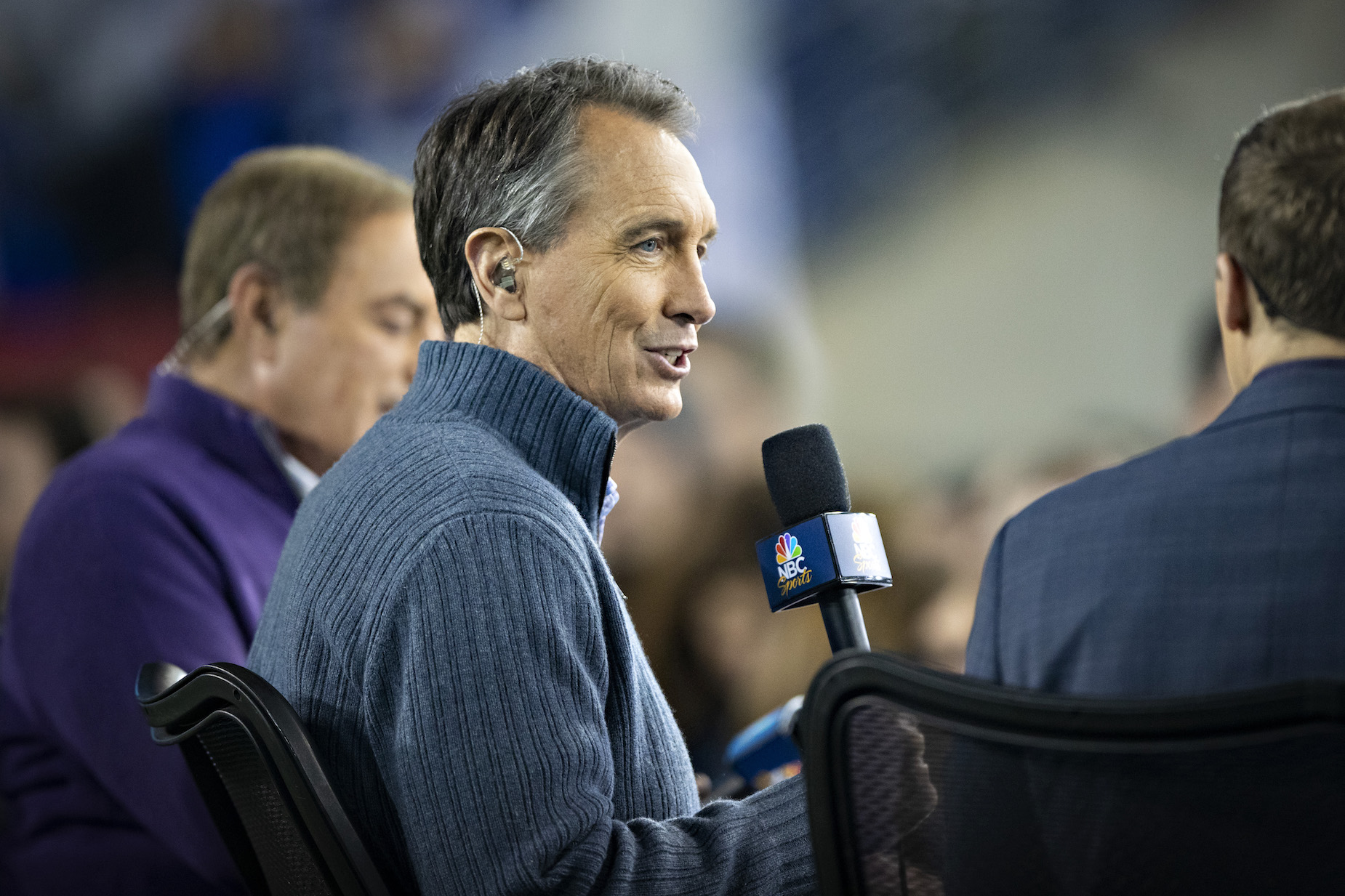 Cris Collinsworth Earned Some Rare Praise By Calling Out the Philadelphia Eagles' Potential Tanking Efforts
NBC's Cris Collinsworth earned some rare praise on Sunday Night when called out the Philadelphia Eagles' quarterback change.
While Cris Collinsworth has become a household name among NFL fans, the former receiver turned media member isn't the most popular guy around. Taking a look at Twitter during Sunday Night Football will confirm that reality: you'll see complaints about him repeating "here's a guy," criticisms of his analysis, and just about everything in between. During Week 17's Philadelphia Eagles-New York Giants game, though, Collinsworth earned some rare praise.
In the fourth quarter, Eagles coach Doug Peterson made a bizarre quarterback change, benching Jalen Hurts for Nate Sudfeld. While Cris Collinsworth never accused Philadelphia of tanking, he still called out the decision before the final whistle.
Cris Collinsworth isn't the most popular broadcaster around
While calling football games on TV may seem like a pretty sweet gig, there is one major downside to the job: talking for three hours on live television each week will open you up to plenty of criticism. Cris Collinsworth has experienced that reality firsthand.
After wrapping up his playing career with the Cincinnati Bengals, Collinsworth broke into the media. He eventually made it to NBC, where, in 2009, he replaced the legendary John Madden in the Sunday Night Football booth. As you might imagine, that move has put him in the social media spotlight.
If online commentary is anything to go by, NFL fans love Collinsworth's signature 'slide' into the broadcast booth. After that, though, things seem to go downhill. The color commentator tends to repeat "here's a guy" throughout the game, which can irritate some listeners; others feel he's too positive about certain players or like he holds a grudge against certain clubs.
The Philadelphia Eagles quarterback change stole all the headlines on Sunday Night
Under normal circumstances, every week of NFL action will produce at least a few questionable decisions. In Week 17, however, one stole the show: the Philadelphia Eagles' quarterback change.
For a bit of context, the Eagles were hosting the Washington Football Team on Sunday Night Football. While Philly was already eliminated from playoff contention, the game still mattered. If Washington won, they took the division title; if Washington lost, the New York Giants would make the playoffs.
Early in the fourth quarter, though, Eagles coach Doug Pederson pulled Jalen Hurts and put Nate Sudfeld into the game at quarterback. That move, in effect, surrendered the game; Sudfeld only completed five passes, in addition to throwing an interception and losing a fumble, as Philadelphia fell 14-20.
While the immediate assumption was that the Eagles were tanking—losing the game slightly improved their draft position—Pederson insisted that wasn't the case. In his postgame press conference, he explained that he was coaching to win and had been planning to give Sudfeld some snaps.
Cris Collinsworth earned some rare praise by criticizing the Eagles' move
By the end of a Sunday Night Football game, social media is usually skewering Cris Collinsworth for something that he said. After Week 17, though, he actually earned a bit of praise for his comments about the Philadelphia Eagles' quarterback change.
"I just couldn't have done what Philadelphia did," Collinsworth said in the game's dying moments. "I just simply could not have done it. You've got men out there who are fighting their guts out, trying to win the game, and I'm not blaming anybody. I, personally, could not have done what they did."
While Collinsworth never directly accused the Eagles and Doug Pederson of tanking, the implications of his statement were clear. Al Michaels agreed, noting that Philadelphia made their quarterback change during a three-point game, not a meaningless blowout.
Although he's usually criticized for being too positive, those comments earned Cris Collinsworth some praise for calling things how he saw them.
"Credit to Cris Collinsworth for eviscerating the Eagles organization for what we've seen tonight," Todd Fuhrman tweeted. Former quarterback Dan Orlovsky also chimed in simply tweeting, "Well said @CollinsworthPFF."
By the letter of the law, the Philadelphia Eagles did nothing wrong on Sunday night. The fact that their decision is indirectly earning Cris Collinsworth praise, however, tells you everything you need to know about how NFL fans feel about it.