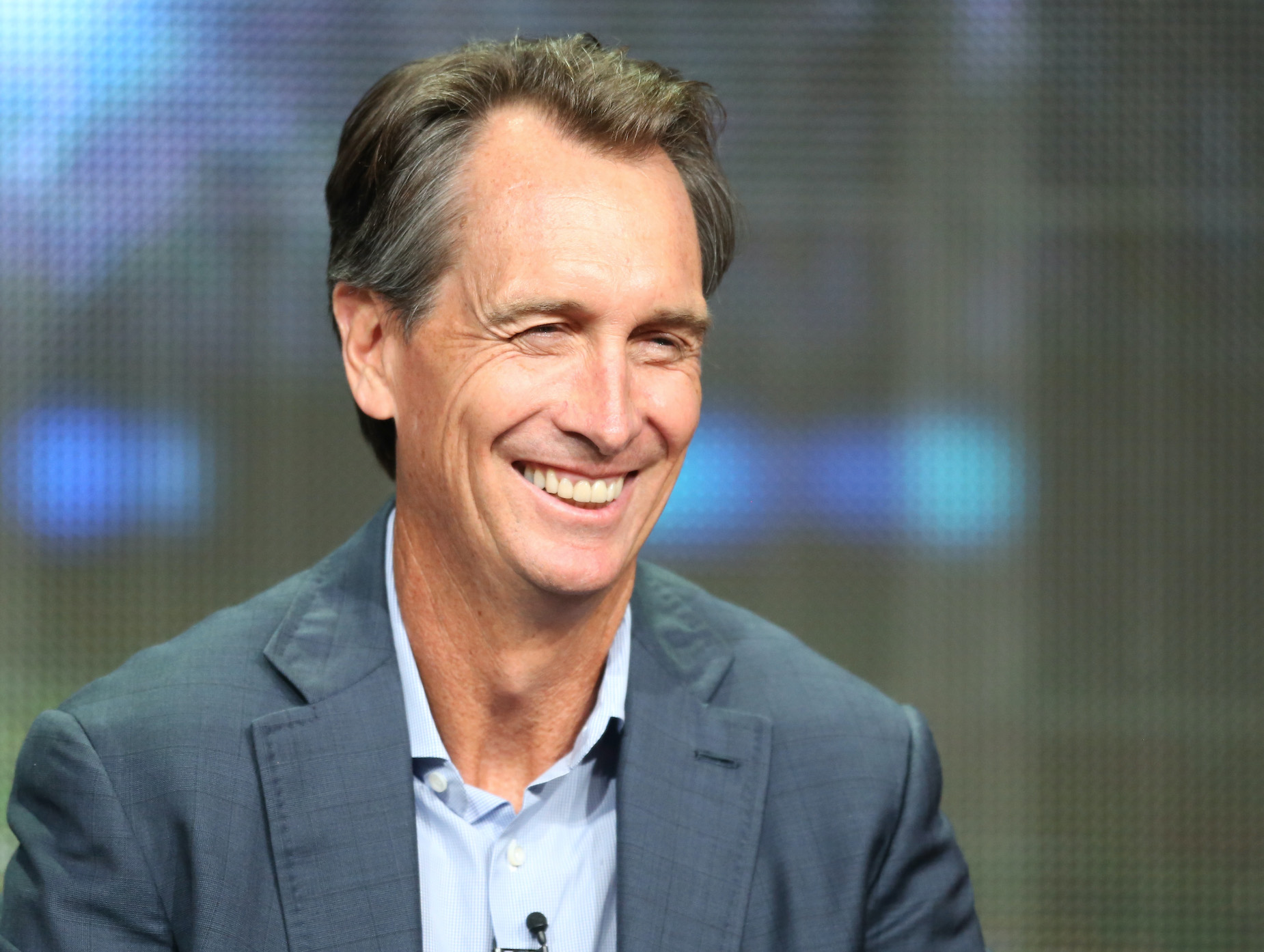 Cris Collinsworth May Have Finally Found a Fan Base That Doesn't Completely Hate Him
Whether it's fair or not, Cris Collinsworth gets plenty of hate each weekend. Bills Mafia, however, sang a slightly different tune on Saturday.
While being a sports broadcaster can seem like a pretty sweet gig, it does come with a major downside. As with most jobs in the public sphere, it opens you up to a massive amount of criticism; just ask Cris Collinsworth about that. Every time the former Bengals receivers steps into the broadcast booth, Twitter seems to explode with angry football fans who never want to see or hear him again.
Life in the media isn't all bad, though. In fact, it seems like Cris Collinsworth may have finally found a fan base that doesn't hate him.
Cris Collinsworth has had a successful football career
Even if you don't care for Cris Collinsworth's commentary, it's tough to argue with the broadcaster's resume. Both as a player and a broadcaster, he's had a pretty impressive football career.
After high school, Collinsworth, believe it or not, actually headed to the University of Florida as a run-first quarterback. Once the team changed offensive systems, though, he was no longer needed under center. The coaching staff, however, didn't give up on Collinsworth; instead, they switched him to wide receiver.
Despite that drastic change, Collinsworth's blend of size and speed made him a natural at wideout. He was named a first-team All-American as a senior and then joined the Cinncinatti Bengals in the 1981 NFL draft. While the receiver only spent eight seasons in the pros, he still did pretty well for himself, snagging 417 catches for 6,698 yards and 36 touchdowns.
Even in retirement, though, Collinsworth wasn't done with football. Although he never planned on stepping into the sports media, he landed a job on local radio; he then started appearing on Inside the NFL and joined NBC's football coverage. After spending some time at Fox, Collinsworth returned to the Peacock and slotted into John Madden's spot in the Sunday Night Football broadcast booth, where he remains today.
Receiving his share of hate on social media
From a purely objective perspective, Cris Collinsworth has done pretty well for himself; if nothing else, he now occupies one of the most coveted seats in American sports broadcasting. That reality, however, doesn't automatically make you popular.
If you look at Twitter anytime Collinsworth is on the air, you'll see plenty of hate. While the broadcaster's 'slide' into the booth is pretty popular, things go downhill after that. Many fans get sick of hearing him say, "here's a guy," throughout the broadcast; others feel that he's overly positive or goes out of his way to favor a specific team.
While most of those criticisms come with the territory—national broadcasters will always and filling three hours' worth of dead air can be a daunting task—Collinsworth has put himself in the firing line with some questionable comments. Earlier this season, for example, he sounded surprised that women could be passionate about football.
Cris Collinsworth may have finally found acceptance in Buffalo
On Saturday, January 17, Cris Collinsworth found himself in Buffalo, New York, calling the Bills victory over the Baltimore Ravens. While social media still took issue with the color commentator's performance, those in stands didn't seem to mind his presence.
Before the game, Collinsworth tweeted pictures of some banners that members of Bills Mafia had created; one showed Collinsworth and read, "Now here's a team…that's going to the Super Bowl." There was also a sign that said, "We didn't forget about you, Jac [Collinsworth]! Go Bills!!!." Collinsworth's son, who also works for NBC, tweeted that picture with the caption, "On that note, I'm moving to Buffalo."
During the broadcast itself, Collinsworth also praised the crowd in Bills Stadium for their intensity. "I've never seen human beings cheer louder when a football hit an upright than these people here tonight," he quipped, as documented by Dan Fetes of 13WHAM. If nothing else, it's always good form to pay a compliment to your host.
While things on Twitter weren't universally positive—plenty of Bills fans felt that the broadcast was biased toward Baltimore—Cris Collinsworth may have finally found a fan base outside of Cincinnati that's doesn't completely dread the sight of him. If nothing else, they'll welcome Jac with open arms.