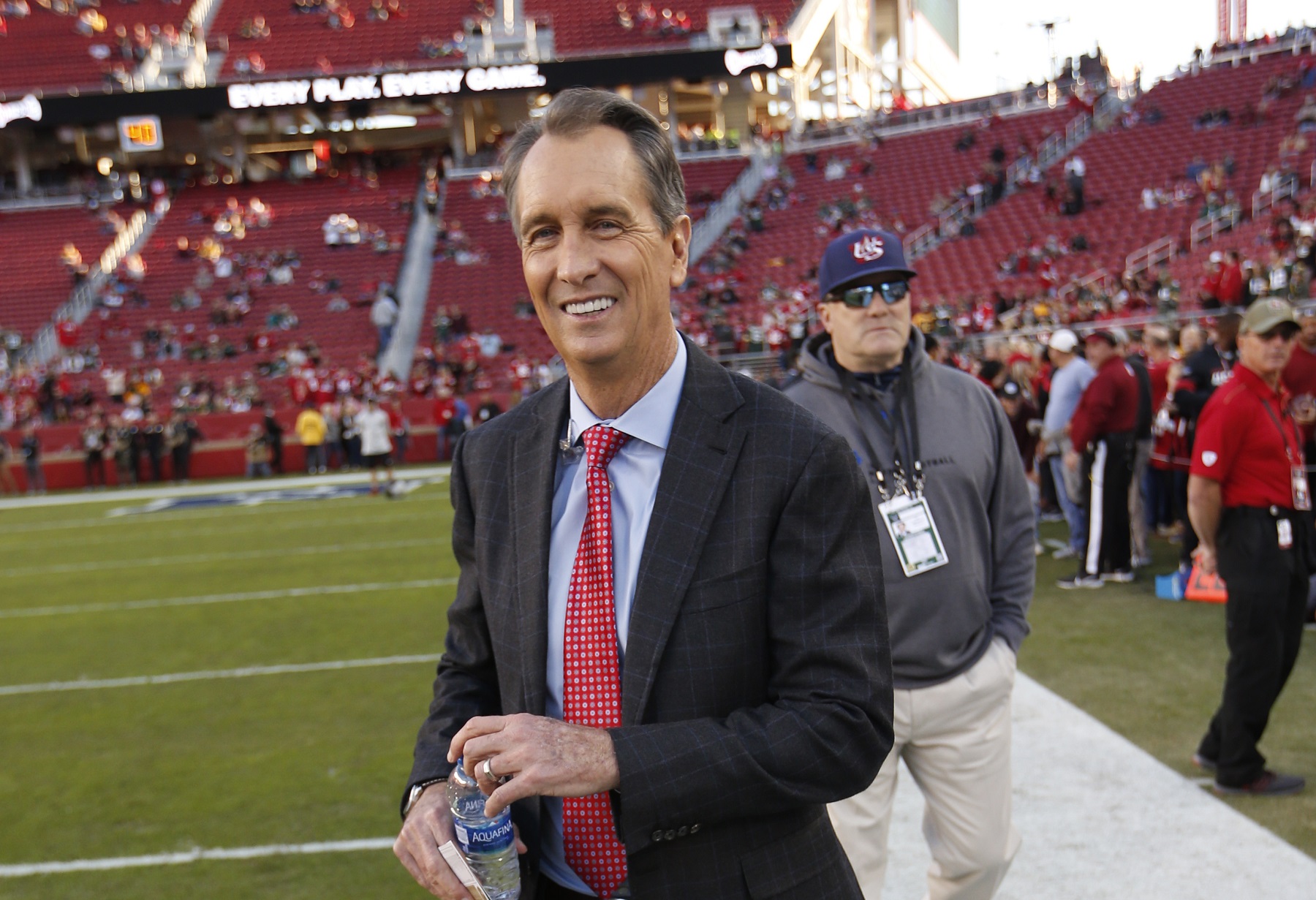 Cris Collinsworth Owned up To His Faux Pas During a Controversial NFL Playoff Game
Cris Collinsworth's misunderstanding of NFL rules contributed to the confusion when the San Francisco 49ers rallied past the New York Giants in a crazy NFC wildcard game.
It's one thing when a television analyst like Tony Romo guesses wrong on what play is about to be called. It's different when an announcer guesses incorrectly on what the rulebook says. That happened to Cris Collinsworth during one of the most controversial finishes ever in the NFL playoffs.
It was bad enough that Collinsworth erred. But what made it worse was he was already off the air by the time he realized his mistake.
"I walked out of there thinking, man, I was a brilliant broadcaster that day, and we nailed it," Collinsworth told Newsday.
Collinsworth turned out to be very wrong, but he owned up to the mistake as soon as he learned what had happened.
The New York Giants and San Francisco 49ers played a crazy game
On Jan. 5, 2003, the New York Giants were playing the San Francisco 49ers at 3Com Park in the NFC wildcard round and appeared to have the game under control after a short Matt Bryant field goal gave them a 38-14 lead with 4:27 remaining in the third quarter. Stunningly, however, Jeff Garcia engineered three touchdown drives, and the 49ers took a 39-38 lead with 1:00 to go.
Following the kickoff, the Giants drove to the San Francisco 24 and set up for a Bryant field-goal attempt on third down with six seconds left. It would lead to one of the most confusing and controversial finishes to an NFL playoff game ever.
Trey Junkins' snap came in low and wide, and holder Matt Allen pulled the ball away as Bryant hesitated on his approach. Rather than throwing out of bounds, Allen flung the ball toward the end zone. It fell incomplete just beyond a receiver who was being hauled down with the ball in the air.
That bit of action was lost in the chaos of the play. The officials only threw a flag for an ineligible receiver downfield as time expired, and the game was ruled to be over.
Cris Collinsworth made the wrong call
While calling the Giants-49ers playoff game for Fox Sports, Cris Collinsworth reacted to the controversial final play with an incorrect suggestion on what holder Matt Allen should have done with the bad snap.
"All you have to do is raise up, spike it down into the ground and you get a second opportunity, right then, right there," Collinsworth said as he watched the replay. "A blown job right there by Allen."
Collinsworth was right that it was a blown decision by Allen, but not for the stated reason. Under NFL rules, the ball can only be spiked if the snap is taken from under center. Had Allen spiked the ball, the game would have been over; what he needed to do was get outside the pocket and throw the ball out of bounds.
It was only after the telecast had ended that Collinsworth learned that his understanding of the rule was incorrect and further contributed to the controversy and confusion for fans.
"There was a huge to-do in New York. I thought I was brilliant, I really did. I said all the holder had to do was just stand up, spike the ball, and re-kick it.

Cris Collinsworth
Cris Collinsworth owned up to his mistake
Football fans – New York Giants fans, in particular – were already confused by the way the game ended. It didn't help that the referee's field microphone cut out during his explanation and that game analyst Cris Collinsworth had thrown a wrong rules interpretation into the mix.
Once he realized his mistake, Collinsworth said he told the Fox public relations department to accept all interview requests from New York the following day.
"I said, 'I'll take them all,'" he told Newsday. "I've never seen a city angrier."
Collinsworth came through the craziness just fine. He returned in 2006 to NBC, where he had worked from 1990-98, and is now in his 12th season on Sunday Night Football.
Meanwhile, Fox and the other networks missed an opportunity to improve the viewing experience for fans. It wasn't until the 2010 season that Fox hired former NFL vice president of officiating Mike Pereira to monitor games from a studio and offer rules explanations.
"I probably say it once a week on the air: I don't know how you officiate these games, I really don't," Collinsworth said in a 2015 interview. "I feel like it's a little bit like doing your taxes, right? I have an accounting degree and a law degree, and there's no doubt if I did my own taxes, despite having those two degrees, I would be arrested."
Like Sportscasting on Facebook. Follow us on Twitter @sportscasting19.