Dak Prescott is Officially in Danger of Following in Patrick Mahomes' Footsteps at the Worst Possible Time
Dak Prescott didn't get a $503 million contract extension like Patrick Mahomes, but he put himself in close proximity to his highly-paid peer by signing a lucrative deal of his own. Of course, while the Kansas City Chiefs gave their superstar quarterback a record-setting extension after he won a Super Bowl title, Jerry Jones made Prescott one of the NFL's highest-paid signal-callers despite his lackluster postseason resume. As a result, the two-time Pro Bowler faces even more pressure to turn the Dallas Cowboys into champions.
With a surgically repaired ankle and a throwing shoulder that proved problematic this summer, Prescott enters the 2021 season with obvious concerns about his ability to stay healthy. And based on the Cowboys' personnel issues heading into a daunting Week 1 matchup, he's officially in danger of following in Mahomes' footsteps at the worst possible time.
The Buccaneers' vaunted defense already made Patrick Mahomes look human
To be the best, you have to beat the best.
And that's exactly what the Buccaneers did in Super Bowl 55.
In a marquee matchup between the GOAT and the new face of the NFL, the affair proved incredibly one-sided. While Tom Brady played efficient, mistake-free football against the Chiefs, Mahomes fell victim to Tampa's terrifying front seven. The Buccaneers held the most physically gifted quarterback in league history to 270 yards and zero touchdowns on 26-of-49 passing.
They also intercepted the 2018 MVP twice.
While Mahomes put up a valiant effort, he undoubtedly struggled playing behind an injury-ravaged offense line. To no surprise, Chiefs general manager Brett Veach took an aggressive approach to overhaul that unit during the offseason.
On the other hand, the Buccaneers shocked everyone by retaining all 22 starters. With their front seven fully intact, the reigning champions have the pieces in place to make life miserable for opposing quarterbacks once again.
Unfortunately for Prescott, the Cowboys begin their season by taking on arguably the most talented defense in the NFL. And based on the current state of affairs in Dallas, the Comeback Player of the Year candidate is officially in danger of following in Mahomes' footsteps at the worst possible time.
Dak Prescott is officially in danger of following in Mahomes' footsteps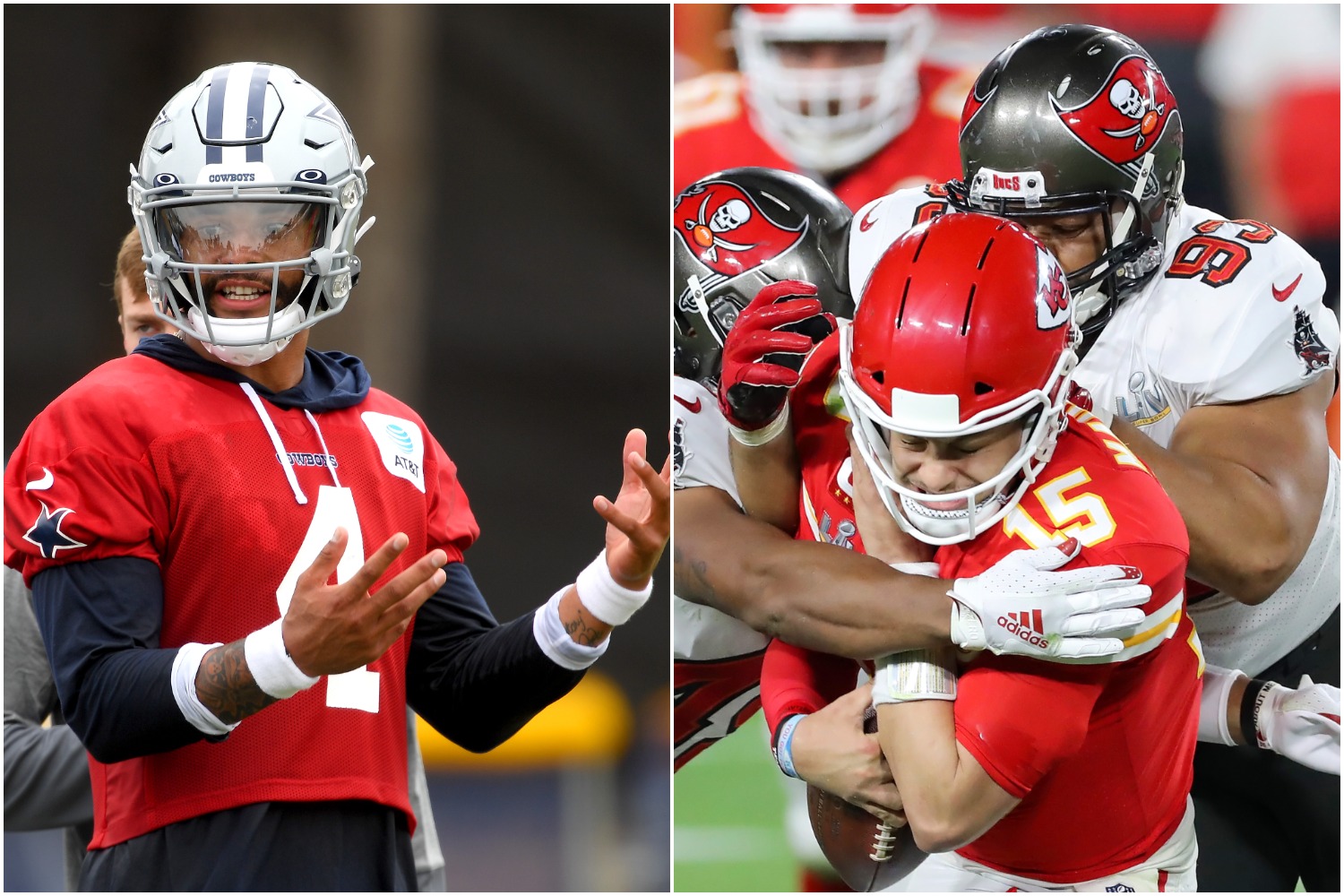 Even a generational talent can look ordinary depending on the circumstances. After all, Mahomes had one of the least effective performances of his career during the Super Bowl largely because of protection problems.
Don't be surprised if the Buccaneers force Prescott to go through the same painful experience Thursday.
In fact, things could get ugly.
After dealing with injury issues in 2020, the Cowboys will once again have to overcome the loss of a key member of their offensive line. All-Pro right guard Zack Martin projects to miss the team's season opener after testing positive for COVID-19. Not having him in the lineup could prove particularly problematic since Dallas has to contend with the powerful duo of Vita Vea and Ndamukong Suh. Plus, even though starting right tackle La'el Collins returned to practice Monday, he has to prove he can still play at a high level after missing the entire 2020 season with a hip injury.
Oh, don't forget Prescott will take snaps from second-year center Tyler Biadasz, who enters the season with 437 offensive snaps on his resume.
Needless to say, the matchup between the Cowboys' offensive line and the Buccaneers' front seven looks laughably lopsided. Tampa has the talent and depth to attack Prescott all night, so it wouldn't be a shock if he re-lives Mahomes' nightmarish night at the office that occurred back in February.
Expect Tom Brady and Co. to get off to a hot start against an undermanned Cowboys team
Can the Cowboys make the playoffs in 2021?
If injuries don't become a major problem, Mike McCarthy may get a chance to coach in January.
However, the odds of Dallas starting the season with a road victory appear slim. Besides the potential problems along the offensive line, the team simply doesn't have a good enough defense to slow down one of the league's most explosive and well-balanced offenses.
The Buccaneers obviously have the edge at quarterback, but Brady certainly benefits from having a strong supporting cast that includes Mike Evans, Chris Godwin, Antonio Brown, and Rob Gronkowski. That group should do damage against a Cowboys defense that lacks proven playmakers in the secondary.
Ultimately, expect TB12 and Co. to get off to a hot start as they prepare to go on another Super Bowl run.
For Dak Prescott's sake, hopefully his trip to Tampa doesn't go as badly as Patrick Mahomes'.
All statistics courtesy of Pro Football Reference.