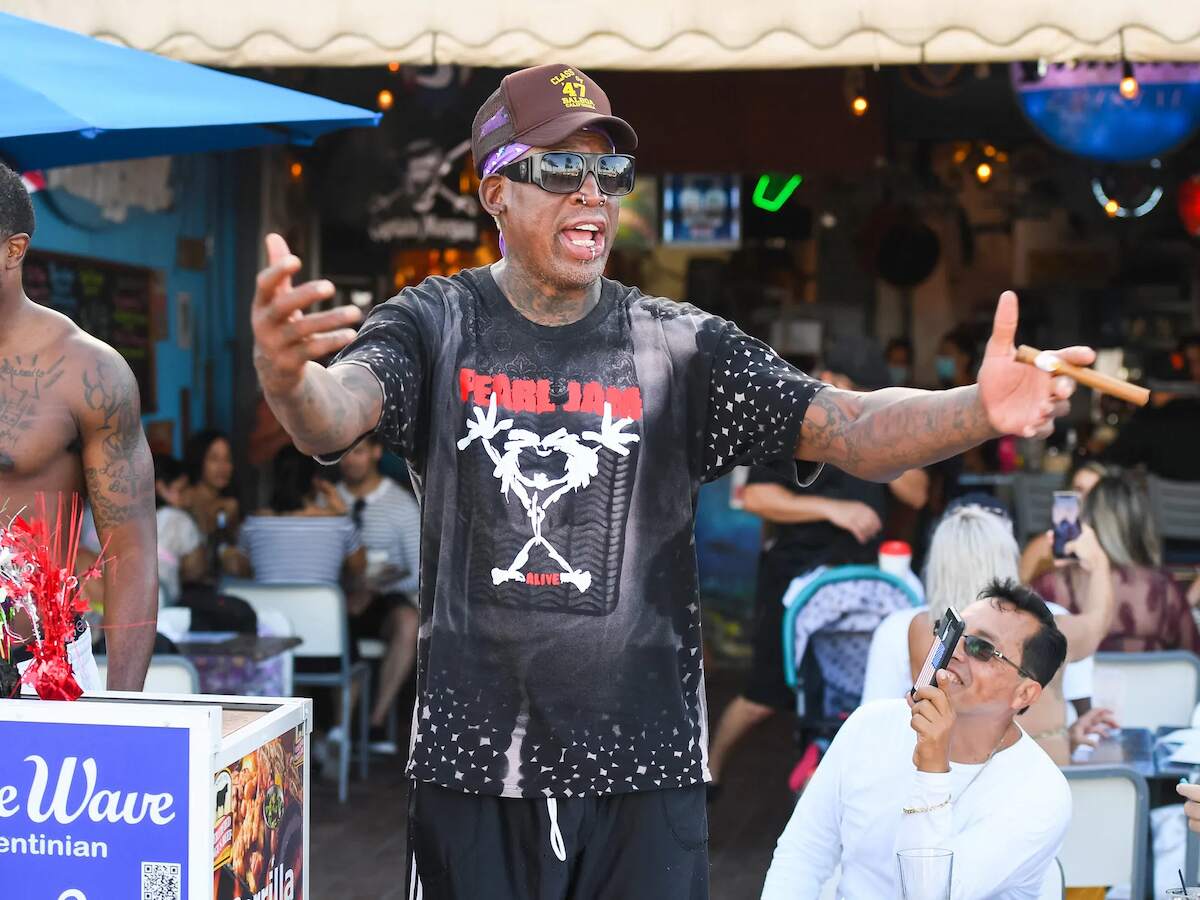 Dennis Rodman Once Crashed a Pearl Jam Concert and Spent 45 Minutes Singing on Stage
Dennis Rodman once crashed a Pearl Jam concert and spent 45 minutes singing on stage.
While the NBA has seen plenty of colorful players over the years, few men can compete with Dennis Rodman. The Worm proved to be a tough rebounder and fearless defender, but his interests stretched far beyond the basketball court. Over the years, Rodman seemed to find himself in all sorts of unusual situations, making headlines along the way.
One of those, it seems, happened in 1998 at a Pearl Jam concert. Dennis Rodman apparently wanted to get a bit closer to the action and joined the band on stage. His rock and roll cameo lasted about 45 minutes and could have gone even longer if the crew hadn't cut off his microphone.
Dennis Rodman made a name for himself as a talented NBA star
When you think of Dennis Rodman, your mind will probably jump to some of his more unconventional behavior. When push comes to shove, though, he was a pretty talented basketball player.
Although Rodman wasn't much of an athlete growing up, everything changed after an unexpected growth spurt. With his new-found height, he decided to give basketball another show. The forward then spent a semester in junior college before joining Southeastern Oklahoma State's squad. There, he emerged as a legitimate talent.
In 1986, Rodman was ready to take the next step up the ladder and turn pro. He joined the Detroit Pistons as the 27th-overall pick of the draft and, thanks to his fearless interior play, fit right in with the Bad Boys. The forward ended up winning two NBA titles before leaving the Motor City.
After a stop in San Antonio, Rodman joined the Chicago Bulls. While he continued to be a bit of a character, his willingness to defend and rebound gave Michael Jordan and Scottie Pippen the freedom to strut their stuff.
When all was said and done, Rodman spent 14 seasons in the NBA, averaging 7.3 points and 13.1 rebounds per game for his career. He also won five NBA championships and two Defensive Player of the Year titles, eventually earning a place in the Basketball Hall of Fame.
A history of colorful behavior
While veteran basketball fans will remember Dennis Rodman's rebounding and defense, he's more widely known for his colorful behavior. For better or worse, the Worm had a knack for making headlines, even if he wasn't playing basketball.
Over the years, Rodman had no problem showing his personality. He dyed his hair on numerous occasions, sporting everything from animal print to smiley face dye-jobs. The forward also donned a wedding dress, saying he was marrying himself, tried his hand at pro wrestling, and did just about everything else imaginable.
While those antics may seem goofy, not everything that Rodman did was all fun and games. In one instance, for example, he had to cough up $200,000 after kicking a cameraman. On another, Rodman had to pay a $50,000 NBA fine after making a comment about "f—ing Mormons."
Dennis Rodman once crashed a Pearl Jam concert and spent 45 minutes on stage
Over the years, Dennis Rodman has had his fair share of encounters with celebrities. The former Chicago Bulls forward, however, has formed quite a bond with Pearl Jam.
As documented by SPIN, Eddie Vedder once explained on The Ringer's The Bill Simmons Podcast that he and Rodman have a "long, long, deep friendship." The two men once jetted from Seattle to Las Vegas to see Jane's Addiction, and Rodman would apparently listen to Pearl Jam's music while working out or watching film.
On one occasion, though, Rodman had a more involved experience with Pearl Jam.
"The tattooed walking time bomb was shirtless, shoeless, and swigging a bottle of wine when he jumped up on stage with the band," a 1998 MTV News report explained. "According to a critic from the 'Dallas Morning News,' Rodman held forth for some 45 minutes before the band tired of his antics, which included chanting "Are you having a good time?" during the song "Corduroy." Rodman also chimed in on "Alive," but his mic was finally cut off during his contribution to "Spin The Black Circle."
According to the report, the band understandably tired of Rodman's antics. "An exasperated Stone Gossard suggested that Rodman, 'Get the f— off the stage,' and Eddie Vedder told the player, 'I'm guessing you've been drinking for three days straight."
That experience, however, clearly didn't tarnish Dennis Rodman's relationship with the band too severely. According to Consequence of Sound, Rodman made an appearance at a 2018 Pearl Jam concert to present Vedder with a ukulele.
Stats courtesy of Basketball-Reference