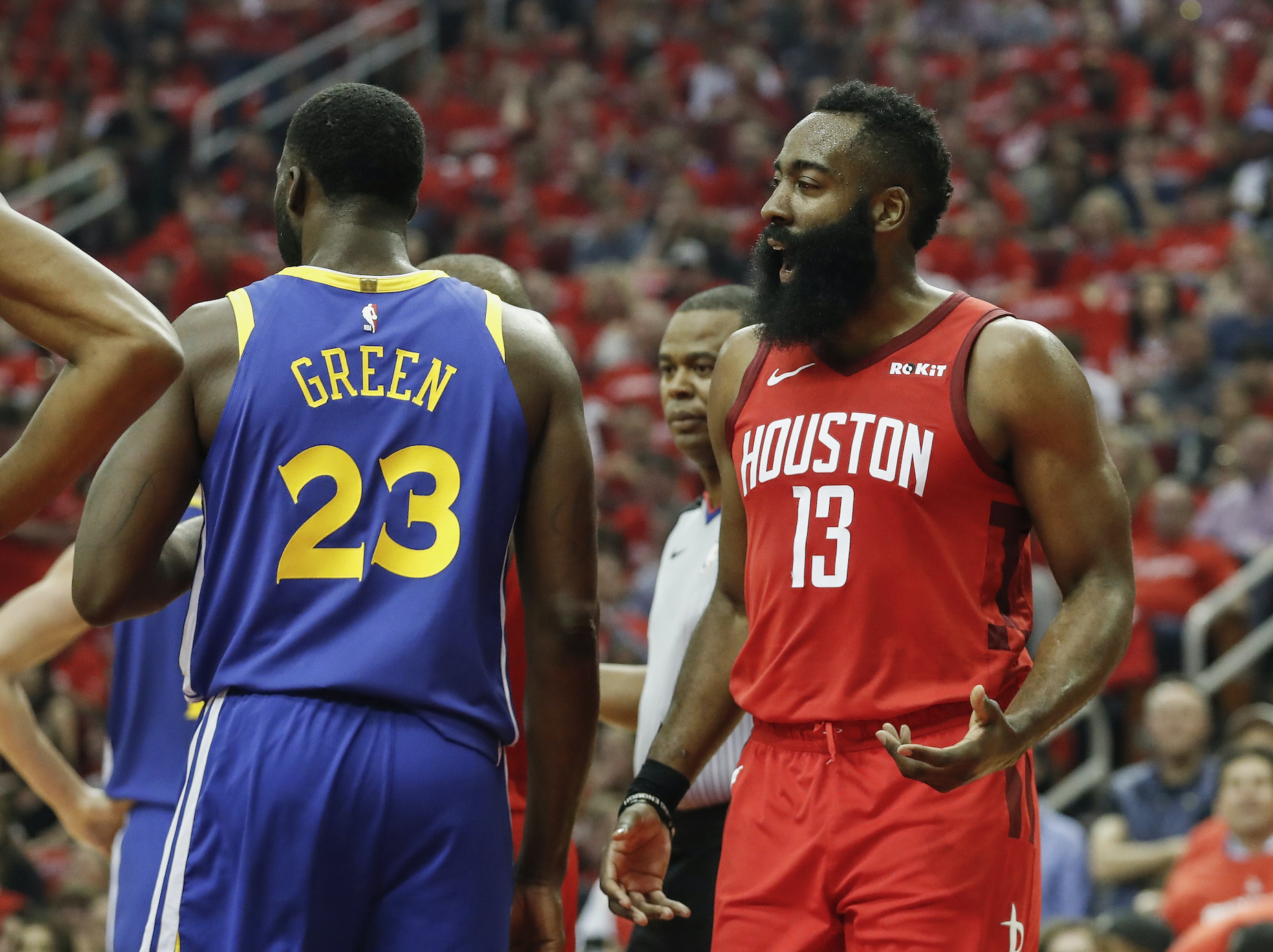 Draymond Green May Have Just Ruined What's Left of James Harden's Reputation With 2 Simple Words
Draymond Green is never afraid of speaking his mind. Unfortunately for James Harden, that reality may have dealt a fatal blow to the guard's legacy.
While no one can argue with his talent, James Harden isn't everyone's cup of tea. If you're a fan of the Brooklyn Nets guard, you'll probably cite his incredibly offensive potential; few players can stuff the stat sheet like Harden. Those on the opposite side of the aisle, however, will take issue with his behavior when things aren't going his way. On Monday night, Draymond Green inadvertently provided some ammunition for the latter group.
After the Golden State Warriors game, Draymond Green used his media availability to decry the NBA's double standard, saying that players have to be professional while teams can cast them aside without batting an eye. In the process of making that point, though, may have dealt a fatal blow to James Harden's reputation.
Draymond Green isn't happy with the double standard affecting NBA players
For better or worse, Golden State Warriors forward Draymond Green is never afraid to speak his mind. That became abundantly clear on Monday night when his media availability turned into an impromptu speech about the NBA's double standards.
"I would like to talk about something that's really bothering me," Green began. "And it's the treatment of players in this league. To watch Andre Drummond, before the game, sit on the sidelines, then go to the back, and to come out in street clothes because a team is going to trade him, it's bulls—t."
For context, the Cavs reportedly believe that Jarret Allen, not Drummond, is their long-term center. The team is trying to trade the big man but, until a deal materializes, it appears that he'll be sitting on the bench in street clothes.
Drummond wasn't Green's only example of this double-standard, though.
"And we've seeing situations of Harrison Barnes getting pulled off the bench," the Warriors forward continued. "Or DeMarcus Cousins finding out he's traded in an interview after the All-Star Game, and we continue to let this happen. But I got fined for stating my opinion on what I thought should happen with another player, but teams can come out and continue to say, 'Oh, we're trading guys, we're not playing you.' And yet we're to stay professional."
Draymond Green also confirmed that James Harden didn't give the Houston Rockets his best effort
When it comes to players wanting out of a specific city, it's impossible to ignore James Harden and his time with the Houston Rockets. Unfortunately for the now-Brooklyn Nets guard, Draymond Green confirmed that he didn't always give his old employers the best effort.
"Because when James Harden asked for a trade and essentially dogged it, no one's going to fight back that James was dogging it his last days in Houston, but he was castrated for wanting to go to a different team. And everybody destroyed that man," Green explained. "And yet a team can come out and say, 'Oh, we want to trade a guy,' and then that guy has to go sit, and if he doesn't stay professional, then he's a cancer. And he's not good in someone's locker room, and he's the issue."
Two words of that paragraph will immediately stand out to any sports fan: "dogged it" or, depending on your preferred conjugation, "dogging it." That's something that no player, no matter how talented they are, will ever want tied to their name.
With that being said, though, Green's statement wasn't exactly a groundbreaking revelation; it was apparent that James Harden wanted to leave the Houston Rockets ASAP. With that being said, though, it's a bit different to hear another NBA player publicly acknowledge that the guard was "dogging it."
James Harden tried to apologize for his behavior in Houston, but the damage has been done
In fairness to James Harden, he's already tried to address his final days in Houston. During an interview with ESPN's Rachel Nichols, he even (somewhat) apologized for his actions.
"Apologize for how it went down, but I guess I had to do what I had to do in order to get to where I wanted to go," Harden continued. "And credit to Houston, they didn't necessarily have to trade me to Brooklyn. They could have traded me anywhere, but those are some stand-up guys over there. And it ended up the right way, but just didn't like how that month or two played out."
That half-hearted apology, however, probably didn't make much of a difference. If you're a James Harden hater, the damage had already been done.
Around the league, James Harden already has somewhat of a mixed reputation. For some basketball, his incredible talent isn't enough to win them over; rather than a star, they see him as a spoiled star who wants out when things don't go his way. Another player admitting that the guard "dogged it" will just make things worse for the bearded one.
In the world of sports, quitting and giving less than 100% is one of the biggest sins that any athlete can commit. Unfortunately for James Harden, Draymond Green essentially confirmed that he did just that.