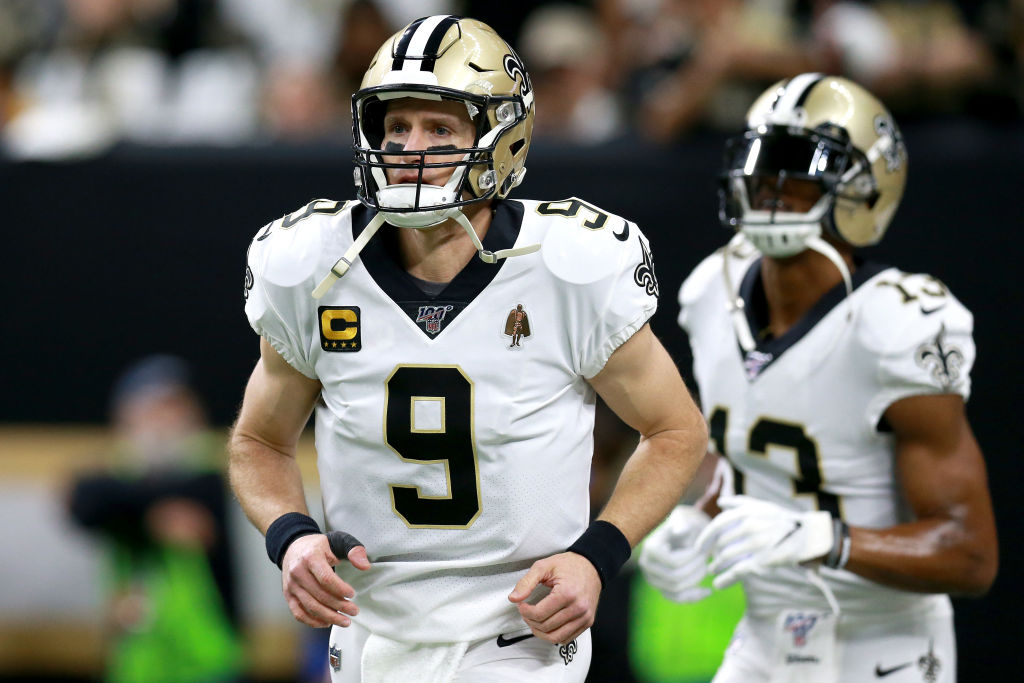 Drew Brees Reveals Why He Hasn't Decided to Return to the Saints Just Yet
A few weeks ago, the New Orleans Saints seemed like they had a shot at the Super Bowl title. Then, the Minnesota Vikings came to town on Wild Card Weekend to rain on the parade. Now, the offseason is looming and the club's franchise player, Drew Brees, is set to hit free agency. While the Saints …
A few weeks ago, the New Orleans Saints seemed like they had a shot at the Super Bowl title. Then, the Minnesota Vikings came to town on Wild Card Weekend to rain on the parade. Now, the offseason is looming and the club's franchise player, Drew Brees, is set to hit free agency.
While the Saints would obviously love to have Brees back under center, the veteran quarterback isn't rushing to make a decision. He's spending some time doing one specific thing first.
Drew Brees' strong 2019 season
Ever since his time in college, Drew Brees has been proving his critics wrong with impressive offensive performances. This season, he uncorked another massive campaign.
Despite missing five starts with a thumb injury, the veteran still posted strong numbers. He threw for 2,979 yards and 27 touchdowns on the year, but that wasn't all. The quarterback also confirmed his place in NFL history during Week 15.
In a Monday Night Football meeting with the Indianapolis Colts, Brees came within inches of playing a perfect game. He completed 29 of 30 total passes, racking up 307 yards and four touchdowns; those touchdowns, however, proved to be historic. They moved Brees past Peyton Manning, giving him the all-time NFL record for passing touchdowns.
Why Drew Brees is taking his time in the offseason
Once March 18 arrives, Drew Brees will officially become a free agent. Despite that reality, the veteran quarterback isn't in any rush to make a decision about his future. He's currently doing something much more important.
"I wanted to give it at least a few weeks, months, postseason, just to take a deep breath and decompress a little bit and get some time with the family and then just reassess," Brees explained on ESPN's NFL Live. "I know this," he added. "I know my boys love coming to work with dad every day when they can. If they had a vote, dad would play forever."
As for the Saints, they would take Brees back in a heartbeat. "We'd love to have Drew back, and if he wants to be back then we'll go from there. I'm assuming that he does," general manager Mike Loomis said. "I don't think it's any different than it's been the last few years."
Will the New Orleans Saints actually need a new quarterback?
While crazy things can happen during free agency, Drew Brees leaving the Saints doesn't seem likely. As Mike Loomis said, the team and their quarterback have done this dance before.
While both parties will have to come together to make the financials work, a contract shouldn't be too hard to hammer out. Brees has spoken about his desire to keep playing and hasn't shown any intention to leave New Orleans. The Saints will eventually have to groom a successor, but it doesn't seem like now is the right time; with Teddy Bridgewater bound for free agency and Brees still thriving, the club can take their time rather than forcing a change through this summer.
In the modern NFL, a good quarterback can cover up a multitude of sins. The New Orleans Saints have one of the best in Drew Brees, assuming he re-ups for another season.