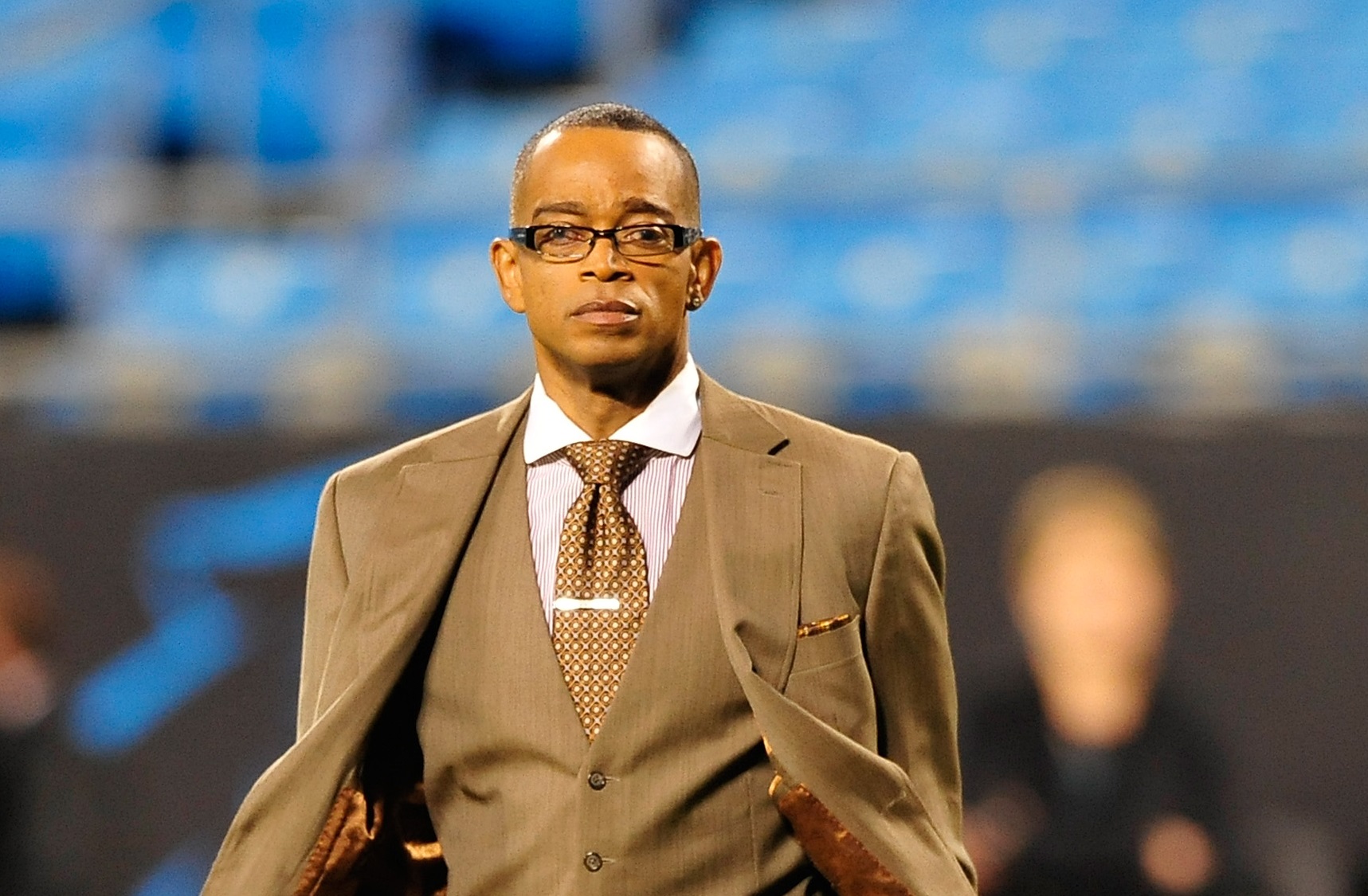 ESPN's Stuart Scott Performed a Selfless Act Before His Tragic Death
ESPN 'SportsCenter' anchor Stuart Scott entered a clinical trial in the late stages of his cancer treatment.
The internet barely mattered when Stuart Scott was making his debut as a SportsCenter anchor in 1997. ESPN was still king when it came to delivering the sports news and highlights that fans craved. The network's flagship show made stars out of the likes of Chris Berman, Dan Patrick, and Keith Olbermann.
All were respected, but none came to be as beloved as Scott, whose trademark phrases at times overshadowed his smooth delivery and sharp writing. When Scott died on Jan. 4, 2015, athletes and coaches across multiple sports joined fans in mourning the loss.
The best of Stuart Scott's on-air magic
Stuart Scott came to ESPN by way of the NBC affiliate in Orlando, Florida. He started out by contributing to ESPN2 shows, eventually taking Keith Olbermann's place on SportsNight. In 1997, Scott got the call to take on the 2 a.m. ET edition of SportsCenter alongside Rich Eisen.
With the exception of occasional West Coast games that ran late, that edition of the show was the most complete version and was re-run throughout the morning. It brought Scott and his witty phrases to a broad audience of sports fans. Some of his trademark expressions included:
"Boo-yah!"
"As cool as the other side of the pillow."
"He treats him like a dog: Sit, stay."
"Just call him butter because he's on a roll."
"Can I get a witness from the congregation?"
Those might seem out of place for a show wrapping up the day's news across the sports world, but they were part of a personality that helped keep fans tuning in at 2 a.m. on the East Coast.
Scott's role continued to grow, including hosting NBA shows on ESPN and ABC, and anchoring on-site coverage of Monday Night Football.
A cancer diagnosis in 2007 changed his life
While in Pittsburgh for a Monday Night Football assignment, Stuart Scott experienced stomach pain and underwent an appendectomy, after which lab testing determined the presence of cancer. Scott had additional surgery that same week, followed in the fall by the start of chemotherapy.
Scott received a second cancer diagnosis in 2011 and then a third in January 2013 that required radiation treatments and additional chemotherapy. By midway through the following year, the disease could no longer be contained by medical science.
During the annual ESPYs in July 2014, Stuart Scott received the Jimmy V Perseverance Award. Evoking memories of North Carolina State coach Jim Valvano's speech when he was in the late stages of cancer, Scott told the audience, "When you die, it does not mean that you lose to cancer. You beat cancer by how you live, why you live, and in the manner in which you live."
Scott was just 49 years old when he died on Jan. 4, 2015.
ESPN's Stuart Scott performed a selfless act
At the time of Stuart Scott's death, CBS News reported that his appendiceal cancer diagnosis was so rare that the American Cancer Society couldn't estimate how often it occurred or what the mortality rate of the disease was. One estimate indicated fewer than 1,000 U.S. cases per year.
The network report said Scott never discussed his exact diagnosis, but he did share some of the details of his treatment.
"I just got out of the hospital this past Friday," he said at the 2014 ESPYs. "Seven days stay. Man, I crashed. I had liver complications. I had kidney failure. I had four surgeries in a span of seven days. I had tubes and wires running in and out of every part of my body. Guys, when I say every part of my body: every part of my body."
A video introducing Scott before his speech showed him having blood drawn during an examination. Johns Hopkins Hospital doctors were looking for clues to help treat the ESPN anchor and host, but Scott had an additional motivation, according to The Undefeated.
The blood work that day would determine whether Stuart Scott qualified for a clinical trial research study. Although there was no guarantee that Scott would benefit directly from treatments administered in the clinical trial, there was the potential to help others battling the rare form of cancer.
According to the website, Scott joined the clinical trial based upon the test results. What doctors learned in the course of his treatment would contribute to decisions they made in the treatment of future patients, perhaps serving to prolong or even save lives.
"While we don't have a cure for cancer, an extension of the time that you do have is really important," Taelor Scott said in discussing her father. "And I think that that should be an availability and something that everyone gets to kind of participate in and benefit from."
Like Sportscasting on Facebook. Follow us on Twitter @sportscasting19.