Floyd Mayweather Jr.'s Net Worth Is $560 Million, but Making $5,000 at a Time Is What Matters Now
Floyd Mayweather Jr. has been a money-making machine since breaking away from Bob Arum 15 years ago to run his own boxing career. The undefeated champion produced results in the ring, managed his career wisely outside it, and built a bank account rivaled by few athletes ever.
So, it begs the question of why Mayweather's net worth, estimated at $560 million, less than a year ago and recently boosted by as much as $65 million in a gimmicky fight, isn't enough.
Floyd Mayweather has a $1 million goal in mind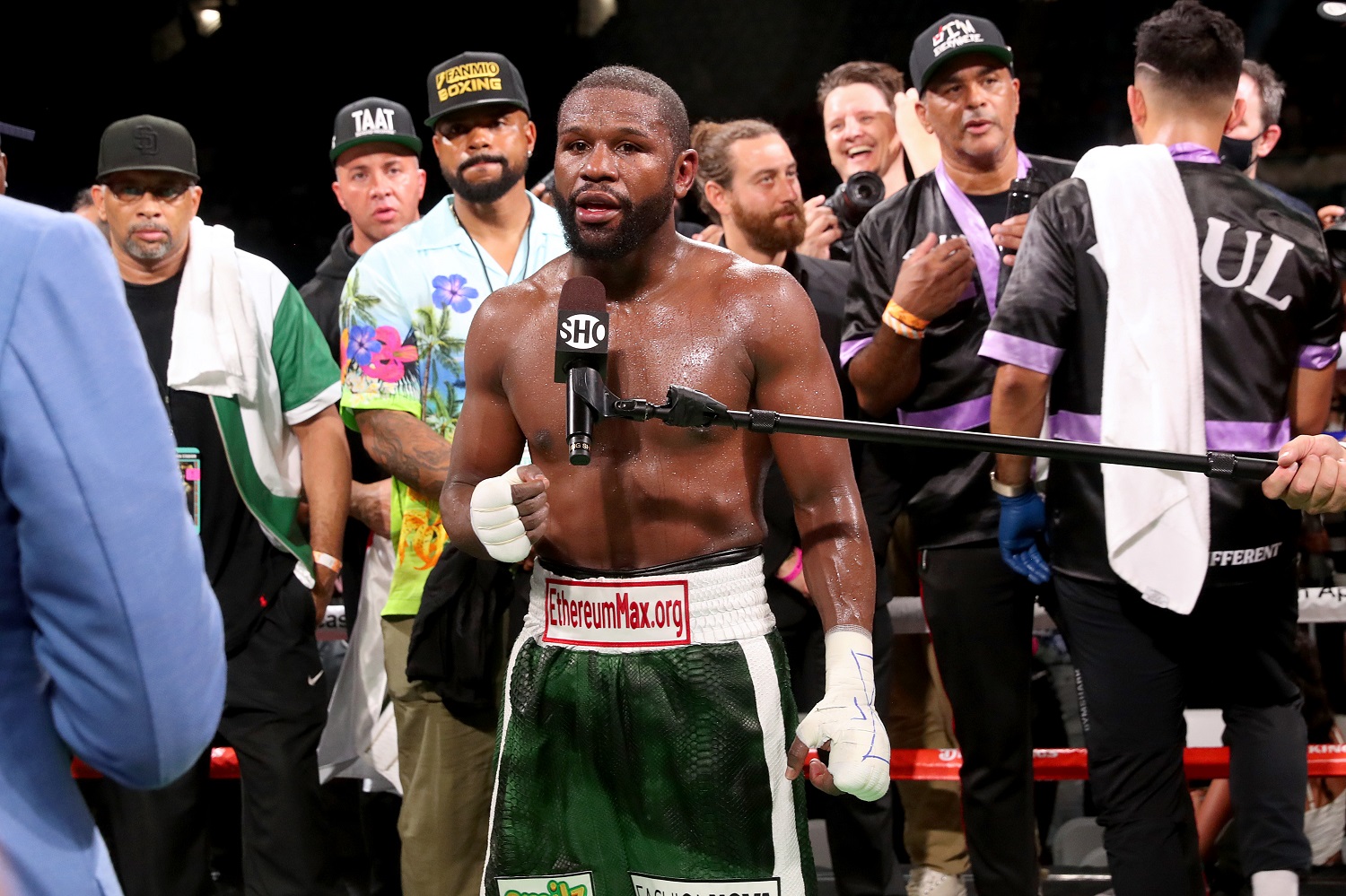 Natural ability and the discipline to train hard to maximize that talent are foundational pieces of a successful career. Drive and determination fit into the equation, too, and that might help understand Mayweather's fixation on becoming the first person to reach a financial milestone.
"I want to be the first celebrity to make a million dollars on Cameo," Mayweather says on a promotional page on the website.
Cameo.com is a startup that tripled its valuation to $1 billion by raising $100 million in fresh capital this year, according to the Wall Street Journal. WSJ also reported that the company generated $100 million in sales in 2020. Many of the participating actors, musicians, and reality TV stars, donate portions of their fees to charity.
Launched in 2017, the website enables fans to order personalized video messages made by their heroes. That could cover anything from having Brett Favre offer a $400 birthday greeting to a Green Bay Packers fan to requesting that UFC announcer Bruce Buffer herald the arrival of a newborn baby for $349.
For the more budget-conscious customer, NASCAR driver Austin Dillon will record a message for $55, former heavyweight champion Buster Douglas for $60, and ESPN personality Bomani Jones for $70.
And then there's Mayweather. He's the guy who has taken it to a whole new level – more than once.
Floyd Mayweather is now charging $5,000
Mayweather signed on with Cameo.com in 2020 with a since-discontinued video meet-and-greet opportunity for $499. He also offered upgrades at that time that included a shirt made with real gold print and a signed lithograph set at $999 and $1,499, respectively.
At some point, Mayweather changed up his marketing approach and decided to stick with the more traditional customized video offered by the thousands of other figures on the website. He did it in vintage Mayweather fashion: In pursuit of making the million dollars, Mayweather raised his price to $1,000 to become the most expensive option on the site.
Now, he has done it again. At some point this year, Mayweather bumped his fee to $5,000.
"There's only one thing left to do. You know what to do," Mayweather tells visitors to his page.
By way of comparison, the priciest celebrities behind Mayweather are Sikh-Canadian teacher/performer Gurdeep Pandher ($2,000), Kevin O'Leary of Shark Tank fame ($1,500), and rapper Boosie Badazz ($1,500)
The slew of other sports figures commanding $1,000 includes suspended NBA player Michael Beasley, New Orleans Saints coach Sean Payton, and Kansas City Chiefs receiver Tyreek Hill.
There's no way of telling if anyone has ordered a Mayweather custom video at the $5,000 price level. If so, here's hoping he did a better job knocking customers off their feet than he did knocking Logan Paul off of his in their exhibition bout.
What's next for the man with the 50-0 record?
Mayweather has already grossed over $1 billion in his lifetime, allowing him to cross that item off his bucket list. There is a case to be made that accepting the eight-round challenge against Paul in June 2021 indicates that Mayweather, 44, has run out of ideas on how to spend his retirement.
The latest speculation has fellow retired fighter Oscar De La Hoya trying to lure Mayweather into a bout. De La Hoya, who hasn't fought since a 2008 loss to Manny Pacquiao, has agreed to a Sept. 11, 2018, exhibition against MMA veteran Vitor Belfort, after which DAZN indicates he supposedly wants to call out Mayweather.
Mayweather already beat De La Hoya by split decision in 2007. Unless he suddenly gets the urge to try for $2 billion in career earnings, it's hard to imagine that rematch actually happening.
Like Sportscasting on Facebook. Follow us on Twitter @sportscasting19.