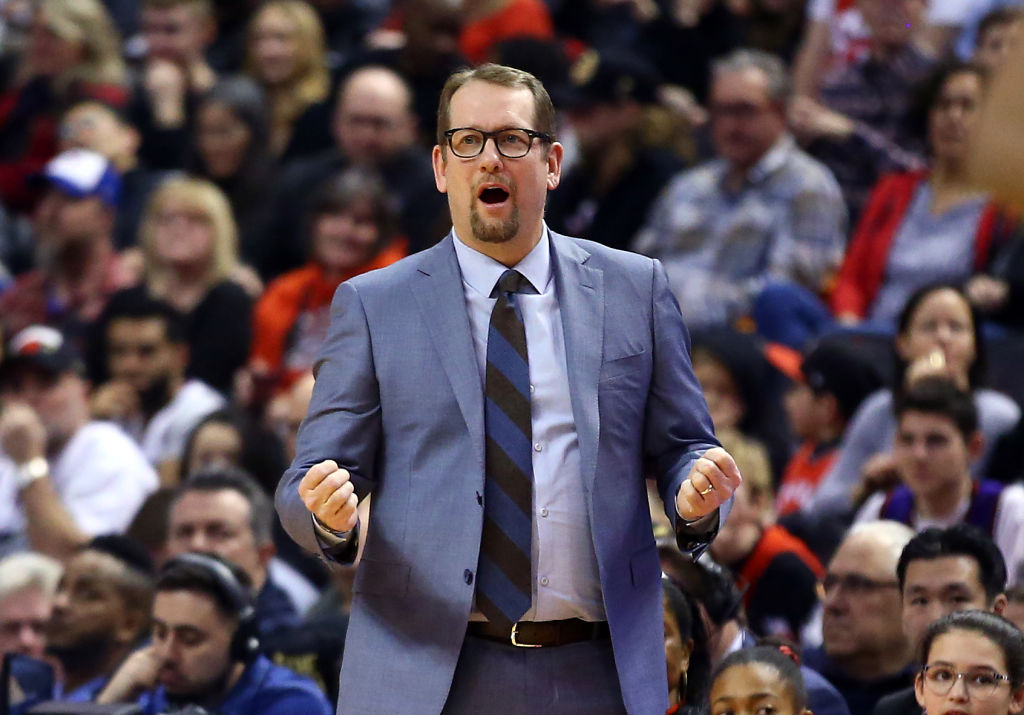 How Toronto Raptors Head Coach Nick Nurse Is Shining, Both on and off the Court
Toronto Raptors head coach Nick Nurse has established himself as one of basketball's brightest minds. His talents, however, extend off the court.
While players get most of the credit, a good coach is the key to a winning team. With most games coming down to fine margins, having someone like Bill Belichick or Gregg Popovich calling the shots can make all the difference. Toronto Raptors head coach Nick Nurse might not have a great deal of NBA experience under his belt, but he's establishing himself as a legitimate leader.
Despite losing Kawhi Leonard in the offseason, the Raptors and their head coach are shining. Nick Nurse, however, has skills that go beyond the basketball court.
Nick Nurse's unconventional coaching career
Growing up as the youngest of nine children, Nick Nurse learned all about competition from an early age. His winding road to the NBA, however, would put those lessons to the test.
After playing his college ball at the University of Northern Iowa, Nurse headed across the pond; he joined the Derby Rams of the British Basketball League (BBL) as a player-coach. After a season abroad, he returned to the United States, taking a job as the head coach at Grand View University.
After two seasons with the Grand View Vikings and another two as an assistant at the University of South Dakota, Nurse returned to Europe. He would spend the next 11 years abroad—barring brief stints with the United States Basketball League's Oklahoma Storm—building his credentials in the BBL. While there, he encountered a player named Masai Ujiri.
In 2007, Nurse became the head coach of the NBA D-League's Iowa Energy; before long, he was named the league's coach of the year and led his club to a championship. He joined the Rio Grande Valley Vipers in 2011 and, within a few years, won another title.
On the back of his D-League success, Nurse got a shot at the big time with the Toronto Raptors. He joined the team as an assistant coach in 2013; when Dwane Casey lost his job in 2018, Ujuri decided to hand Nurse the reins. From there, the rest is history.
Earning a place in NBA coaching history
While Nick Nurse hasn't even spent two full seasons as an NBA head coach, he's already established his credentials.
Last summer, Nurse led the Raptors to their first championship; this season, he's arguably producing even more impressive results. Despite plenty of injury woes—virtually every player in the rotation has missed time—Toronto is sitting in second place in the Eastern Conference. They might have lost Kawhi Leonard to free agency, but the team hasn't missed a beat.
Nurse has also placed himself in the NBA history books this season. The head coach recently earned his 100th win and moved to the top of the league's all-time winning percentage list. While there's obviously an issue of sample size—Nurse has only coached 140 games, as opposed to Phil Jackson's 1,640—it's clear that the Raptors coach knows what he's doing on the sidelines.
Nick Nurse has talents beyond the basketball court, too
Based on his time on the sidelines, it's clear that Nick Nurse is a talented basketball coach. His skill set, however, extends beyond the hardwood.
Last season, Nurse got off a team flight carrying a guitar; we now know that instrument was more than an accessory. The head coach took the stage during an Arkells concert during the summer and has apparently been practicing some songs for his own upcoming gig.
"I'm working on four songs right now that I'm getting ready to – I'm getting ready to have a little performance," the coach told CityNews. "Actually, March 11th, I'm having a kickoff for my foundation—Nick Nurse Foundation—in support of music programs for kids around the Toronto area. So, we have a lot of bands coming in, and I'm going to sit in with, well, at least one of them."
While we'll have to wait to see the quality of Nick Nurse's performance, one thing is clear: the Toronto Raptors have a talented head coach on their bench.