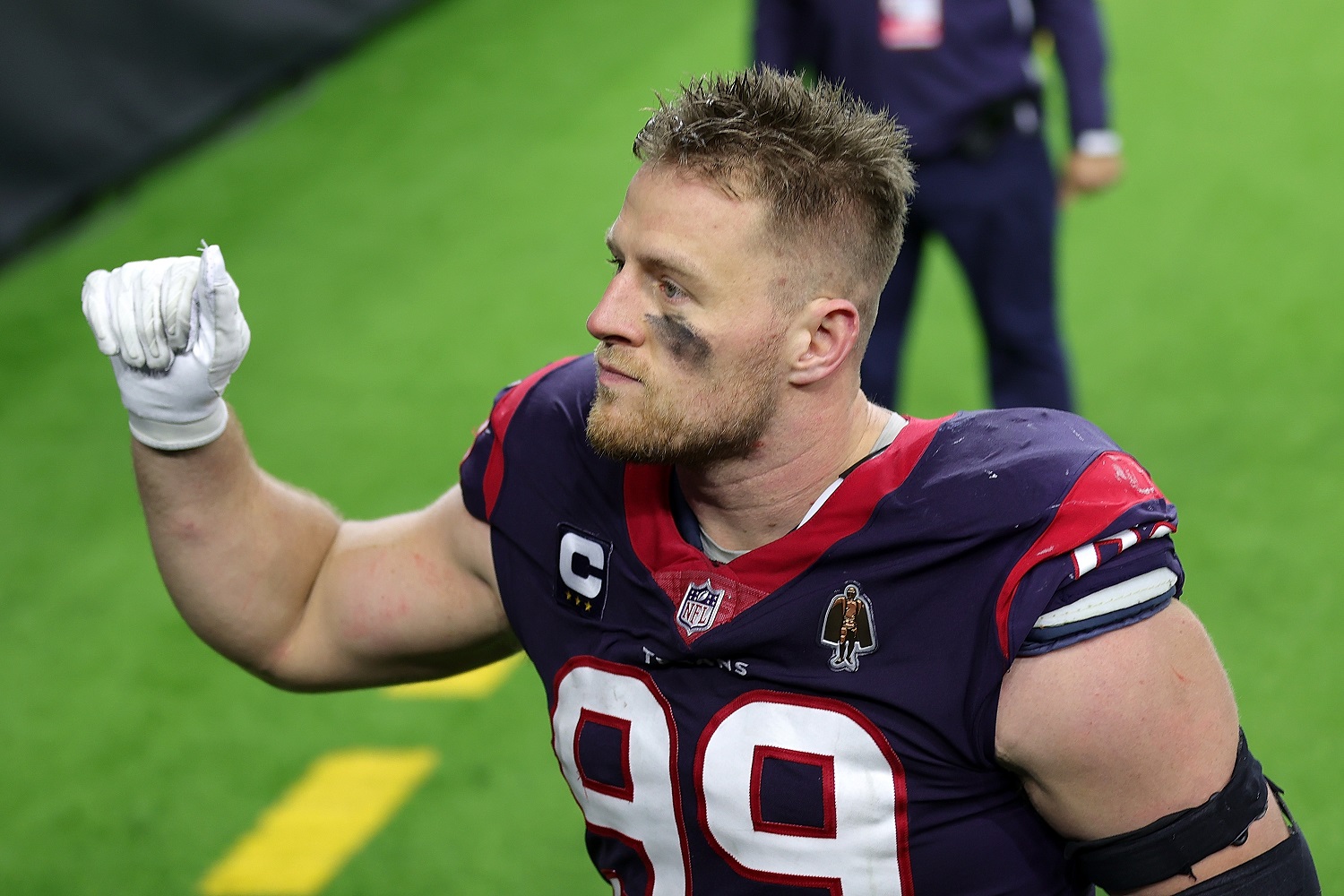 J.J. Watt Has a New Reason to Be Furious
J.J. Watt was not pleased to see little brother T.J. Watt lose out on the Defensive Player of the Year Award on the eve of Super Bowl 55.
Houston Texans defensive end J.J. Watt has packed a lot of excitement into the past 12 months, but he really brought emotion to Super Bowl weekend by sticking up for his brother after T.J. Watt surprisingly lost out on a prestigious award.
Consequently, it might be a good time for NFL quarterbacks to check the 2021 schedule for upcoming opponents. The Watt brothers are going to have the urge to take out some pent-up frustration on folks, and the QB is their favorite place to start.
J.J. Watt is coming off a deeply frustrating year
J.J. Watt may have gotten 2020 off to a fine start by marrying soccer player Kealia Ohai on Feb. 15, but it's doubtful that he'll look back at the remainder of the year very fondly from a football standpoint. Watt and the Houston Texans have gone through a travesty of a year, and the awfulness can't be considered to be over, not with the future of prized quarterback Deshaun Watson still up in the air.
Houston's 2019 season ended with a thud. After reaching the playoffs for the second straight year, the Texans ran into a buzzsaw in the AFC divisional round. They stormed to a three-touchdown lead over the Kansas City Chiefs in the first quarter and extended the margin to 24-0 early in the second. From there, Patrick Mahomes, Travis Kelce, and Damien Williams tore Houston apart on the way to a 51-31 victory.
Two months later, coach and de facto GM Bill O'Brien traded DeAndre Hopkins, Deshaun Watson's most dangerous target, to the Arizona Cardinals. Throw in the pandemic, and a team with Super Bowl ambitions was suddenly in disarray.
Houston got off to an 0-4 start, Watt reportedly had a confrontation with the head coach, and O'Brien was fired. A 4-12 season ended with speculation that Watt and Watson both wanted out; Watson appears adamant in sticking to that stance, and Watt is only slightly more likely to return after logging just his second full season in the last five.
J.J. Watt challenged brother T.J. Watt before the season
Injuries have taken a toll on J.J. Watt over the past five seasons with the Houston Texans, and he has recorded 26.5 sacks after piling up 74.5 in his first five years in the NFL. Still, he's capable of applying consistent pressure on opposing quarterbacks, and he does have three AP Defensive Player of the Year Awards on his resume.
Shortly before the 2020 season kicked off, Watt reflected on how far brother and fellow defender T.J. Watt has come with the Pittsburgh Steelers. With T.J. Watt fresh off a 14.5-sack season and his first designation as a first-team All-Pro, the question was posed to J.J. Watt about what it would take to see his brother as an equal on the football field.
"Once he has three defensive player of the year awards, I'll start to see him as a peer," he said, according to Pro Football Talk.
Watt was only joking, of course, but it's not like he couldn't reasonably project T.J. to earn such a significant honor in the near future.
T.J. Watt was snubbed, and his brother didn't like it
It is difficult to imagine what else the Pittsburgh Steelers could have asked from T.J. Watt in the just-concluded NFL season. Watt posted 11 sacks and 17 tackles for loss in Pittsburgh's 11-0 start and finished with league highs of 15 and 23, respectively, even though the Steelers faded down the stretch.
He also forced a pair of fumbles and defended seven passes to go with 55 pressures and 41 quarterback hits in the best of his four seasons at outside linebacker since arriving from the University of Wisconsin.
When all was said and done, however, it wasn't enough in voters' minds to anoint Watt the Defensive Player of the Year. Instead, they presented the honor Saturday to Los Angeles Rams defensive tackle Aaron Donald, who was just voted first-team All-Pro for the sixth straight year.
The DPOY honor was the fourth since 2014 for the likely future Hall of Fame inductee, but it didn't sit well with J.J. Watt.
"Aaron Donald is an absolutely incredible player. I love watching him play & he's headed to the Hall of Fame without question," Watt tweeted. "This has nothing to do with AD personally. This is me saying what my brother won't. TJ played 1 less game and STILL led the NFL in every major category."
T.J. Watt didn't express his thoughts in as much detail, but you still get the idea:
All stats courtesy of Pro Football Reference.