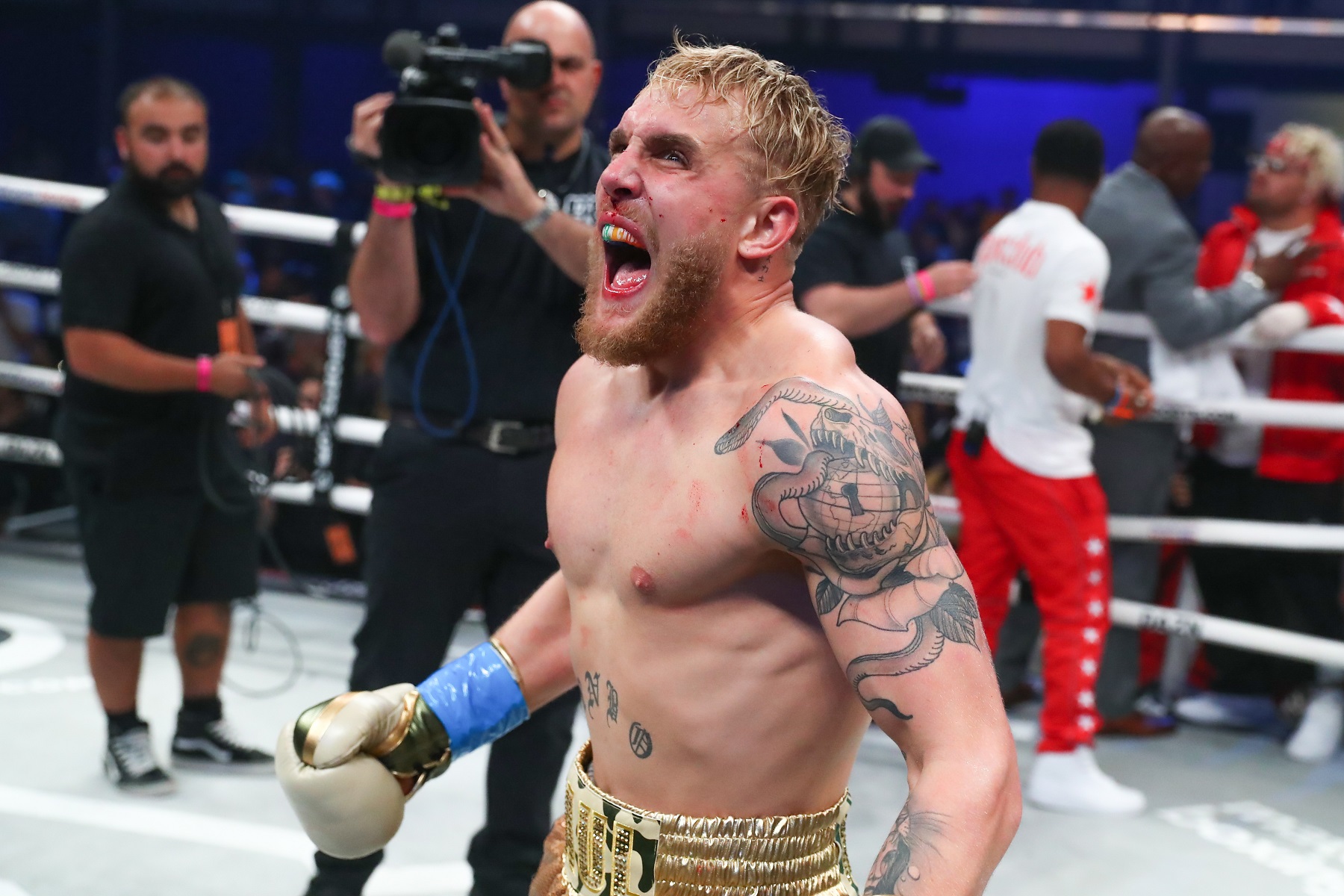 Jake Paul Dug Deep Into the Excuse Box To Avoid a Unique Butt-Kicking
Jake Paul says he won't fight UFC women's champion Amanda Nunes because she isn't a big enough name.
When Conor McGregor got into a fight with a woman earlier this year, it was of the verbal variety with waifish singer Sinead O'Connor. McGregor didn't duck the at-times profane Twitter war, and there was no real damage done. Fast-forward to this past weekend, when internet celebrity Jake Paul showed that his feet move as fast as his lips as he ducked the offer of an actual fight against UFC star Amanda Nunes.
Paul's 15 minutes of fame should have ended months if not years ago. So, until he does something marginally noteworthy, he'll be remembered as the guy who turned tail at the prospect of a butt-kicking by the UFC's reigning women's featherweight and bantamweight champion.
Jake Paul is somewhere between famous and infamous
Jake Paul is the in-law who comes to the house on Christmas Eve and forgets to leave for a week. Initially somewhat recognizable for his acting career on a Disney Channel series and making music videos, Paul is known these days primarily for his social media presence, which includes 20 million YouTube followers.
Paul has stumbled into a few mostly minor controversies over the years, but he had no connection to sports until January 2020, when he began a boxing career and scored a first-round TKO of fellow YouTube personality AnEsonGib. On Nov. 28, Paul improved to 2-0 with a second-round knockout of former NBA player Nate Robinson on the undercard of Mike Tyson's exhibition vs. Roy Jones Jr.
Having missed Andy Warhol's memo about his 15 minutes of fame, Paul has been trolling around in search of another fight. On Dec. 14, he posted a profanity-riddled video challenging UFC champion Conor McGregor to a boxing match. Paul claimed that his team had made a verifiable $50 million commitment to McGregor if he would take the fight.
A small excerpt from the NSFW video:
"You're scared to fight me, Conor. You're ducking me because you don't wanna lose to a f—king YouTuber," he said. "You're 0-1 as a boxer, I'm 2-0 as a boxer. I just came off the eighth-biggest pay-per-view event in history. But you wanna fight Dustin Poirier, who has less followers on Instagram than my f—king dog. That's a fact."
Jake Paul has offers for his next fight
Jake Paul's next fight appears to be a March 28 boxing match against Ben Askren, a former Bellator champion who was 1-2 in the UFC. Meanwhile, he's been going after Conor McGregor, a UFC champion, and Dillon Danis, who is 2-0 in Bellator.
"I wanna knock out Dilon because we've been talking s–t back and forth for two years," Paul said, according to Bloody Elbow. "I've hooked up with his girlfriend, he's all butt-hurt about it, there's history there."
Neither Askren nor Danis qualifies as a big name in mixed martial arts circles, which is why Paul, 23, desperately wants to bait Conor McGregor into a fight. Paul's problem is that he's too obscure a "fighter" for McGregor to consider battling.
The excuse for turning down Amanda Nunes is lame
Aside from challenging Conor McGregor to a fight after knocking out Nate Robinson, Jake Paul jumped the shark by also issuing challenges to LeBron James, Rob Gronkowski, and Kanye West, among others. None could be bothered with such nonsense.
On the other hand, the NFL's Le'Veon Bell, the NHL's Evander Kane, and the UFC's Nate Diaz all offered to step up and fight Paul. Upon hearing some insults that Paul lobbed at UFC president Dana White, two-division UFC women's champion Amanda Nunes announced she would be up for a fight.
According to BroBible, White went so far as to say he was "thinking of letting Amanda Nunes knock his ass out."
Alas, Paul said that fight will never happen. The guy so eager to take on Ben Askren or Dillon Danis doesn't think Nunes is a big enough name.
"I wouldn't fight her. Waste of time," Paul claimed, "No one knows who she is. She has one million followers on Instagram, sh—-y engagement. There's not a lot of hype there."
Oh, there would be plenty of engagement … like Nunes' right fist to Paul's left nostril.
Like Sportscasting on Facebook. Follow us on Twitter @sportscasting19.