Jaylen Brown's Famous 2 Words Hint at More Frustration With the Boston Celtics
Everyone associated with the Boston Celtics has to be frustrated. Players, coaches, front-office execs, and fans hit yet another new low point Monday night when the Celtics suffered their ugliest loss of the season. Boston blew yet another significant second-half lead but this time it was against a mediocre Minnesota Timberwolves team playing without all five of its starters. Jaylen Brown led the Celtics with 26 points, but clearly was not happy when it was all said and done.
Jaylen Brown scored 26 points but the Boston Celtics hit a new low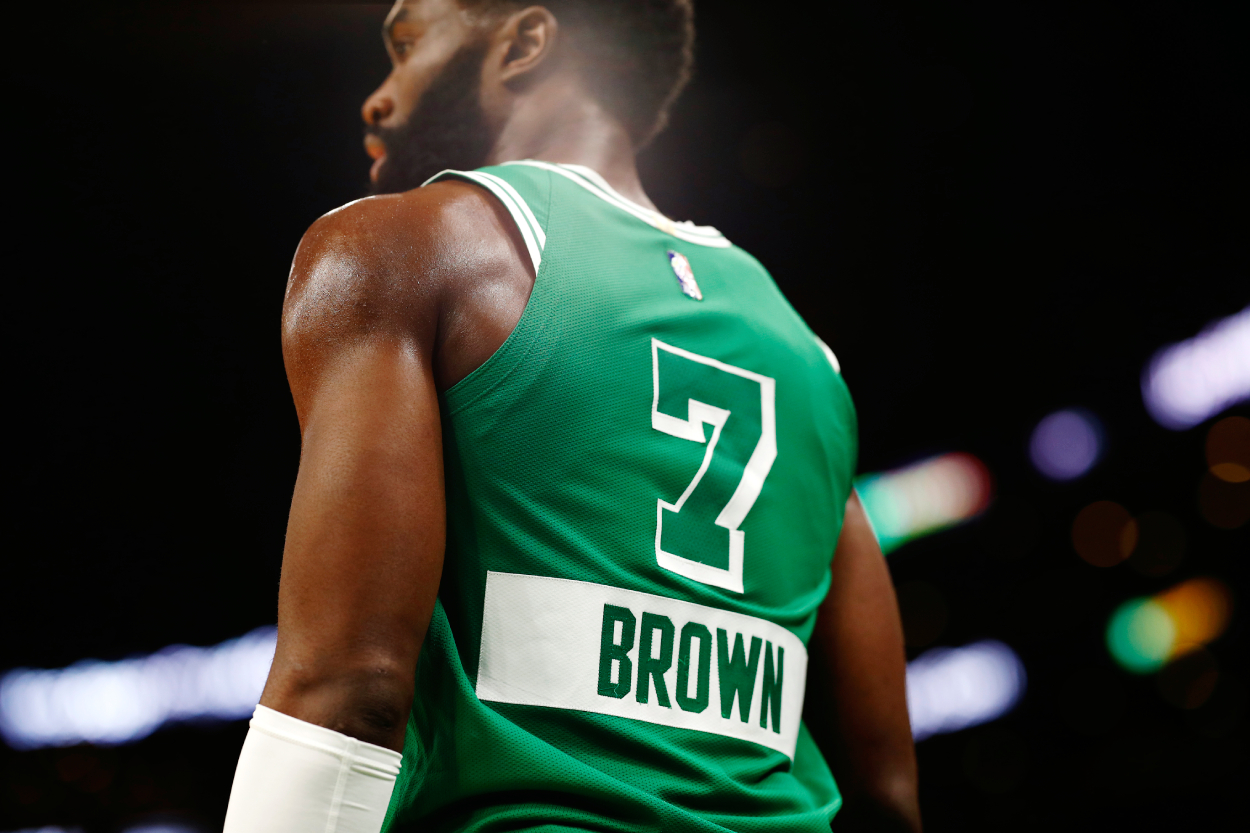 Just when you thought things couldn't get any worse for the Celtics, they went out and pulled it off. Sure, Boston was without its two-time All-Star in Jayson Tatum, who was in the NBA's health and safety protocols. Yes, the Celtics were also without other key contributors in Marcus Smart and Dennis Schroder, but that didn't compare to the Wolves, who were missing all five starters.
The Celtics, a team known for blowing double-digit leads in the second half, did so again after taking a 56-45 lead into halftime on the road against the Wolves. Minnesota outscored Boston 63-47 in the second half in a 108-103 victory that sent the Celtics spiraling to 16-18.
As has been the case all season, effort and hustle were hot topics at the postgame conference.
"One of the poorest losses of the year," Celtics head coach Ime Udoka said, per ESPN. "A team as depleted as we are just out-hustled us. Very undisciplined effort overall."
Lack of effort is nothing new to the Celtics. It was a focal point in their home opener, an ugly loss to the Toronto Raptors. Tatum brought it up after that game.
"We know why we lost," Tatum said then, according to Mass Live. "They just played harder than we did, played tougher. It wasn't rocket science. We're all professionals and we're all adults. We understood what had happened." 
Jaylen Brown was clearly frustrated after another ugly loss
The Celtics have hovered around the .500 mark all season and now are two games below. Last year, they finished 36-36 — unacceptable for a team with two young All-Stars in Tatum and Brown.
Last year, frustration mounted throughout the season. Players were annoyed with losing and they also appeared agitated with the style of play. After an ugly loss to the Washington Wizards, a reporter asked Brown what he thought of the team's ball movement. It took 10 seconds before Brown responded. When he did say something, he came up with "no comment."
Those same two words came up again after the loss to the Wolves.
Veteran Celtics center Al Horford said the Celtics are "searching" for who they are. He said the team "has to look in the mirror."
Brown was asked if he agreed with Horford's assessment, and he went right back to those two words.
"Searching and looking in the mirror?" he asked. "Nah. No comment."
The Celtics are in desperate need of change
During the offseason, the Celtics underwent a significant front-office transition. Gone was president of basketball operations Danny Ainge, who resigned and is now running the show for the Utah Jazz. Brad Stevens, the head coach for the previous eight years, took Ainge's spot and then hired Udoka to coach the team.
Front-office changes, however, aren't what this team needs.
Tatum and Brown have always been considered the "future" of the Celtics. It's time they become the present. For two years now, Boston has been the picture of mediocrity.
If effort continues to be a significant issue, maybe Udoka needs to be the first to go. If it's not Udoka, then Tatum or Brown should at least be discussed. Nobody else on Boston's roster will generate a significant return. As we've seen with Ainge's previous moves, stockpiling picks isn't the answer, so moving a non-star for draft capital makes zero sense.
This team is going nowhere as presently constructed. It has been mired in mediocrity for two straight seasons and Tatum, Brown, Smart, and Horford are a quartet that needs to be better than .500.
Brown or Tatum will bring back significant talent. More importantly, a deal involving one of them will create new blood, something the Celtics desperately need.