Jimmy Johnson's Biggest Coaching Regret Was a 1-Year Issue for Him but a Long-Term Disaster for the Dallas Cowboys
Article Highlights:
Jimmy Johnson thought he could land Michael Strahan in the second round of the 1993 NFL Draft
The New York Giants took Strahan, a future Hall of Fame defender, six picks ahead of the Cowboys
Johnson regards losing of on Strahan as his biggest regret, but they would have spent just one season together in Dallas
Pro Football Hall of Fame inductee Jimmy Johnson has spent more time as an NFL analyst on television than he did as a championship-winning college and pro coach. He has had time to ponder which of his three title years was his favorite. It would have to be a tough call because he lifted the University of Miami and the Dallas Cowboys to the top.
He has also had time to reflect on his greatest regret, which Johnson says is an easy call. It's worth noting, however, that the miscalculation that he points to hurt the Cowboys a lot more than it hurt Johnson.
Jimmy Johnson built championship NCAA and NFL teams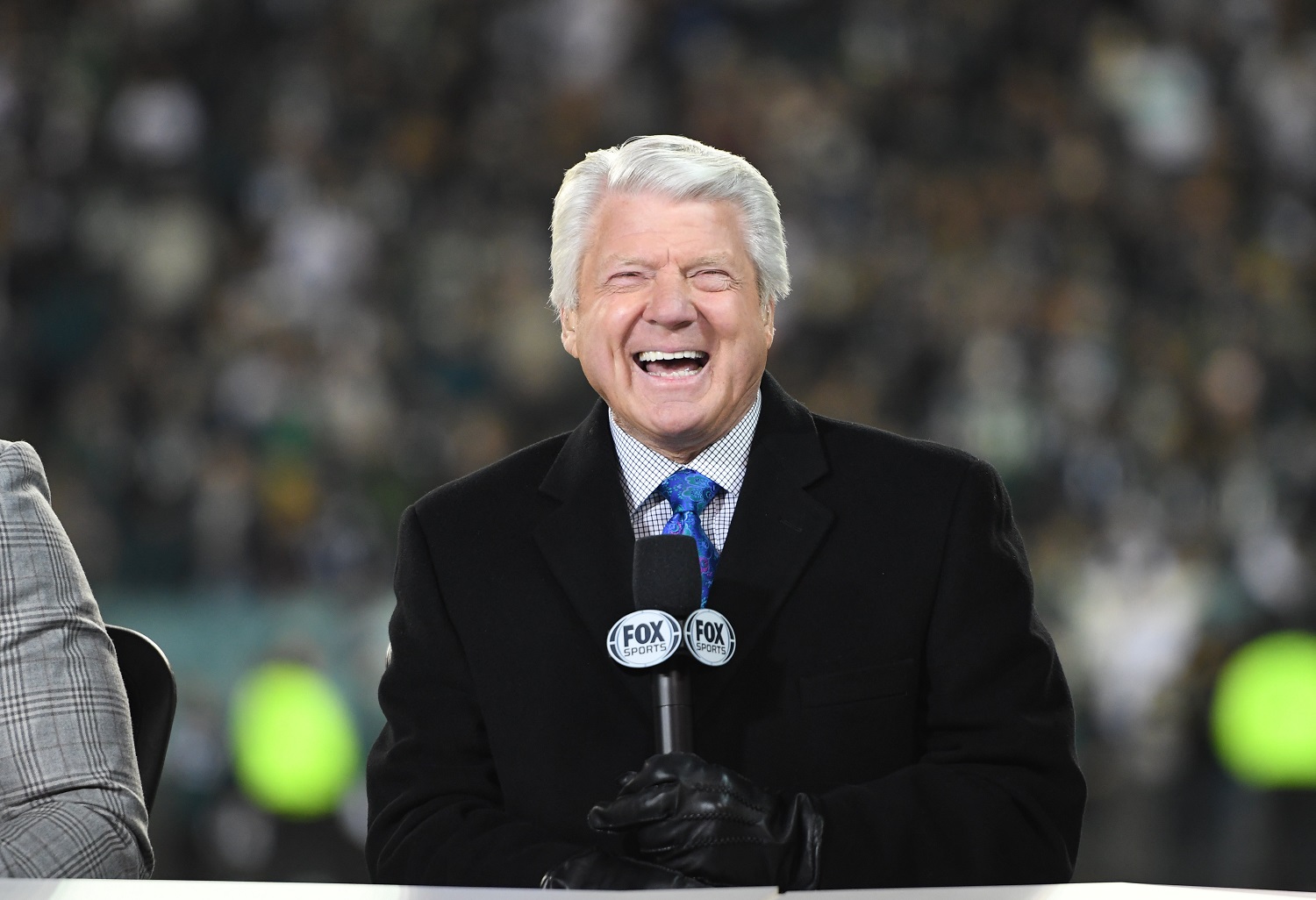 His 29-25-3 record in five seasons at Oklahoma State wasn't all that distinguished, but Jimmy Johnson left the program in better condition than he found it. He moved on to the University of Miami in 1984, where Howard Schnellenberger had just won a national championship, and Johnson went 52-9 with a title of his own.
When college friend Jerry Jones made a bold move in buying the Dallas Cowboys, Johnson was his choice to coach a franchise in disrepair. After a 1-15 record in 1989 as they cleaned house, the Cowboys improved to 7-9 the following year.
The next three years resulted in a 36-12 record and victories in Super Bowls 27 and 28 against the Buffalo Bills. The falling out between Jones and Johnson that sent them their separate ways at that point has been well-documented, and the Cowboys squeezed out one more title two seasons later under Barry Switzer.
Johnson resurfaced in 1996 for a four-year stint with the Miami Dolphins, then became a fixture of Fox Sports' Sunday NFL coverage alongside former players Michael Strahan, Howie Long, and Terry Bradshaw,
Johnson went into the Pro Football Hall of Fame as part of the Class of 2020.
Jimmy Johnson's biggest regret in coaching was his miscalculation on Michael Strahan
Speaking last week on Fox's NFL show during a discussion of the New York Giants retiring Michael Strahan's number, Jimmy Johnson admitted that the 1993 NFL Draft didn't go the way he hoped, resulting in the Dallas Cowboys missing out on a future Hall of Fame defensive end.
"The biggest regret I have in my entire career involved you," Johnson told Strahan. "Here we're getting ready for the draft. I flew Michael up to Dallas. I sat down with him. I told him I was going to draft him. And because he came from a little school, I was always looking for a bargain, Texas Southern. So, I was thinking I could get him late in the second round."
The Cowboys held the overall 46th and 54th picks that day, and Johnson went so far as to send a scout to Strahan's home on draft day. However, the Giants picked 40th and snared Strahan. He would go on to play 15 seasons and record 141.5 sacks.
"I wasn't able to draft you," Johnson told Strahan, "but it turned out pretty good for you. You won a Super Bowl with the Giants, and I did OK myself."
The coach and future Hall of Fame player would have only lasted one season together
Losing out on a 15-year player understandably stings any NFL team, and it was true for the Dallas Cowboys when it came to Michael Strahan. After their third NFL championship in four seasons, the Cowboys went 10-6 in 1996, at which point they faded. The team posted just two winning records in eight years.
The best stretch of Strahan's career was from 1997-2005, during which he averaged 12.4 sacks a season. During that stretch, the only Cowboy to total as many as nine sacks in a season was Greg Ellis, himself a sturdy defensive end, in 2004. As a team, the Cowboys never totaled more than 38 sacks in a season in that span.
Pairing Strahan with Ellis, who arrived in 1998, at opposite ends of the line would have fixed some of what ailed the Cowboys.
Realistically, though, losing out on Strahan proved to be of little consequence to Jimmy Johnson. That's because Strahan's first season in the NFL proved to be the coach's last with the Cowboys.
All stats courtesy of Pro Football Reference.