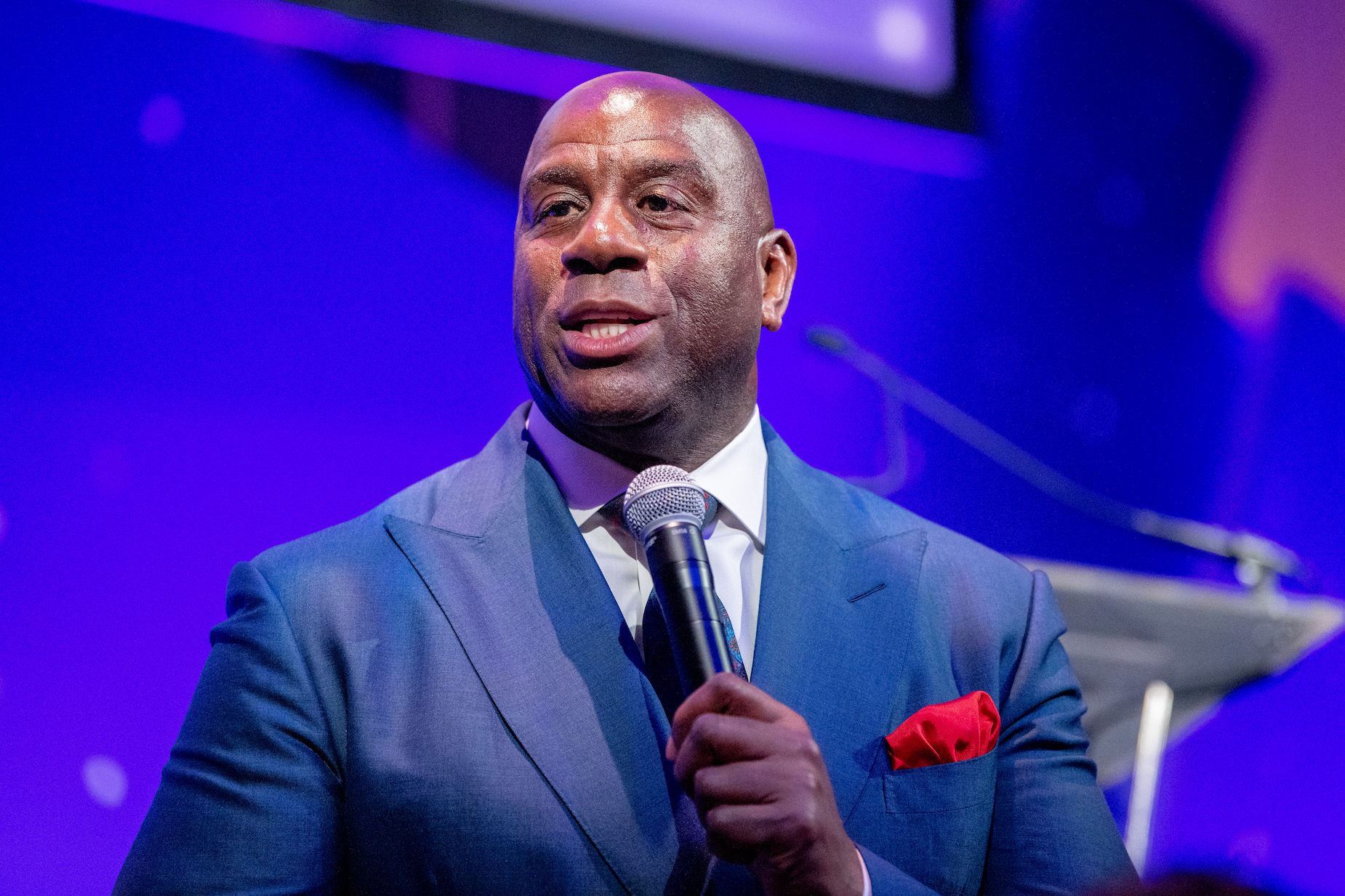 Lakers Legend Magic Johnson Built Up a $600 Million Net Worth With the Help of a Strict 'Cardinal Rule' About Who He'll Do Business With
Lakers Legend Magic Johnson has a massive net worth thanks, at least in part, to a strict rule about who he'll do business with.
By and large, Magic Johnson is a pretty successful guy. During his time in the NBA, the guard had no problem becoming one of the association's biggest stars and an LA Lakers legend. In retirement, he hasn't missed a beat in the business world, building a $600 net worth.
That financial success, though, hasn't happened by accident. In fact, Magic Johnson follows a "cardinal rule" of business, believing that money and friendship shouldn't mix.
Magic Johnson lived up to his nickname on the basketball court
When you have a nickname like Magic, you have to be pretty talented at what you do. Thankfully for everyone who had the pleasure of seeing him play, Magic Johnson was an incredibly talented basketball player.
After making a name for himself in high school, Johnson took his talents to Michigan State. Although he only spent two seasons with the Spartans, the guard still made quite the impact; he averaged 17.1 points, 7.6 rebounds, and 7.9 assists per outing for his college career and famously out-dueled Larry Bird to win the 1979 NCAA title.
On the back of that success, Johnson joined the LA Lakers as the first-overall pick of the 1979 NBA draft. He didn't miss a beat at the professional level, winning a championship and earning NBA Finals MVP as a rookie.
Although an HIV diagnosis prematurely ended Johnson's NBA career, the guard still earned his place in basketball lore. In total, Magic played 906 total games, averaging 19.5 points, 7.2 rebounds, and 11.2 assists per appearance; he also won five championships, took home three NBA Finals MVP titles, and earned three league MVP awards.
His success has led to a massive net worth
Magic Johnson's success wasn't limited to the hardwood, though. The LA Lakers legend has also proved to be a pretty big winner when it comes to the business world.
According to Basketball-Reference's numbers, Johnson earned $24 million in salary during his NBA career. That money, however, is only a fraction of his overall fortune.
After he left basketball behind, the guard started Magic Johnson Enterprises; he's since gotten involved with movie theaters, Starbucks, and various chain restaurants. Johnson himself also broke into sports ownership, buying into the Lakers, Sparks, and Dodgers, at various points.
In total, Johnson's net worth is estimated at roughly $600 million. That's nothing to sneeze at, especially two decades after leaving the hardwood.
Magic Johnson's net worth is based on a strict rule about business partners
From a cynical perspective, you could argue that beginning your business career with a $24 million head start makes everything else pretty easy. In the world of athletes turned entrepreneurs, though, Magic Johnson is still incredibly successful.
That success, however, hasn't happened by accident. Johnson has a playbook and follows his "cardinal rules" to a tee.
"I asked Magic Johnson — the gold standard for athlete capitalists — how he helps players avoid financial suicide," Pablo Torre once wrote for ESPN. "He underscored one of his cardinal rules: When players call Johnson for counsel, which happens all the time, he stops them cold if they mention any business plan—be it for a record label, a car wash, a production company— featuring a buddy or relative."
In Magic's mind, going into business with a friend or relative isn't just a risk. It's a major mistake that should be avoided at all costs.
"That's the killer," said Johnson, who added that he became CEO of his eponymous billion-dollar conglomerate by rejecting friends and family in favor of the shiny suits who sat courtside at Lakers games. "They hire these people not because of expertise but because they're friends. Well, they'll fail."

Pablo Torre, ESPN
There you have it, straight from the man himself. If you want to build up a $600 million net worth, you can't afford to go into business with any personal acquaintance. It's unclear, however, if you have to be an NBA legend to strike it rich and follow in Magic Johnson's footsteps.
Stats courtesy of Sports-Reference and Basketball-Reference