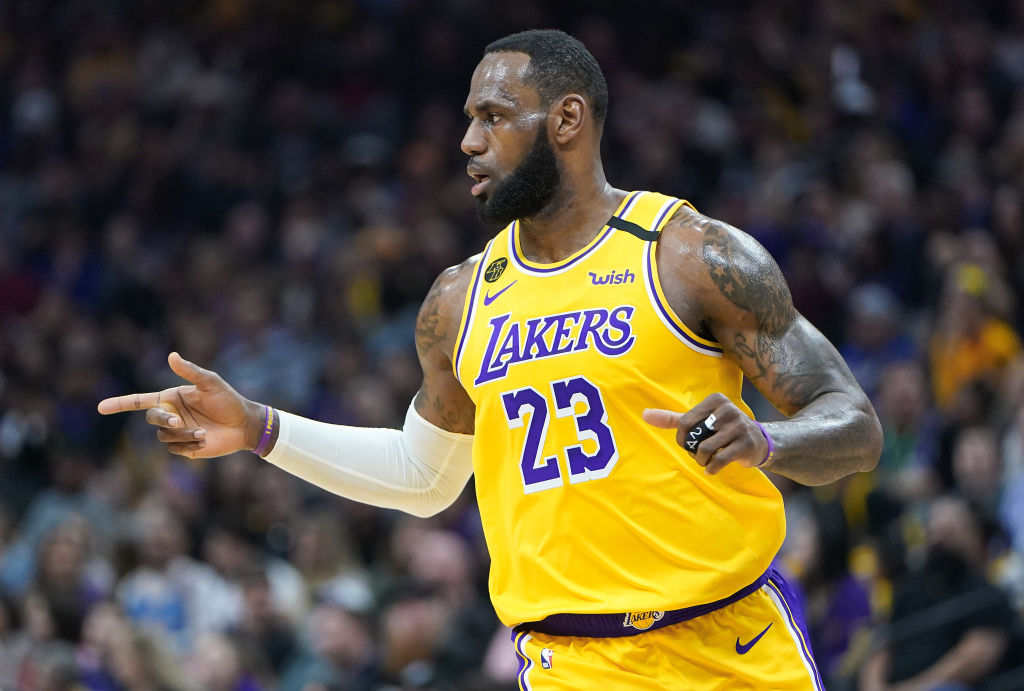 LeBron James' All-Star Jersey Will Pay Tribute to This Basketball Player
When LeBron James and his teammates take the court for the NBA All-Star Game, they'll all be wearing one specific jersey number.
All-Star games are supposed to be fun. They bring the best athletes in a given sport together and give them a collective license to show off. This year, however, the NBA All-Star Game will feel a bit different. Following the tragic death of Kobe Bryant, LeBron James, Giannis Antetokounmpo, and all of their teammates will be playing with a heavy heart.
When the NBA all-stars take the court on Sunday, February 16, everyone will be wearing special jerseys. LeBron James won't have number 23 on his back; it'll be changed to honor one specific athlete.
LeBron James' All-Star Calibur season
While it might seem like yesterday when LeBron James burst onto the national scene for the first time, the forward is in his 17th NBA campaign. While he's no longer a young man, James isn't slowing down.
This season, LeBron is averaging 25 points per night; while that's a bit lower than in recent years, James is still playing an elite all-around game. While his minutes have started to decline, he's dropping a career-high 10.7 assists per outing and pulling down almost seven rebounds a night. The Lakers are sitting atop the Western Conference standings, and the forward is a significant part of their success.
Unsurprisingly, James was elected to NBA All-Star Game for the 16th time. Once again, he'll be one of the event's two captains; Giannis Antetokounmpo will head up the opposite squad. When the game arrives, though, things will be a bit more emotional than usual.
The NBA All-Star Game's Tribute to Kobe Bryant
The 2020 NBA All-Star game will be a little different. This season, the NBA has made some changes to honor the legacy of the late Kobe Bryant.
The first three-quarters of the evening will essentially serve as three individual games; each 12-minute stretch will start anew at 0-0. The fourth quarter, however, will be different. The leading team's points will be added up, and that total, plus Kobe Bryant's 24, will be the "final target score." Both squads will then play an untimed fourth frame, racing to reach that sum.
There will surely be plenty more tributes when the night arrives, though. We already know that the players will be wearing some specific numbers on their jerseys.
LeBron James will wear number two to honor Gianna Bryant
When Team James and Team Antetokounmpo take the court in a couple of weeks, the players won't be wearing their usual numbers. Everyone will either have Kobe Bryant's 24 or Gianna Bryant's 2 on their back.
While you might assume that LeBron would want to wear 24, he actually chose the latter number for one special reason. The forward was inspired by his five-year-old daughter, Zhuri Nova.
"It felt like these last three years were the happiest I've ever seen him," James said after Bryant's death. "I think we all can say that. It was the happiest I've ever seen him, being able to just be with his daughters, be with his family."
"To see him these last three years just being … y'all see 'GirlDad,' the hashtag," he continued. "I'm a girl dad."
All-star games are always a celebration. This year, we'll be celebrating something bigger than basketball, though.