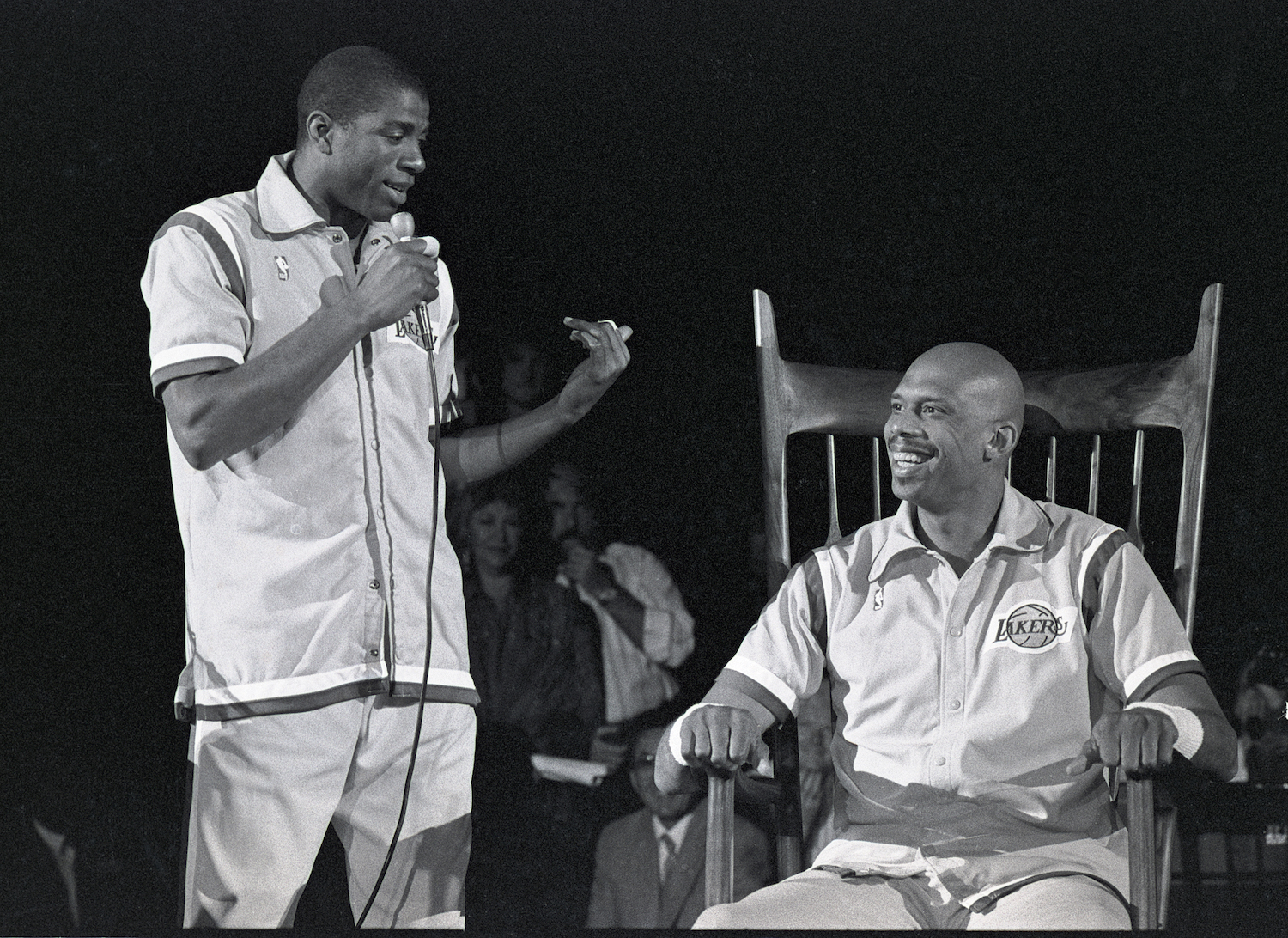 Magic Johnson's HIV Diagnosis Almost Inspired Kareem Abdul-Jabbar to Mount an NBA Comeback: 'Basketball Is What I Do Best'
Kareem Abdul-Jabbar and Magic Johnson were legendary teammates, but their friendship transcended the boundaries of the basketball court.
Over the course of their illustrious history, the Los Angeles Lakers have had plenty of legendary players don the iconic Purple and Gold. Two of the best were Magic Johnson and Kareem Abdul-Jabbar. While their time together came to an end in 1989 when the big man retired, that physical separation couldn't dampen their friendship.
At the tail end of 1991, the strength of that bond became apparent. In light of Magic's shocking HIV announcement, a 44-year-old Abdul-Jabbar began to consider an NBA comeback. For the center, it was the natural way to help.
Magic Johnson shocked the world by announcing that he tested positive for HIV
In most cases, sports injuries are viewed through the lens of competition. A tweaked hamstring keeping a star out of action, for example, is a fairly standard piece of news. Magic Johnson's press conference on November 7, 1991, however, was anything but ordinary.
On that fateful day, the Lakers guard told the world that he had tested positive for HIV and would be retiring from basketball immediately. While the news seemed dire, Magic didn't miss a beat while speaking to the assembled media. "I'm going to deal with it, and my life will go on," he explained. "And I will be here, enjoying the Laker games and all the other NBA games around the country. So, life is going to go on for me, and I'm going to be a happy man."
Despite that positive outlook, his diagnosis shocked the world. In addition to the fact that Johnson, one of basketball's top talents, was being forced to retire by an unseen disease, HIV was still a highly stigmatized illness at the time.
In his initial announcement, Johnson indirectly acknowledged the baggage that came with HIV/AIDS and pledged to do his part to spread awareness of the disease.
"I will now become a spokesman for the HIV virus because I want people — young people to realize that they can practice safe sex," the Lakers guard told the world. "And you know sometimes you're a little naive about it, and you think it could never happen to you. You only thought it could happen to, you know, other people and so on and all. And it has happened, but I'm going to deal with it, and my life will go on."
Kareem Abdul-Jabbar considered coming out of retirement to help his friend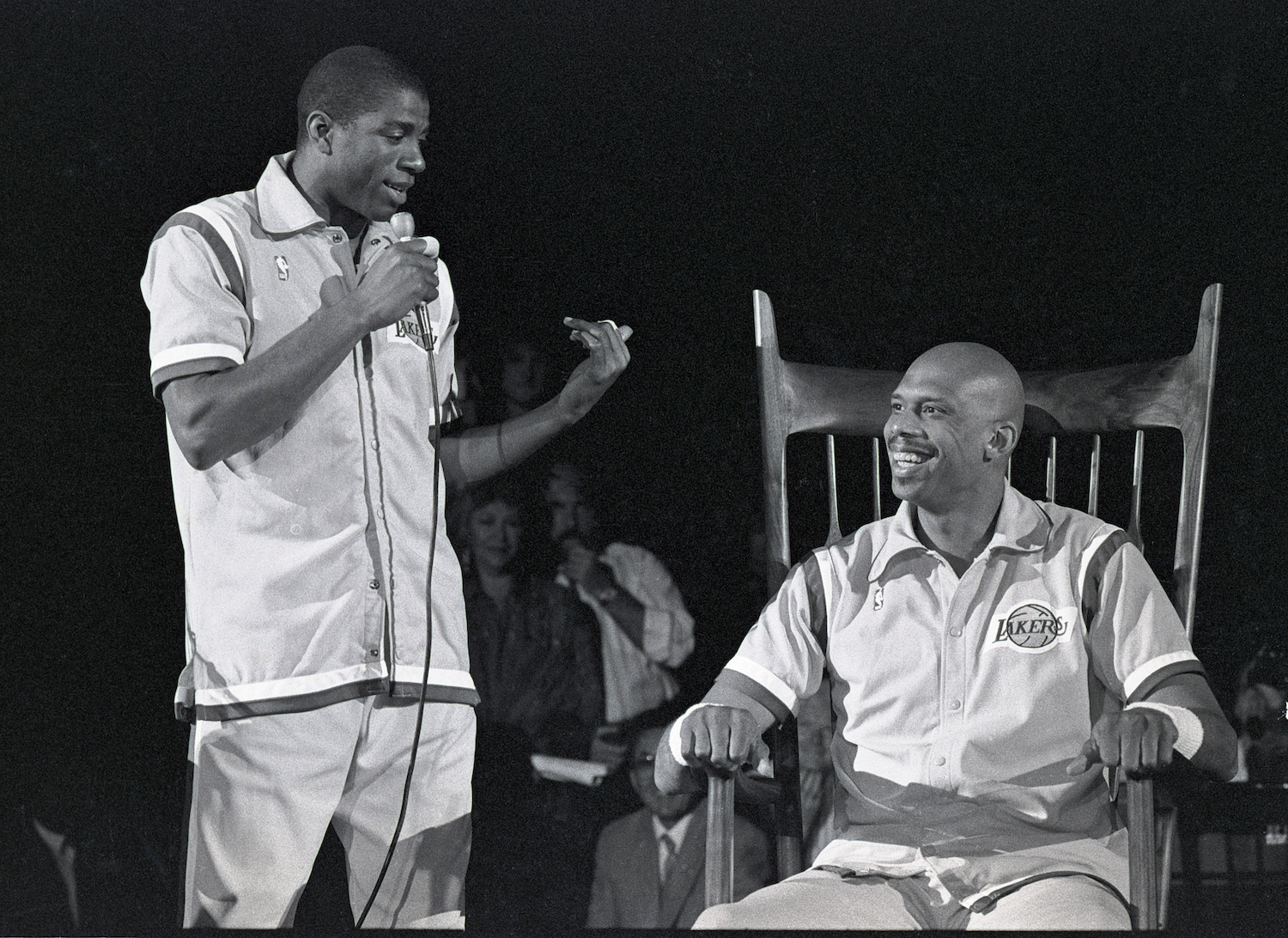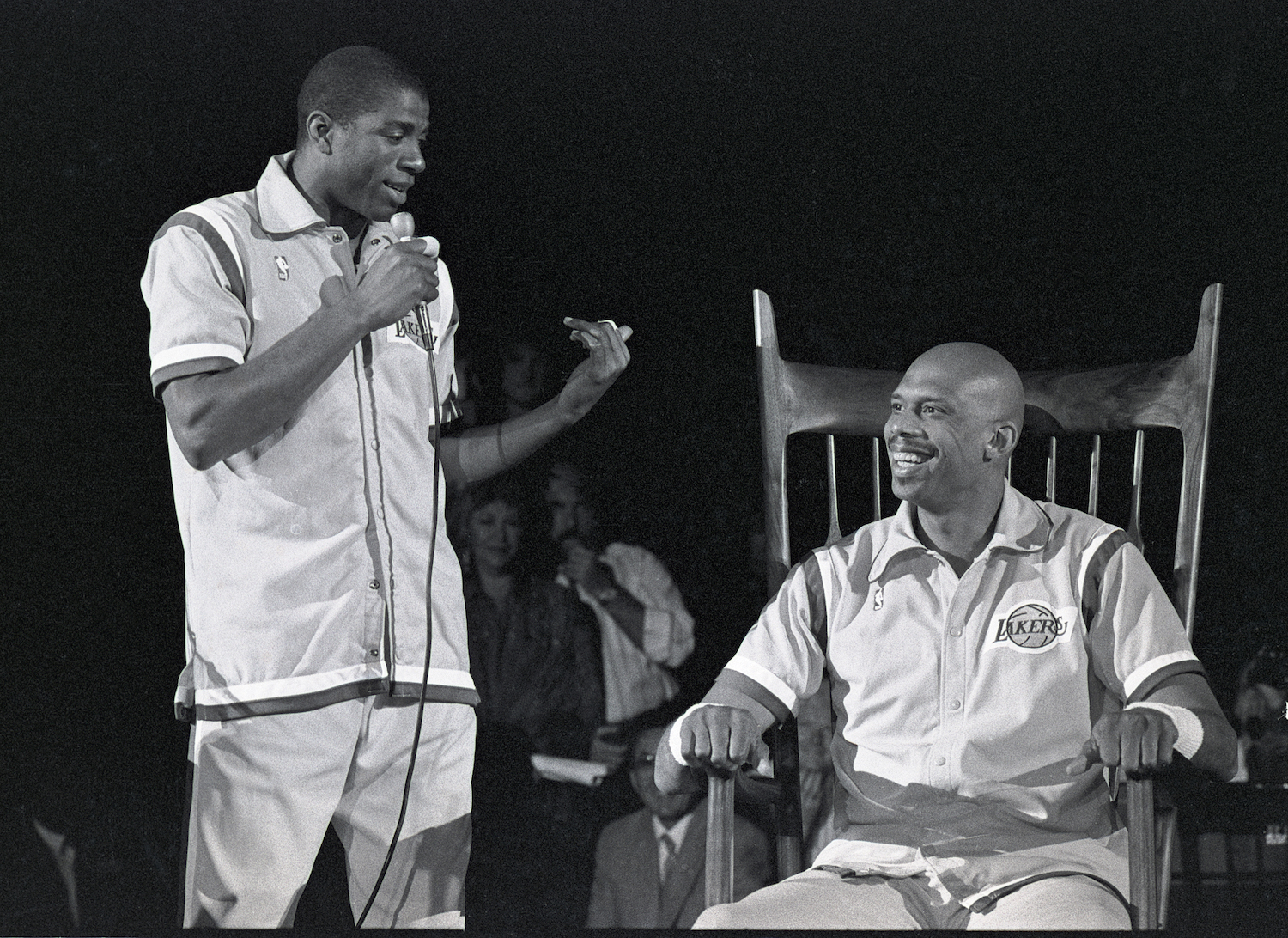 When Johnson spoke at that iconic press conference, Kareem Abdul-Jabbar was one of the people by his side. Although the big man had hung up his sneakers and retired from professional basketball, the events of that afternoon almost inspired him to change his mind.
"[A comeback] crossed my mind when I heard the news about Magic. I wanted to do something positive that could help my friend. Basketball is what I do best," Abdul-Jabbar said on CBS in December 1991, according to a UPI write-up. "I want to make a statement about the need to do something about the [AIDS] problem. As a nation, we have been very lax."
The story noted that Kareem planned to donate a portion of his earnings to AIDS research. It also explained that the center wasn't sure if he had what it took to play at a high level and featured a quote from then-New York Knicks coach Pat Riley, who was confident that Abdul-Jabbar could still contribute.
While the idea wasn't universally praised — Thomas Boswell penned a Washington Post column skewering the potential plan — Magic was reportedly "touched by the gesture."
Kareem Abdul-Jabbar wasn't the only NBA star affected by Magic Johnson's HIV announcement
While he may have had the best intentions in mind, Abdul-Jabbar never signed with an NBA team. As you might expect, though, he wasn't the only star to be moved by Magic's announcement.
On the opposite end of the spectrum from Kareem, Larry Bird didn't want to hit the hardwood the day after his rival-turned-friend's press conference. In 2012, the former Celtics star told Rick Reilly that after speaking to Magic, he faced an unprecedented challenge.
"Magic's agent (Lon Rosen) calls me and tells me about the announcement ahead of time. I said, 'I gotta talk to him right now.' And Lon goes, 'I don't know. He's going through all this stuff right now.' And I said, 'I don't care. I gotta talk to him right now.' And he put me through to him," Bird explained. "Man, that really hit me. It really hit me hard. That was the first time in my life I played in a game that I didn't want to play (vs. Atlanta). I didn't have anything that night." For the record, he scored 17 points that evening, shooting 5-of-14 from the floor, including 1-of-5 from 3-point range.
Abdul-Jabbar and Bird weren't the only ones to have a visceral reaction to the news. Michael Jordan, who spoke to Johnson from a car phone, said that he was "almost driving off the road." A teenage Kobe Bryant also skipped meals for a week after learning that Magic was retiring.
Although Johnson did briefly return to the hardwood and is still going strong almost 30 years later, the reactions of his peers spoke volumes about his impact. Not only was Magic a legendary basketball player, but he helped destigmatize HIV and spread awareness of the disease. On the whole, that's bigger than anything happening on the hardwood.